By Berta Ventura, on 15 July 2021
The coronavirus pandemic brought profound changes to digital marketing. Brands had to change all their plans overnight. Our industry benefited from a much faster adoption of online shopping and digital habits in general, but in return we also faced a much more competitive environment.

Now that the situation is starting to get under control due to vaccination, it's time to ask ourselves about post-pandemic digital marketing. Let's see what lessons 2020 has taught us and what are the best strategies to keep in mind for the years to come.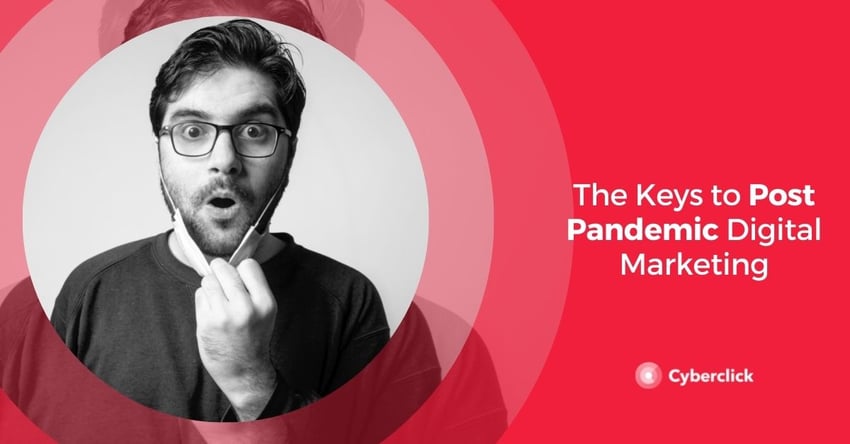 10 Keys to Post Pandemic Digital Marketing
1. Review Your Communication Strategy
It's clear that after this crisis priorities have changed. Therefore, it makes sense to rethink the way you communicate with your customers from now on.

In more concrete terms, this means redesigning your content strategy (formats, messaging, tone, and so on). To better orient yourself, it can be a good idea to send a survey to your mailing list asking your leads and customers about the topics that concern them most right now.
2. Completing the Digital Transformation
For many companies, the pandemic meant go digital or die. Overnight, they had to adopt all their processes to work in a 100% online environment.

Teleworking is here to stay, and it's not the only thing that has gone digital. Online teaching, for example, is another sector that has seen a big boost. And of course, many people's habits have changed.

For companies, this means that there is no longer any excuse for not being able to operate digitally. It's a good time to update all the tools and solutions you have and make sure everything is running smoothly.
3. Caring for Existing Clients
Another change in the post-pandemic era is the economic crisis that we have all had to face. Here, the priority should be building loyalty among existing customers rather than expanding into new markets and gaining new customers. For example, many companies offered free or discounted services to their customers during the pandemic with the aim of seeking customer loyalty and long-term benefits.
4. Be Agile and Flexible
In March 2020, our lives changed in one fell swoop and we all had to adapt. The companies that have performed best are those that have been able to change course quickly.

This will certainly not be the last crisis we will have to face, so the lesson to take away from this is that flexibility is a must. We have to be able to react quickly to unforeseen events, constantly monitor what is happening, and make changes in real time.

For this to work well, we not only have to have agile processes but budgets also have to be able to adapt quickly to whatever comes along.
5. Focus on a Just a Few Channels
In the face of economic uncertainty, many companies have had to cut costs and find more efficient ways to reach their customers. In digital marketing, this translates into being very selective with the channels we use. It is more worthwhile to focus on a few channels that bring more ROI than to try to be everywhere and end up wasting our efforts.
6. Bet on PPC
According to Neil Patel, Facebook Ads ROI increased by more than 20% post-pandemic. This type of ad is cost-effective even for small local businesses, and is a fast and effective way to communicate your offers, discounts and promotions. In addition, the cost per thousand impressions was also reduced, as companies did not have large marketing budgets.

This efficiency, coupled with very precise targeting capabilities, makes Facebook Ads and other PPC strategies one of the best channels to focus on in the coming years.
7. Clearly Communicate the Benefits
One of the big changes brought about by Covid is that many more users have embraced the digital environment, and many more brands are marketing in it.

The result is that we are in a saturated environment where it is very likely that the people you want to reach feel that they are constantly bombarded with ads. To stand out in the midst of so much competition, it is essential to avoid the usual advertising clichés and know how to clearly explain what unique benefits you can bring to your audience.
8. Offer Exclusive Reopening Discounts and Promotions
This strategy is particularly useful for sectors that have been hardest hit by the pandemic and are slowest to recover, such as travel and tourism.

Exclusive discounts and promotions can help you both attract new customers and reactivate those who have been inactive for some time. Use this opportunity to convey a positive message about the return to normality and create an active campaign.
9. Redouble Ecommerce Efforts
Another change that seems to be here to stay is online shopping, which has managed to reach demographic groups and sectors that did not yet dare to take the plunge. Therefore, for the coming years, your online store should be a basic pillar in your digital marketing strategy.
10. F
irst-Party Data and Zero-Party Data
In order to know what is happening with each customer, it is essential to have your data strategy in place. The future lies in first and zero-party data, i.e., data that is owned by the brand and/or that users have voluntarily shared.

Therefore, it's a good time to consider conducting an in-depth data audit, unifying all the sources of information you have on consumers and planning a data strategy aimed at obtaining information from the users themselves.