By Irene Riart, on 7 June 2021
With 353 million active users, Twitter is one of the most relevant social networks, which makes it a very good place to launch your digital marketing campaigns. This also means that Twitter Ads are an essential tool when advertising on social networks.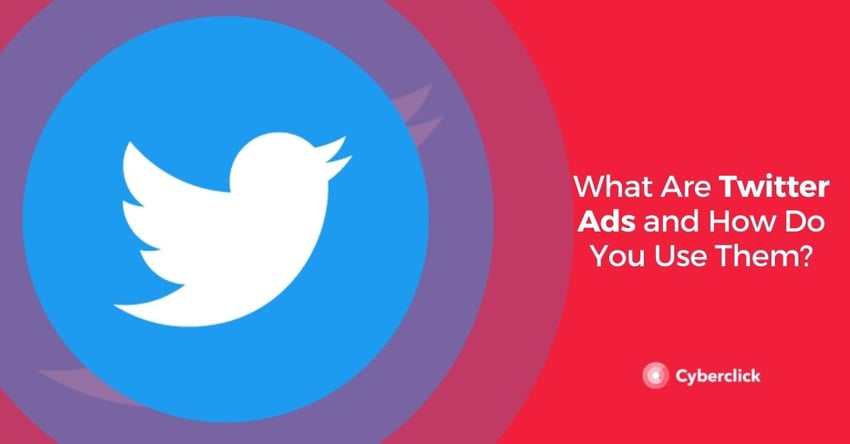 What Is Twitter?
Twitter is a social network that allows people to communicate through quick, frequent messages. The messages are limited in length (280 characters maximum) and can contain photos, videos, links, and text. These messages are posted on individual profiles, sent out to followers, and can be found by searching on Twitter.
One of the most distinctive features of Twitter is its immediacy, which makes it a widely used network for commenting on current affairs.
These are some of the basic concepts you will need to master to use Twitter.
Tweet: a tweet refers to the publications that a user makes on Twitter. Currently, the maximum number of characters allowed in a tweet is 280.

Retweet: "retweeting" consists of sharing another user's tweet on your own profile. Retweets are a way to go viral on Twitter.

Mention: to mention another user in a tweet and make them see your message, enter an @ followed by their username.

Favorite: you can mark a tweet as a "favorite," which is similar to "likes" on other networks. The tweets you have marked as favorites are saved in the corresponding section of your profile.

Hashtag: hashtags are words preceded by the # symbol and are used to tag key concepts or topics on Twitter.

Trending topic: theses are the hashtags or topics most commented on by users. They are often related to current events.

Direct Message (DM): a private way to contact a user on Twitter so that only the sender and recipient can see the message.

Timeline (TL): the timeline is the main tab on Twitter where you can see new tweets from users you follow.

Feed: the list of tweets that constantly updates as new ones are added.
What Are Twitter Ads?
Twitter Advertising is a way to promote your company's content to your target audience. With Twitter Ads, you can increase user interaction with your brand. This means that content (your tweets) published by your company will reach a larger and more segmented audience, with all the advantages and benefits that this entails.
Tweets that are included in a Twitter ad campaign will be labeled as "Promoted" but other than that they will be exactly the same as normal tweets, so they are likely to be shared, retweeted, replied to, or marked as favorites.
Step by Step Guide to Using Twitter Ads
1. Set Up Your Twitter Ads Account
The first thing you need to do is log in to the account you want to launch ads from and go to ads.twitter.com.
If this is the first time you are logging in to your Twitter Ads account, you will be presented with a welcome page. Follow the instructions to create an ad. Please note that new Twitter Ads accounts are reviewed, so if you can't access the ad manager, wait a few days and try again.
These are the main functions of your Twitter Ads account:
Create ads: use the "Compose" button to create the tweets you want to promote.

Develop campaigns: click on the "Create a Campaign" button to set up a campaign step by step.

Measure performance: once you have published your campaign, the results will appear in real time on the Twitter Ads dashboard.
2. Add a Payment Method
In order to publish your campaigns on Twitter Ads, you need to add a payment method to your account. So follow these steps to add a credit card to Twitter Ads.
Inside the ad manager, click on your username in the upper right corner.

Select "Payment Methods" from the drop-down menu.

Select "Add new funding source" (top right).

Add your card information.

Click on "Proceed to confirmation" and confirm.

Your card will be reviewed and when approved, it will appear as "Valid" in the payment methods tab.
If you are going to publish campaigns with a large budget, you may want to request a purchase order to prevent ads from being stopped when they reach the Twitter Ads credit limit. To do so, fill out the request form. Then, when receive the documents in your email, you will need to sign them online with Adobe Sign.
3. Create Your Ads
To launch your campaign, you will have to choose the tweets you want to promote as ads. You can choose between two main options.
Organic tweets: choose from the tweets you have already published.

Promoted only: create new tweets specifically for your Twitter Ads campaign. These tweets will not be displayed on your profile.
To create "Promoted Only" tweets, click on the "Compose" icon (at the top right of Ads Manager). Here you can write your Tweet (including emojis and hashtags), select and upload the images and videos you want to include.
You can also add Twitter Cards to your tweets. A Twitter Card is a clickable component that serves to draw more attention to your posts and expand the area that users can click on. There are two main types of Cards.
Website Card: optimized for website click-through campaigns.

App Card: optimized for download and app interaction campaigns.
If you have chosen to add a Card to your tweet, you will need to assign it a name, a header text, and a URL.
4. Set Up Your Campaign
To develop a Twitter Ads campaign, you have to choose a target. This way, you make sure that your campaign is optimized to generate the actions you want.
To choose a target and start developing your campaign, select "Create Campaign" from the Ad Manager drop-down menu. These are the targets that are currently available.
Reach: maximize the reach of your ad.

Video views: increase views of your video.

Pre-roll views: link your ad to premium content.

App installs: incentivize downloads of your application.

Website clicks: increase traffic to your website.

Interactions: get your Tweets to generate interactions.

Followers: establish an audience for your account.

Engagements with the app: generate user actions in your application.
If you have several different objectives, you can create several separate Twitter Ads campaigns.
After choosing your objective(s), you will need to set up the campaign details and ad groups.
In the "Campaign details" section, you will have to indicate general parameters such as:
The name of the campaign

The total budget

The start and end dates

The source of funding
If your campaign includes different messages for different audiences or if you want to set up separate budgets and dates, you will need to create ad groups. In each ad group you can specify the following parameters:
The name of the ad group

The start and end dates

The total budget

The type of bid

Audience segmentation parameters

The tweets you want to promote
5. Measure the Results of Your Twitter Ads Campaign
Once you have published your campaign, you can measure the results in real time from the Ad Manager panel. You can see the results at different levels, for example:
Campaign level: number of results, results rate, and cost per result (CPR).

Ad group level: Compare the performance of different ad groups. Is there one that particularly stands out from the others?

Ad level: which tweets perform best and what common characteristics do they share? Which ones are underperforming? You can use this data to pause underperforming ads or add new ones.

Audience level: which audience are you getting the best results with? You can use this information to leverage those groups in your next segmentations.
Together, all this information will help you to optimize your campaign in real time and achieve great results!