By Alba Fraile, on 01 March 2016
As social networks go on creating advertising solutions, us marketers face a dilemma which becomes increasingly more complicated: we do not want to miss out on any chances to reach our targets, but we have to optimize our advertising budget to the best of our ability. Which is why today I want to help you decide between Twitter Ads and Facebook Ads, and explain the advantages of each advertising platform.
Attention, this is no boxing match! Both advertising solutions have many benefits and can be used simultaneously, but in order to do so, you need to know what each one can do.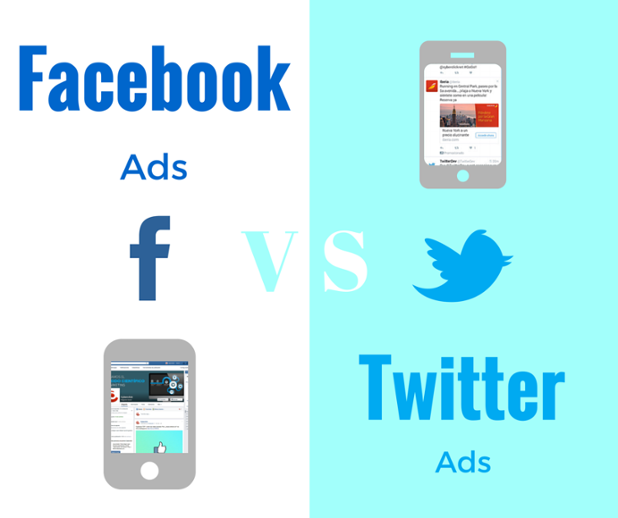 Advantages of Twitter Ads
In order for you to have a good view, I will present the advantages of each solution in comparison to the competitor. We'll start with Twitter:
Speed.

If there is anything that characterizes Twitter as a social network, it is how instantaneous it is. It isn't for nothing that 62% of users find Twitter to be the quickest way to stay up to date with what's happening. It is a real time connection to the world and a way to interact with celebrities, so it only makes sense to make the most of this way to have a direct and fast connection between brand and users.

Synchronization with company's goals.

Twitter Ads' new types of campaigns allow you to completely adapt you advertising to your business' goals, and to pay only when these goals are achieved. You can create a campaign to increase your number of followers, gain clicks on your website or conversions, get more interactions with your tweets, incentive app installs, increase your potential client list and get more people to view your video. Should none of these types convince you, you can also launch personalized campaigns.

Advertising on Twitter is totally integrated into users' timelines via promoted tweets. Except for a small symbol in an upper corner, these tweets look and act just like any others. Users can interact with them by mentioning, retweeting, liking… The point is for it not to be obvious what is advertising content or not. We can, however, make out promoted tweets stand out by using eCards. This feature allows us to add visual content according to the objectives of each campaign, and thereby improving conversion rates.

Mobile potential.

As we mentioned here on our blog not long ago, mobile is the king in 2016. These devices are already the main form of accessing the Internet, which is why social networks focused on mobile devices are very advantageous. This is where Twitter triumphs, as over 85% of its users access it from mobile devices (versus 68% on Facebook). Also, tweeters spend more time on each mobile visit.

Up to 61% of Twitter users use this network in combination with the TV. Twitter advertising can make the most of this trend in the future to generate campaigns with multiple impacts.

Tailored pricing.

Twitter Ads' payment method is based on payment per achieved objective: app install, conversions, video playback, lead… which means that all of the money you invest is spent on achieving the overall objective of the campaign. Like Facebook, it is based on a bidding system, but with more adjusted prices regarding competition: in order to win a bet you only have to pay one cent more than the second highest bidder.

Better CTR.

Various studies indicate that advertisers on Twitter consistently obtain higher CTRs, allowing us to conclude that these campaigns attract more attention from potential audiences. We believe that the reason for this could be the improved integration of ads with content, and the reduced amount of competition (while Facebook is "saturated" with ads, there are not many marketers using advertising on Twitter yet).

Stronger potential for going viral.

Retweeting is the essence of Twitter, so the with the same number of interactions, ads on Twitter will have a much larger chance of going viral and reaching out to more people.

New technological solutions.

New automation solutions are being developed especially for Twitter. These tools allow us to automate the creation of versions of ads, easing the entire process and obtaining real time insights to concentrate your budget on truly effective ads.
To know more about the topic, I recommend these two related posts:
Advantages of Facebook Ads
After this list, you might be thinking that Twitter is winning hands down. But the truth is that advertising on Facebook has quite a few aces up its sleeve as well:
Number of users.

When it comes down to pure numbers, Facebook continues with out a doubt to be the most popular social network, locally and globally. According to Statista's latest data, Twitter has 305 million active users worldwide on a monthly basis, 8 million of which are based in Spain. These numbers are quite impressive, but pale in comparison to the giant of social networks: 1,590 million active users worldwide on a monthly basis, 18 million of which in Spain. In other words, Facebook offers a potential market that is 5 times larger. In any case, both networks have an audience far superior to many forms of traditional media.

Vaster reach.

Logically, we can conclude from these numbers that Facebook's potential reach is significantly bigger for most market sectors. Studies show that Facebook Ads campaigns are simple seen by more people. Although new digital marketing tools allow us to define our goals much more easily, it is undeniable that showing our brand to the maximum number of people possible is the essence of advertising.

Higher number of interactions.

One of the greatest advantages of advertising on social networks in comparison to traditional forms is that it allows users to interact with it, to become a part of the brand's story, and to identify themselves with its value. In this sense, Facebook is the winner, although the difference is not big: on Zuckerberg's network 382 00 interactions take place every minute, while on the blue bird's network 350000 interactions take place per minute.

In absolute terms, advertising con Facebook has a clear advantage in terms of cost per click and per thousand impressions. Although this does not indicate that the final cost per conversion is also lower, it does mean that this network may be ideal in terms of budgeting. In any case, it will be interesting to see if the price of advertising on Twitter drops as the option gains popularity.

Ability to attract traffic to websites.

According to one of Forbes' recent studies, Facebook is responsible for 23,4% of webpage visits, a percentage that competes with other sources such as direct traffic, search engines and SEM. On the other hand, Twitter is responsible for only 1% of web traffic. We can conclude from this that Facebook has a stronger ability to direct visitors to our websites. But, putting these numbers into perspective, we must remember that there are 5 times more Facebook users than there are Tweeters, and that at the moment Twitter's advertising tools are much less used.

App Installs.

Although Twitter currently dominates the mobile market, advertising on Facebook is currently number one in terms of generating paid app installs.
Conclusions: Twitter Ads or Facebook Ads?
As you can see from what we have said above, both tools present important advantages, and there is no clear winner. Both Facebook and Twitter have a lot to bring to your campaigns, which means choosing one or the other depends on your general strategy.
When it comes to digital marketing, I recommend analyzing the benefits and user profiles of each network, before deciding which ones to focus on. Facebook is the ideal place to improve your brand's visibility and to connect with your consumers, although it might not be the best way to contact your teenaged audience. On the other hand, Twitter is the perfect place if your brand has any type of relationship with the "now", as it is where users go to get the latest updates on news and the world.
Another factor to take into consideration is if you count on the strong presence of your on either or both of the social networks. In order to make the most of the potential of advertising on social networks, the ideal is to complement it with an active organic presence. If your brand has many followers or fans and regularly publishes interesting content, your ads will be much more credible.
Last but not least, I would like to remind you once again that it is in no way necessary to opt for only one advertising solution, as you can decide to divide your advertising budget between both Facebook and Twitter. Only then will you be able to see which one is more effective for your brand and product. Good luck!
Alba Fraile
To read this article in Spanish, please click here.