By Shanon Roberts, on 25 May 2023
Without context, the most downloaded apps of 2023 so far may look a bit surprising. In previous years, app downloads were heavily influenced by the changing world with the COVID-19 pandemic and evolving safety measures. Now in 2023, the impact of these changes can still be felt, but we can also see how the market is starting to evolve beyond this time.
To successfully continue your mobile marketing campaigns, it's important to understand which apps are dominating the market now. In order to optimize campaigns, it is essential to know what your target audience's online behavior is and what are the best channels to connect with them.
With that in mind, let's take a look at the current most downloaded apps of 2023 in the United States, according to Statista.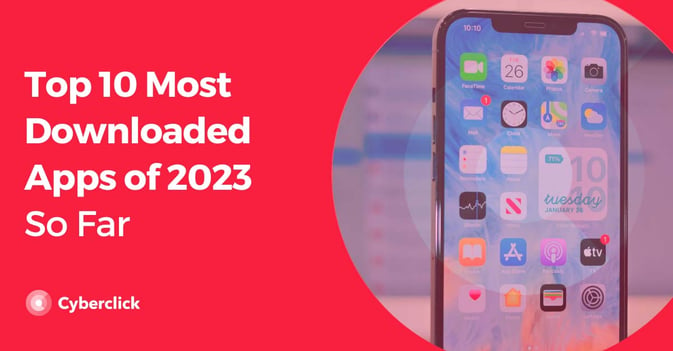 Top 10 Most Downloaded Apps of 2023
1. Temu
An interesting fact about the 10 most downloaded apps of 2023 is that the top 4 apps are all Chinese-based. Topping the list, is Temu, a Chinese-based marketplace shopping app that offers products direct to consumers, from China. The marketplace sells an incredibly wide range of products, ranging from homewares to jewelry to kitchen supplies, and everything in between. The product's price points are incredibly cheap, compared to other marketplaces like Amazon. Although, some users do question the quality of the products.
According to Statista, Temu received over 10 million downloads in the Apple App Store and Google Play Store in the United States in March 2023, cementing its position at the top of our list. As a fairly new app - it was launched in September 2022 - it will be interesting to continue to track its success in the mobile marketing sphere, especially if they offer any ad options in the future.
2. TikTok
It's no surprise that TikTok is one of the most downloaded apps of 2023. Initially this app was seen as a Gen Z space only, but it has experienced an influx of new users ever since world-wide lockdown measures started in 2020. In fact, in March 2023 TikTok had over 7 million downloads in the US, according to Statista, showing it's not slowing down any time soon.
This statistic is great news for marketers as TikTok marketing opportunities are growing, from creating organic content to paid TikTok Ads. Although, this comes at an interesting time in United States, as more questions are being asked about the safety of the app. We're interested to see how that will impact download numbers throughout the year.
3. CapCut
Considering TikTok's enduring success, it comes as no shock that CapCut, TikTok's video editing tool, is third on the list of 2023's most downloaded apps. As video content and video marketing continue to grow, an app like CapCut can be a key tool for both hobbyists and professionals.
Through CapCut you can easily edit videos, add filters, transitions, music, and subtitles, and share your videos directly from the app. As of March 2023, CapCut received over 6 million downloads, according to Statista.
4. SHEIN
The last Chinese-based app on our list is the SHEIN app. SHEIN is an online shopping platform that sells clothing, jewelry, and homeware for a low price. The site gained popularity thanks to its incredibly low prices and for having several viral videos on TikTok showcasing their cheap wares. In March 2023, this app had over 6 million downloads in the United States.
5. WhatsApp
WhatsApp is the leading messaging app across the globe, and it seems that it is beginning to grow in the United States. With nearly 6 million downloads in March 2023, it provides opportunities for businesses to keep in contact with their clients and customers through personalized messages, special offers and more. There are many interesting marketing opportunities with WhatsApp as WhatsApp marketing continues to grow.
6. Instagram
Along with WhatsApp, you can find another Meta app on our list of the most downloaded apps in 2023: Instagram. This photo and video sharing app is one of the most popular apps among Gen Z and Millennials. Though this app likes to keep their stats under wraps, it saw over 5 million downloads in March 2023 in the United States.
Instagram is especially useful when it comes to marketing. Between Instagram Reels, Lives, and Stories, the app provides plenty of opportunities for marketers to engage with their audience.
As threats about a potential TikTok ban continue to unfold in the US, it will be interesting to see how Instagram, and particularly Instagram Reels, evolves over time and impacts downloads.
7. Roblox
If you have kids it probably isn't a revelation to read that Roblox is among one of the most popular apps this year. With over 5 million downloads in March of this year, this social gaming platform allows users to play and create games. It is a great example of user-generated content done really, really well. While the vast majority of Roblox users are under 13 years old, it still presents an interesting advergaming opportunity for marketers, with options to create branded games or experiences.
8. Cash App
Cash App is a finance app that allows users to transfer and request money between one another through the app. Along with transfers, users can also use the app's banking services, as well as buy stock or bitcoin. In March 2023 Cash App had over 5 million downloads, landing it on our list of 2023's most popular apps.
9. Attack Hole
While we may use apps to make our lives easier and more organized, we can't forget that apps are also for fun! And the popularity of Attack Hole, a free mobile game, proves just that. In March 2023 this app received just over 5 million downloads in the Apple App Store and Google Play Store. Attack Hole does show in-game ads to its users, making it yet another interesting app for advergaming advertisers. Have you played it yet?
10. Snapchat
With over 4 million downloads in March 2023, Snapchat is especially popular with a young demographic of people, particularly in the United States.
Snapchat can be used both for fun and for business as it has a feature called Instant Create that lets you quickly and easily make ads and then share them based on location in order to make sure they are seen by your target demographic. In this way, Snapchat can be a useful marketing tool.
Final Thoughts
No one could have predicted that some of these apps would have become so popular. It will be interesting to see how app store downloads continue to evolve over the course of 2023, and we'll certainly update our blog with those figures as they start to come in.