By Héctor Borrás, on 8 February 2023
The use of video games within advertising has been growing and has virtually become a type of marketing strategy. Brands realized that approaching consumers from a playful perspective works very well, so they started to invest in this.
Today, there are many ways in which gaming marketing can be put into practice, from inserting advertising into the dynamics of a game itself to developing your own game as a brand. In this article, we will analyze the most important trends in gaming marketing so that you can implement them.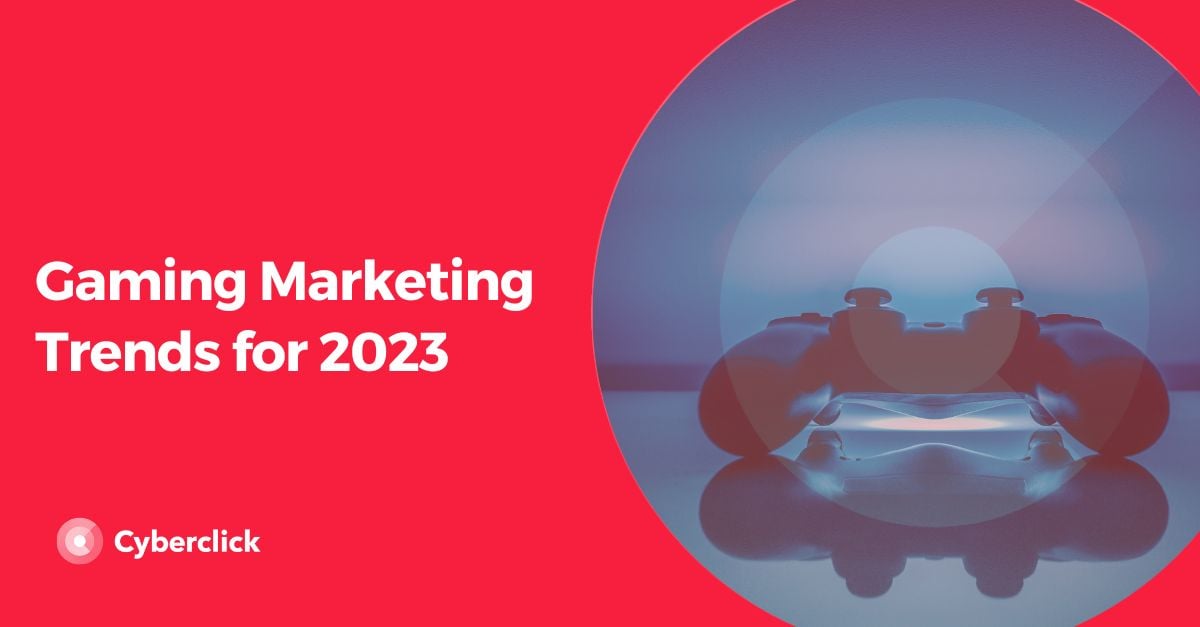 Gaming Marketing Trends for 2023
The Explosive Growth of Esports Investment
Esports, or electronic sports, are professional competitions for different video game disciplines. Just like any other sport, spectators can watch how each gamer plays.
Esports can be very useful for brands as they are expected to grow over time in terms of revenue and audience. According to the consulting firm Newzoo in its Global eSports and Live Streaming Market Report 2022, it's predicted that the esports industry will generate almost $1.866 billion by 2025.
The streaming audience in gaming exceeded 810 million in 2021, with Twitch and YouTube Gaming as the leading platforms in the West (China has its own streaming platforms), and it should exceed 1 billion viewers in 2023.
Approximately 70% of esports revenue comes from the marketing and advertising that brands invest in the events.
As you can see, esports are one of the fastest growing trends in gaming marketing, as they bring great profitability to the companies that advertise.
If you are interested in reaching a young, international, high-income, male audience, including esports in your marketing strategy is a very good option because the vast majority of the esports audience meets these characteristics.
Console Games for Cell Phones
If you want to get into the world of gaming marketing, you can't lose sight of cell phones, especially when console and computer games are being adapted to these devices, giving rise to what are known as "mobile esports". Cell phones are becoming more sophisticated and have a better network connection, which means that the public spends more time on them than on computers (both laptops and desktops) or consoles.
In addition, the broadcasting of esports tournaments via streaming is also very well received on these devices, as the public prefers to watch them on their cell phones.
Although it seemed unthinkable a few years ago, now console or computer players can face cell phone players. In short, cell phones are no longer simple devices to call, visit social networks or check your bank account; the world of video games is playing an increasingly important role in them.
Tipspace: The Game Monetization Platform
The list of gaming marketing trends has to include the platform that promises to become the international gaming monetization tool par excellence in 2023. Tipspace's goal is to give players the possibility of earning money while playing their favorite games. As indicated by its creators, people are already playing games to earn money, the problem is that the games available on the market for that purpose are often quite bad. In short, Tipspace has come to revolutionize the world of play to earn video games.
With this platform, users will simply have to pay an entry fee and the algorithm will take care of finding a person of the same level, i.e. who wants to play with the same fee. At the end, the winning player gets the full amount.
According to its creators, the Tipspace platform is still in a legal vacuum, since it is not gambling and the bet is not placed against the house. In short, everything depends on talent.
Keep an eye on this platform because it can become a great tool to advertise your products or services.
Gaming in the Cloud
Things are changing with the birth of game streaming platforms and, like everything else, this will bring a lot of advantages, but also a lot of fine print.
On the one hand, video games will become much more affordable for everyone, since their price can be reduced. It will also allow users to start a game on a console and continue it on a computer without any problem. This, in turn, will allow people to continue to play from anywhere in the world. Finally, the time spent installing a game will be over, since the game will be available in the cloud and will be ready to start at any time.
On the other hand, a very good Internet connection is required, and not all users have this.
New Online Gaming Platforms
Online gaming platforms are also going to become a big trend in gaming marketing, as cloud gaming will revolutionize the way video games are played and conceived. Until now, the hegemony of online gaming platforms was held by Steam, but there are others that are beginning to gain popularity, such as GOG due to its large catalog of both old and new games. But GOG is not the only one that is getting noticed, platforms such as Origin, Epic Games Store, or UPlay are also starting to stand out.
There are also online gaming platforms that specialize in a very specific style or theme of games, as is the case of Roblox, which is focused on independent games that have a great success.
Cryptogaming: How Blockchain Has Given Gaming a Boost
We have previously talked about platforms such as Tipspace where you can earn money for playing video games, and with cryptogames something similar happens, only that the payment or reward is in the form of NFT or cryptocurrency because they are based on blockchain networks.
In general, applications with blockchain technology have undergone incredible growth in recent years and those dedicated to video games are no exception.
Today there are a wide variety of cryptogames with very different themes, from role-playing games to fighting games and strategy games. Games such as Alien Worlds, Axie Infinity or Cryptokitties, where virtual cats can be created and exchanged for cryptocurrencies, have become popular.
Cryptogames usually have very simple dynamics, but like any play to earn game, what really attracts players is the dynamic of incentives, which is capable of generating high levels of engagement.
It is very common for these games to create their own cryptocurrency and put a price on it. But what's truly relevant about cryptogaming platforms for companies is that they will gradually become more democratic and allow new business models to emerge that are still unexplored.
The Presence of Virtual Reality in Gaming
Although virtual reality in the world of video games still has a long way to go (the technology needs further development), little by little, we can see how there are more and more virtual reality games. Until recently few people could access this type of entertainment because it was expensive, but virtual reality games are becoming more affordable and therefore available to a wider audience. For this reason, virtual reality games have become one of the trends in gaming marketing.
As a brand, there are many ways you can include virtual reality games in your marketing strategy. You can collaborate with popular gamers or content creators in this sector to play these types of games while your brand supports them by promoting them.
Fitness Gaming
Fitness games are another big trend in gaming marketing. If you thought that video games had nothing to do with physical activity and sports, you were wrong. Fitness games are based on the combination of physical movement and video games, where users have to perform movements that raise their heart rate, test their flexibility or strength in order to win the game.
One of the most positive things about fitness games for brands is the possibility of being able to reach an audience with gaming marketing that they never imagined they would reach with video games, such as families, adults, or those who are not at all fond of consoles.
Growth of Female-Focused Games
Traditionally, the world of video games has not been very female friendly. However, there are more and more women interested in this field, especially with regard to mobile games. In fact, they use these devices to play video games more than other devices such as consoles.
This is an opportunity that brands focused on female audiences cannot miss, since almost 50% of the audience that plays mobile games are women.
In addition, they are also more likely to share their experiences on platforms such as Facebook, thus generating very important communities.
Women's favorite games tend to be brain teasers and strategy games, followed by problem-solving and puzzle games. Promoting yourself on platforms that offer these types of games can be a great tool to boost your brand if it is oriented to a female audience.
Remakes and Reboots of Classic Games
Rescuing good games of the past is a trend in gaming marketing that is becoming more noticeable, as it seems that nostalgia is something that gamers today can not avoid. There are a lot of incredible games out there, and whether it's remastering the old version, making a remake adapted to the new times or rescuing characters from the past, classic games are more present than ever. "Alan Wake Remastered" or "Mafia: Definitive Edition" are just some examples of this return to the past. There are cases of tremendous success, such as the remake of Final Fantasy VII, which became the best-selling game of 2020 in the United States.
This trend doesn't seem to be going away anytime soon. Developers have realized the great pull of reboots and remakes, so making these types of games has become a priority for many companies.