By Colm Fitzgerald, on 3 December 2020
Creating a user generated content marketing strategy is a proven method for building brand awareness, boosting social credibility, and growing revenues. It can either be an organic process started by your customers, or a built in strategy that you've carefully planned and cultivated.
In this post we'll cover what user generated content is (including examples), its benefits for your brand and, finally, how to maximize its effectiveness as a marketing tool.
What Is User Generated Content (UGC)?
User generated content is any type of content generated by people rather than brands themselves. This can be images, videos, text, reviews, podcasts, stories, etc. that include, or mention a brand and their products or services. Companies make use of this content by sharing it on their own networks which demonstrates their popularity and serves exceptionally well as social proof.
UGC Example
Procreate (iPad drawing app) is great at using UGC to promote how their product works, while also highlighting the remarkable work of their users and sharing it with others. They regularly give credit to the content creators which is important in facilitating reciprocal relationships between brand and customer. One look at @procreate on Instagram and you're met with a beautiful array of posts featuring users' work curated by Procreate.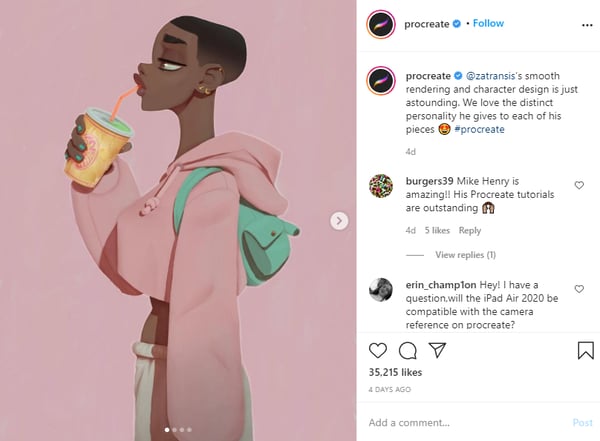 Procreate utilizes user generated content to showcase customer artwork while also promoting their product. Source: Instagram
Benefits of UGC
We've already explored a few benefits UGC can bring to brands, now let's jump right into how this content can contribute significantly to your overall market strategy.
Authentic and Trustworthy
People want authentic content and are more than twice as likely to view UGC as authentic over brand created content. Instagram is a particularly good platform for UGC because of its imagery and hashtag centric nature. And before any purchases are made, consumers want to know if they can trust your brand or not. Marketers and salespeople are by default untrusted by the vast majority of people, as it's their job to put products and services in the best light possible. However, user generated content, especially reviews, help to gain consumer trust and lead towards increased sales.
Word of Mouth Marketing Drives Sales
In many ways, UGC works much like word of mouth marketing. People want third party validation and often ask friends or family about products they've bought (and they're more than happy to share and look good while doing so). Online reviews and features have also become trusted by the majority of shoppers, too. In fact, almost 80% of people say UGC impacts their final purchasing decisions. Unfiltered, unbiased content from fellow consumers is what people really need to make confident purchasing decisions.
Increased Engagement
User generated content is more than twice as likely to be shared than traditional promotional content. Users want to engage and share with friends and family when they have positive experiences with products and services.
How to Use UGC
User generated content can be a goldmine for marketers, but there are certainly some best practices for its use and for making sure that content is indeed positive and not negative.
Always Ask for Permission
To avoid annoying and turning customers off, always ask for permission to use UGC and always credit the user or original source of content. Most people will want to be featured but asking for permission is polite, considerate and ethical, especially in an age when privacy is at a premium. A simple message, privately or publicly, is usually enough.
Build Brand Loyalty and Engagement
if you give opportunities for your audience to get involved and then also be seen by your brand, you build their loyalty while also boosting your own engagement numbers. You can get the ball rolling with a call for customer content using a clever branded hashtag associated with a contest, a challenge, or anything holiday themed. This builds excitement as customers actually compete to be featured. People love to be involved and feel a sense of community. Why not create a community of your own which builds your brand and creates authentic content from devoted advocates?
Add to Your Content Library
Social media managers are always on the lookout for fresh, relevant content, and UGC is a fantastic source of unique and varied media that can be featured (with permission) in specific branded campaigns. Whole Foods nails it with their #WholeFoodsHaul which encourages customers to post their shopping carts as they shop, creating a consistent source of authentic, brand consistent content to add to their library.
Use Multiple Platforms in Different Ways
Facebook is ideal for posting videos and stories and while it's a tough platform for organic reach, UGC used in ads (think cute kids and pets) can go viral.
Twitter works remarkably well as an image sharing platform especially since you're quite limited in terms of character count. Visually engaging user-generated content is highly shareable and easily retweeted.
TikTok is more interactive with duets and stitches. Short videos are exciting and entertaining and the platform itself has a user generated feel as everyone is, in essence, a creator
Instagram is the holy grail of UGC. Make sure you're utilizing regrams and searching for content to share and feature with hashtags. Warby-Parker let consumers order five pairs of their glasses to try on and then choose one and mail back the rest. People were encouraged to use the hashtag and post pictures on Instagram. There are currently over 24,000 posts with the hashtag.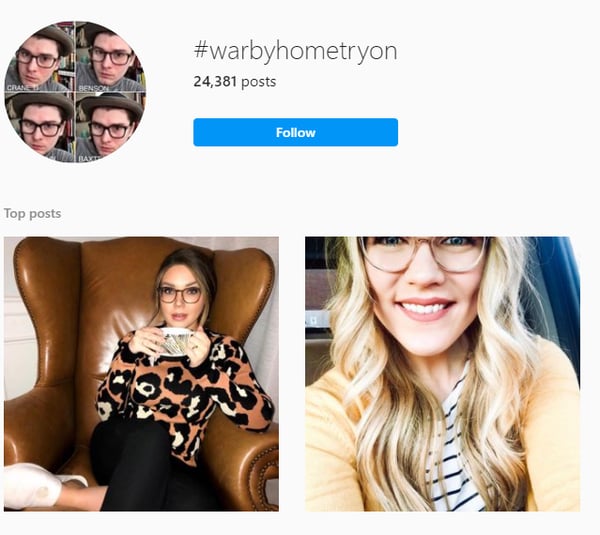 Warby Parker's #warbyhometryon UGC campaign. Source: Instagram
User generated content has become one of digital marketing's major success stories. It taps into our inherent need for trust and group validation while also helping quality brands stand out amongst lesser competitors.
UGC begins with offering great products and services, and then encouraging customers to share their experiences, or if you're lucky, they'll take the initiative themselves. By getting creative with contests, giveaways and challenges you'll begin to see the power of UGC and hopefully how it can even take on a life of its own.