By Chantal India, on 10 January 2022
Are Instagram Stories part of your brand's social media strategy? Instagram has over 500 million daily active users (almost half of Instagram's total user base), so they should be!
The casual nature of Instagram Stories means you can engage with your audience in a different way than in a typical marketing post.
With so many options, it can be hard to come up with ideas for what to post. In this article, we'll provide ideas for Instagram stories for brands and share some best practices and examples.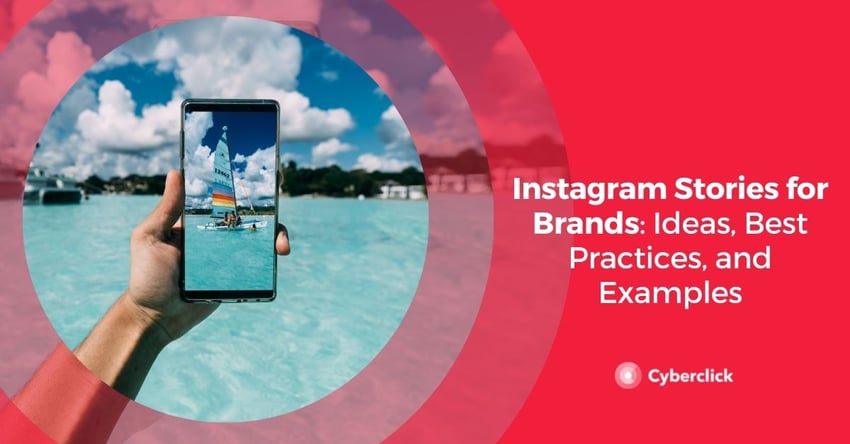 4 Instagram Story Ideas for Brands
1. Questions, Quizzes, and Polls
Instagram offers its users a variety of different tools, stickers, and options that can help generate engagement. A great Instagram story idea is to use stickers to engage with your audience on different subjects and questions related to your industry, product, or niche.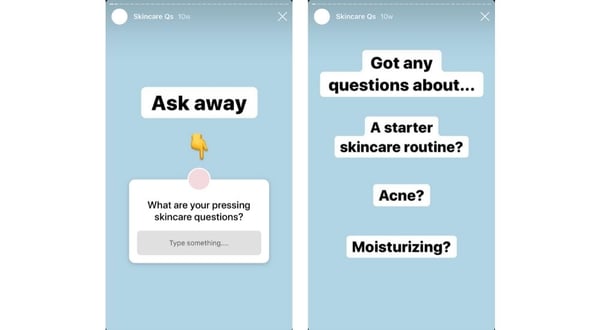 Using the "Questions" sticker allows your audience to submit questions to you directly, which you can then view, answer, and post in your stories. This feature is a great tool for brands because it allows you to get direct input from your audience. A great example of a brand using this feature well is the makeup brand Glossier. They let their audience ask questions about skincare, makeup, and beauty. Then, they consult experts within their company for the answers.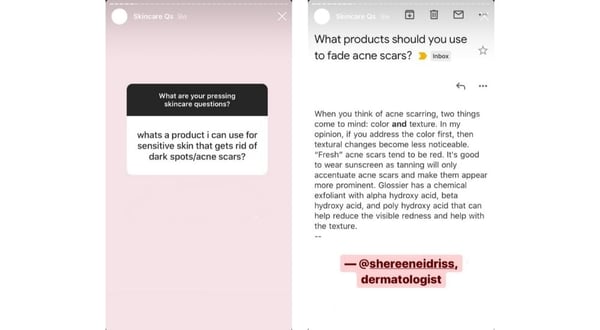 Another great Instagram story idea for brands is to create polls and quizzes. Polls allow your audience to see what other people have answered, while quizzes use a multiple-choice questionnaire to test your user's knowledge. Take Lowe's, an American hardware store chain, who polled their audience on their lighting preferences. At the end of the story, they provided a link with all of the lights they featured.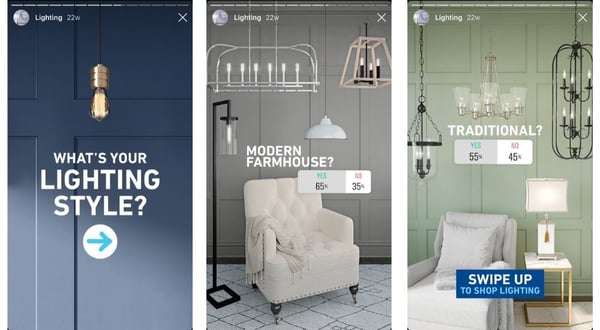 2. Talk Directly to the Camera
While this technique may not work for all brands, it is a great way to humanize your brand and connect with your audience on a more personal level. You can either have a designated person like a social media manager take the reins, or you could split the responsibility between different team members.
Apartment Therapy does from this time to time with different members of their staff giving advice on topics or subjects they're knowledgeable about.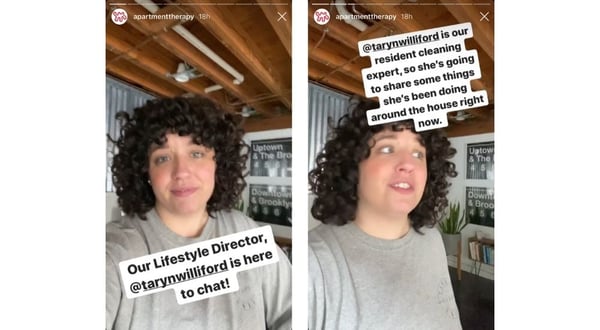 This can be an easy Instagram story idea for brands since it just involves someone speaking casually with the phone in their hand.
Or, you can mimic Sephora's style, with a full setup, background, and product display. The most important thing is to be personable, friendly, unscripted, and introduce the person who is speaking so that there is context.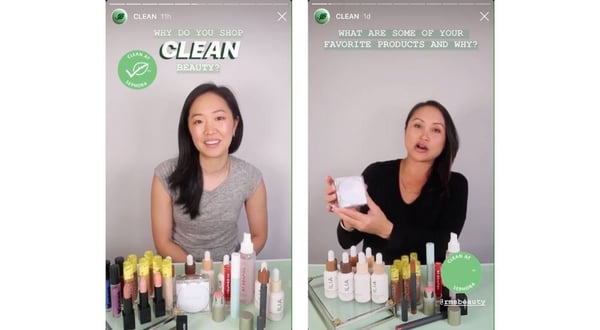 3. Tutorials and Demos
Another easy and effective social strategy for brands using Instagram stories is to post tutorials or demos about how to use products or new ways to use a service you offer. A great example of this is Procreate, a digital art app similar to Photoshop.
Every Wednesday they do a tutorial on their Instagram and walk their followers through a feature or tip to use on their platform.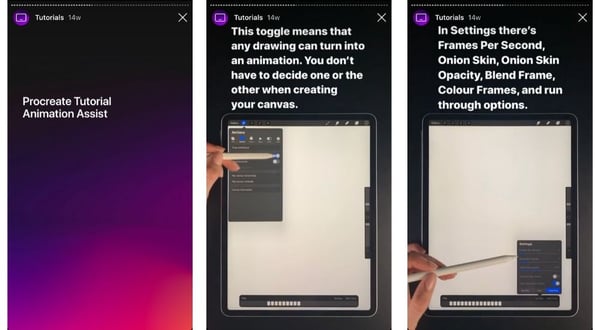 If you have a product that has a bit of a learning curve to use correctly, this is a great Instagram Story idea. It can also work for simpler products. Take a look at Whole Food's stories. They post different tutorials related to food products that their audience would enjoy.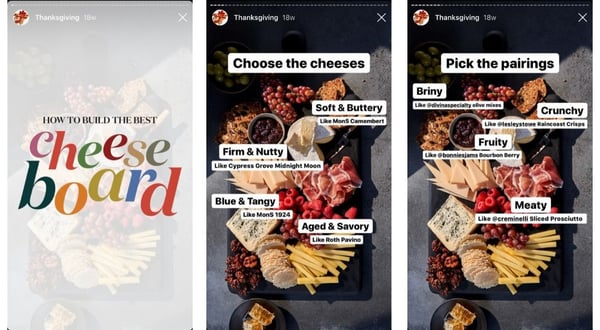 4. Behind the Scenes
Posting behind-the-scenes Instagram Stories is another way to get more personal with your audience. Behind-the-scenes features can include highlights of normal day-to-day actions of different team members or departments. An example of a company that does this well is Goop; they post fun behind-the-scenes peeks into their office life.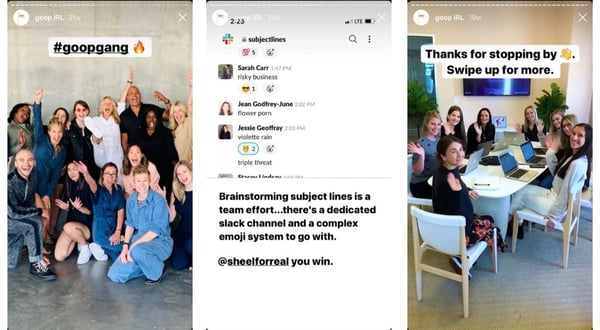 Behind-the-scenes stories are also perfect for brands that are attending or hosting events. Adobe, which hosts AdobeMAX every year, always highlights the event on their stories, giving special glimpses to viewers at home. This is a great way to make your followers feel involved in an event, even if they are unable to attend.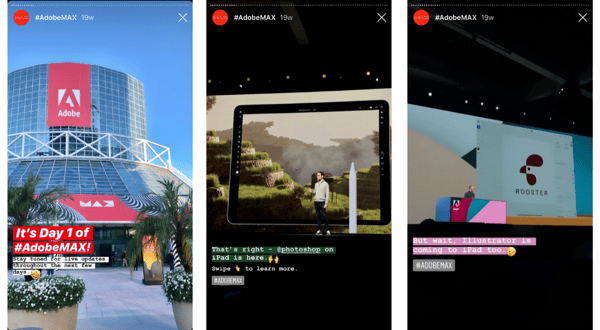 5 Instagram Stories Best Practices for Brands
1. Story Lengths Can Vary
There is no magic number when it comes to the length of Instagram Stories. According to a study from Hubspot, 63% of consumers tap through six pages or less, while 20% said that they would tap through 10 or more.
Test different lengths and see what your audience prefers. You may even find that the optimal length depends on the type of content you are posting. Some users may be willing to click on more behind-the-scenes Stories as they are more passive, rather than answer 10+ poll questions.
2. Promote Your Stories in Your Regular Posts
You're putting a lot of hard work into your brand's Instagram Stories so don't let them go to waste. Promote your Stories in your regular newsfeeds posts to get more views and engagement. This will help you in the long run because as more of your followers interact with your stories, your account will appear in higher positions on their newsfeeds.
Book Of The Month is a brand that does this really well. Every week, they post a question in a regular post and then provide an option to answer using a poll or open-ended sticker. Users can also discuss their answers in the comments. This is a very clever and entertaining way to boost engagement on your posts and promote your stories.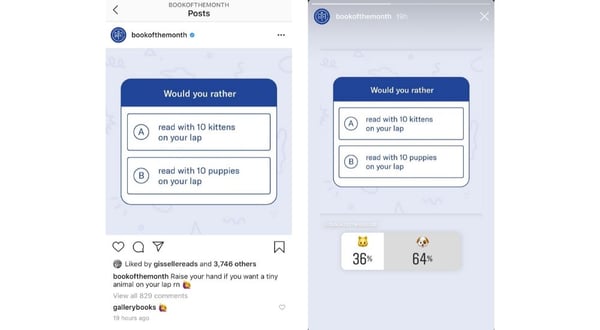 3. Mix It Up
Are you feeling inspired to spice up your stories after reading this blog? Don't stick to just one single style but make the most of all the different ways to customize Stories for your brand. Come up with a schedule that works for you and your audience, and change up what you post.
Over time, you will find what works best for your audience and what they enjoy the most.
Consider creating a set schedule for each type of post. For example, saving your tutorial style Stories for Tuesdays and calling the series "Tuesday Tutorials."
4. Grab Users' Attention
Just like with any post on social media, you only have a few milliseconds to catch a people's attention before they swipe to the next story. It's important to make your brand's Instagram Stories stand out in order to get the views you're working so hard for.
One method of making your videos stand out is using pops of color, fun text, interesting photos, good design, and well-planned composition. Although Instagram Stories feel more casual because they disappear after 24 hours, it's still important to plan and strategize for them in the same way you would a normal post.
5. Save Your Stories
Finally, archive your Instagram Stories. You've planned, strategized, and designed your Stories to be perfect. Don't let them disappear after the 24 hours is up!
Of course, not all stories need to be saved. But tutorials, quizzes, polls, and informative or entertaining stories should be saved so that they are easy for future followers to find.
Organize your stories according to their purpose, like the Reese's Book Club (below). Every month they focus on a different book, and they archive all of the Stories they post about the book so that readers can access them whenever they want.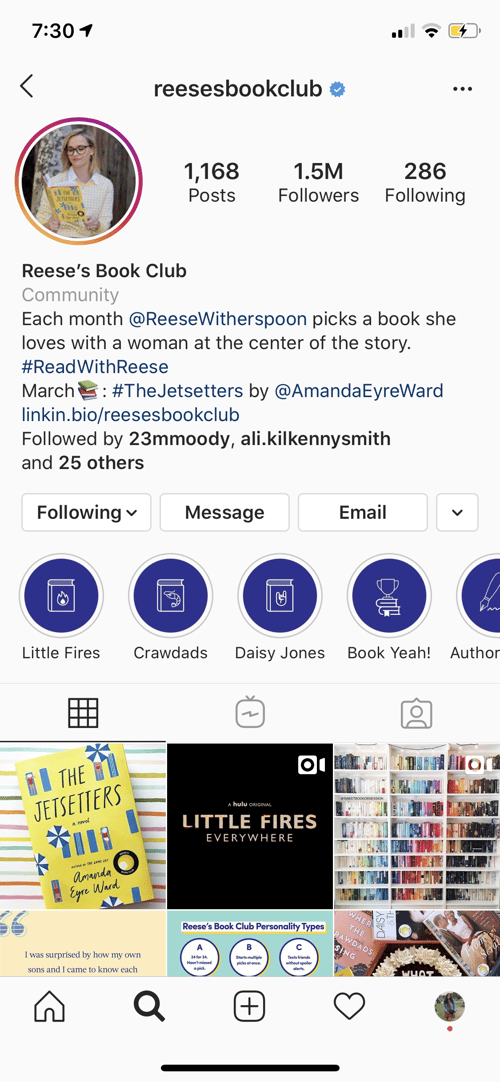 Clearly label your Stories and add a cover photo to demonstrate their topics. By having these live on your page, you make it easier for people to reference your brand while simultaneously gaining their trust.