By Laia Cardona, on 13 September 2021
Did you know that your competitors are already using video in their content strategies? According a recent study from Wyzowl, 86% of brands already use video in their marketing strategies.
This type of content is a great way to reach a younger demographic (people between the ages of 18 and 33) and to quickly create a direct, emotional connection with users. So, let's take a look at what video marketing is, the latest trends in this sector, and how you can use it in your social media strategy.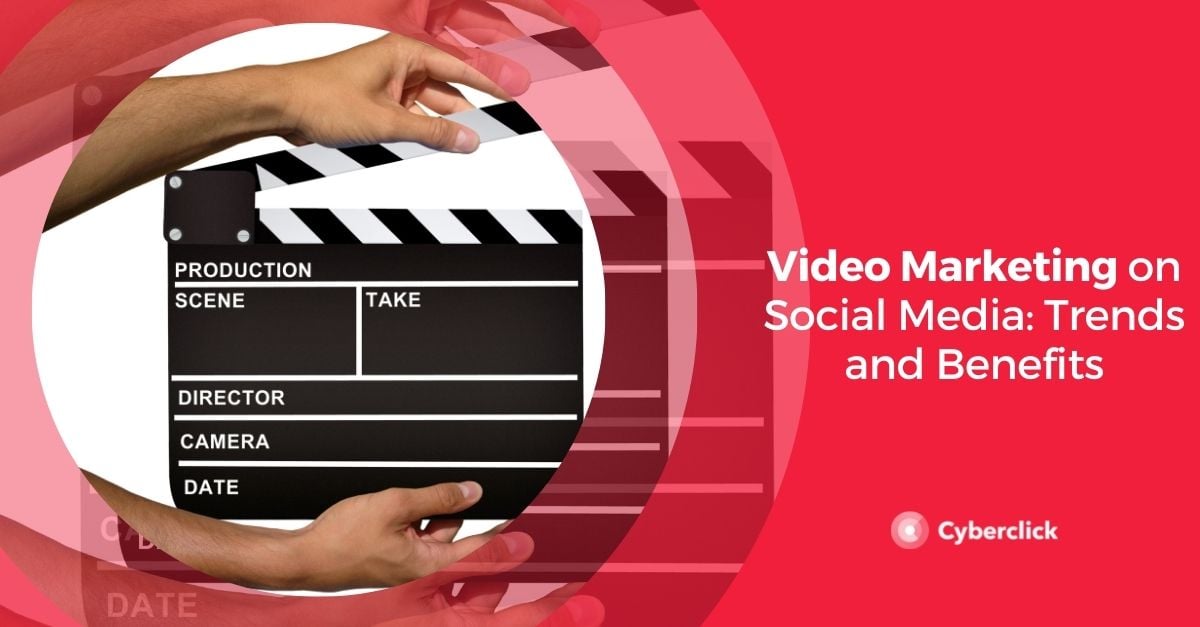 What Is Video Marketing and Why Is It Important?
Video marketing is a digital marketing tool. It involves using videos to market your product or services online, increase brand awareness and audience engagement, and also reach new audiences with your message. Basically, it's about adding videos to your content marketing strategy.
Another concept to keep in mind is social video: a kind of video designed especially to be promoted and shared on social media.
The goal is to create shareable video content, that is optimized for each social network your brand is present on. Creating high quality video content can require a significant investment of resources, but it is worth it.
Video marketing statistics clearly show that audiovisual content has a positive impact on sales and ROI:
Tweets that include videos get 3 times more comments and retweets than those that don't.

1 in 4 buyers confirm having used YouTube to look up videos on a product they are thinking of purchasing.

73% of users who watch a video tend to purchase one of the related products.
Video Marketing: A Major Trend
If we look at some predictions for the next few years, we can see that video will not stop growing:
According to Statista, the average person consumes an hour and 43 minutes of online video content per day.

In 2022, 82% of all traffic will be video content according to Cisco.

About 720,000 hours of new content is uploaded to YouTube every day
Mobile devices play a major role in this trend. People are increasingly willing to consume video on their smartphones, so it is crucial to optimize your videos for mobile devices. Also, video content is no longer restricted to one network. It has diversified and is now shared via many different channels like Facebook, YouTube, Instagram, TikTok, Snapchat, to name a few.
Video on Social Media: Which Platforms Are Best for Your Brand?
When it comes to planning your video marketing strategy, the first question is which network or networks should you focus your video creation and promotion on? To help you out, here is some interesting data about the most popular social networks for video.
YouTube
Since its launch in 2005, YouTube has become the world-wide go-to platform for high-quality videos on pretty much any subject there is. Their statistics are simply overwhelming.
YouTube is the second most visited website after Google and people watch over a billion hours of videos on this platform everyday.
74%

of adults in the U.S. watch YouTube.

The platform has over

2 billion

monthly users, and the average visitor looks at 8 or 9 videos.
Facebook
Facebook is also a popular platform for video. Facebook reaches people of all age groups, but their largest demographic is people from 25 to 35 years old (30% of its active users). The most popular videos are between 21 and 44 seconds long.
Facebook's desktop video ads app offers the following options:
Automatically play videos in the News Feed.
Offer a Call-to-Action on emerging videos (pop-up videos) that play on the right side of the page. At the end of the videos, there is the option to play back the video or install a game.
Facebook also offers several recommendations to create an attractive video that captivates viewers.
Create distinctive content that attracts attention during the first 2-3 seconds.
Make use of text so that the video does not need sound to be understood.
Post simple, easy to digest videos with correct and compelling content.
Make it creative and 15-30 seconds maximum.
The landing page that comes after the Call-to-Action must be interesting and relevant because that is where the visitor becomes a lead or customer.
Twitter
This network offers various opportunities for video marketing thanks to GIFs, its integration with Periscope and Vine, and its native videos.
Twitter First View gives immediate visibility, which greatly increases the probability of engagement. Making your video the first tweet users will see is limited to 24 hours, in other words, the same brand cannot buy the same space for two consecutive days. Thanks two these two characteristics, First View is an ideal way to launch ads that are time sensitive and promote events like releases, launches, limited offers, etc. thus multiplying their viral potential.
Twitter is widely used on mobile devices, and can contain a variety of video lengths, from half a second to 140 seconds.
Instagram
Although this social network is known for photography, there are, of course, multiple options for video too! Instagram has IGTV and Instagram Reels.
Instagram Reels was created in 2020 and allows users to make short videos which they can edit and add effects to. On the other hand, IGTV allows people to make much longer videos of up to 60 minutes.
Snapchat
This network has videos that only last for a matter of seconds, so if you really want to win over your audience, be quick!
Snapchat has 238 million daily active users as of 2020. According to Hootsuite, its biggest markets are the United States, India, France, and the United Kingdom, in that order. 84% of its users are 34 or younger and over 60% are female.
TikTok
At this point, most people are quite familiar with TikTok. This social network launched in China in 2016 and has since gone on to enter 150 markets around the globe.
This platform allows users to post short videos up to three minutes in length and has gained popularity for things like dances, lip-syncs, comedy, and really any other topic a users wants to post about.
The network has over 689 million active monthly users, the app has been downloaded over 2 billion times, and users spend an average of 52 minutes a day on this app so there are ample opportunities for video marketing.
10 Tips for Video Marketing on Social Media
Now that you know why it is so important and beneficial for your brand to get involved in video marketing, let's look at some tips that will help your video marketing strategy be as successful as possible on social media.
Make videos people will interact with.

Basically, focus on creating content that people want share. Make it as easy as possible and feature topics that people can connect with and reflect on, that moves them to act, or that are useful for them.
Create emotional content. Provoking emotion is one of the most effective tools to persuade and move people. Video is one of the best formats to provoke an emotional response, so use it!
Adapt your videos to each social network's algorithms.

Think about the different ways social networks behave when sharing content. For example, Twitter prioritizes latest news and updates, content on Snapchat is fleeting, and on Facebook you have longer periods in which you can expect users to react.
Include SEO in your strategy.

If your videos marketing strategy includes YouTube, it is vital to optimize your SEO to increase your number of playbacks. Each networks has their own positioning strategies however, so don't forget your SEO homework!
The shorter, the better.

Although each network has their ideal video length, making your videos on the shorter side will make it much easier for them to succeed.
Use

storytelling

to communicate more effectively.

If you truly want to win your users over and make them remember your brand, tell them an irresistible story! No one wants to see (and much less share) a typical ad, so be creative and different.

Turn the user into the protagonist.

For your content to impact a user, they should feel it is talking directly about them. We live in a world overflowing with content, and we automatically filter out content that we do not connect with. If you want your users' attention, make them feel like they play a role in your story.

Start off strong.

One of video marketing's greatest enemies is drop off rate. Many users stop watching videos after only a few seconds, so you really need to reel them in right from the very start. The first 30 seconds are key to make sure they stay with you.
Integrate your videos with the rest of your brand.

Digital marketing in general, and video campaigns in particular, are just one ingredient in your branding and advertising strategy. Create videos that reflect what defines your style, values, and overall brand identity.

Include an in-video Call-to-Action (CTA). This is a request to your viewers to take a particular action after watching the video. Effective CTAs use phrases like 'download now' so that the message is clear.