By Nerea Boada, on 20 March 2019
Do you use social networks as part of your marketing strategy? The fact is, even nowadays, these channels have a certain "bad reputation" amongst digital marketers for the difficulty in measuring their ROI. The problem is that many companies use social networks to "generate brand awareness" or "create communities", and measure their success based on metrics such as the number of likes or retweets, but are then not able to translate these results to analyze whether they are actually aligned with their overall marketing objectives. So, if your final goal is to increase your brand's sales, what you need are strategies to generate quality leads on social networks and increase your conversions.
The shortest path to connect social networks and ROI is sharing content that then translate into conversions on your website. If your business is based on ecommerce, you can share the latest offers, promotions and products which may interest your followers; while avoiding being considered spam, of course. If you operate in the B2B world, on the other hand, you will have to use content marketing based strategies, to generate quality leads on social networks. If you write a blog, create eBooks and downloadable guides that you can share, you will have a simple way of obtaining measurable results to show what is working and what's not, and to adjust your strategy to help achieve your goals. Furthermore, this type of focus increases the engagement of your new lead with your brand.
So if you happen to be in the need of renovating you strategy to generate quality leads on social networks, I would like to share with you 5 strategies that will help you improve results.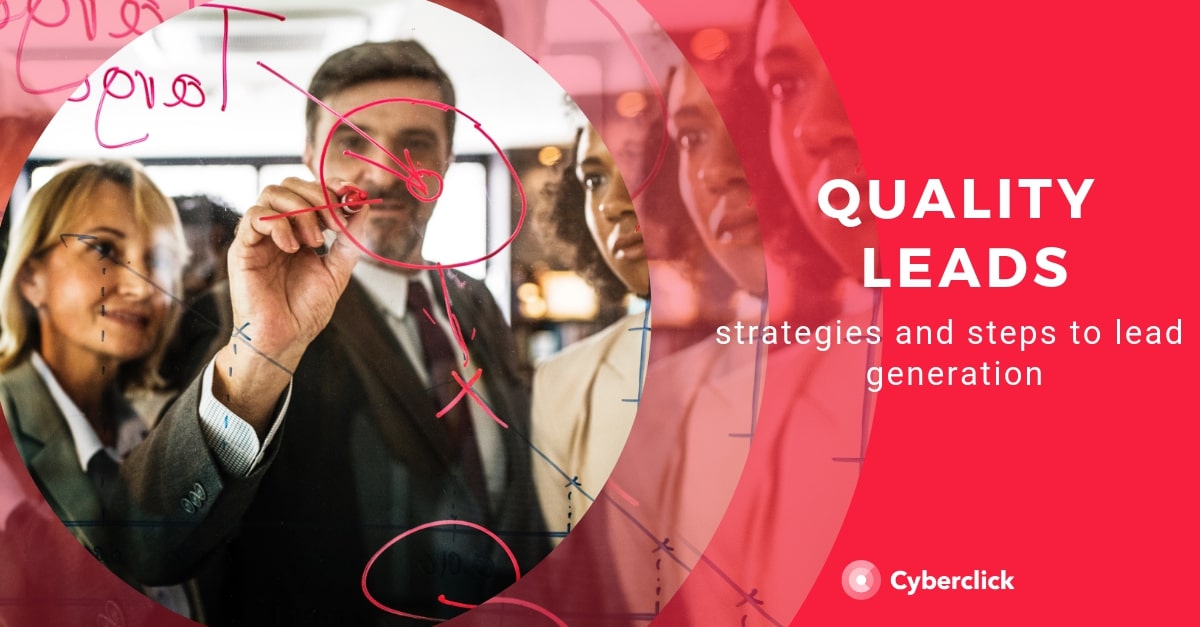 5 Strategies To Generate Quality Leads On Social Networks
1# Focus on the social networks your consumers actually use
If you want to generate quality leads on social networks, the first thing you need to know is where you can find your target. The key to success is choosing the most appropriate social networks for your brand. Most of B2B campaigns (65%) have managed to obtain at least one new client through LinkedIn, followed by Facebook (43%) and Twitter (40%). There are no set recipes for success, you simply have to try out different ones until you find the social network for your brand. In any case, this might help you out:
Facebook

continues to be the most popular social network all over the world. Furthermore, it reaches out to all segments and ages, although some recent studies indicate that teenagers are beginning to favor others, such as Snapchat or Instagram.

Twitter

is the second most popular networks in terms of users, but the forth in terms of use, as 60% of tweeters use it to stay up to date with what's going on, but don't publish their own content. Its biggest feature is its speed: if your brand has anything to do with the present, it can be a great place to find quality leads.

Instagram

has grown a lot in terms of users and activity in the past months. If you are able to give your brand a bit of a visual spin, you can make the most of its advantages. Put your creativity to work!

Pinterest

: a "niche" network used mainly by upper-middle class women who are very interested in purchasing, meaning it can be an excellent opportunity to generate conversions and leads for the right brands.

Google+

is another place to keep in mind if your company is in the Tech or engineering sector.
2# Create and share quality content
Your social networks are only as good as the content you share on them, so be careful with your content strategy! A frequently updated blog that also includes "timeless" articles (made to be shared several times as time goes on) is vital. But don't stop there: infographs, downloadable content or even launching your own company YouTube channel are key to stand out from the competition and attract more visitors. Don't forget that very high quality traffic can arrive from social networks: it has been calculated that the ratio between leads and visits from users of social networks is from 3 to 5 times high than from the general public.
3# Dare to publish your landing pages on social networks
Alongside your blog posts, you can (and should) also share landing pages to acquire instant conversions. If an eBook or a guide are good enough to get a place on your website, they deserve to be shared on your social networks to generate quality leads who are interested specifically in your content. As always, don't go overboard, but if you update your content often enough you can even post up to 1 landing page per day on Twitter, and a couple per week on other social networks. If you are just that good, your followers might even want more.
4# Share content from other sources
Some time ago, the "social network rule" was that you should share more content from other sources than your own. Nowadays this rule is a lot more flexible, especially if you are creating high quality content. In any case, sharing content from other sources can be a good idea to cover up any faults in your content creation plan and to show those you follow you that you aren't obsessed with yourself.
5# Lead Nurturing
Have you managed to get your visitor to convert into a quality lead? Give yourself a pat on the back… but now don't let yourself get lazy nor let your lead gather dust in your database. Leads originating from social networks have higher probability of opening your emails and visiting your website than those that come from other sources, but you still need to give them a little push. Keep in touch with them by adding them to your lead nurturing campaigns.
An remember: if you want to acquire quality leads with social networks, don't limit yourself to sharing press notes. Users are already tuned in to your brand, so it's the time to offer them useful content that actually solves their problems, and not to talk about yourself. With a little bit of effort and consistency, you will be able to see and measure the true results of you social network strategies. Good luck!
Lead Nurturing & Lead Marketing Strategy
If you've ever downloaded an ebook, report, or you've signed up for a webinar, you've probably noticed your mailbox filling up with related content. When business get user contact details, these users are now categorized under leads, and that's when the journey of lead nurturing begins.
What is Lead marketing and how do we use lead nurturing?
Lead marketing is an inbound marketing strategy strategy used to build long term personal relationships with leads. For this reason this particular inbound marketing strategy is labelled lead nurturing.
The main purpose of lead marketing is to ensure your leads keep you on their 'top of mind'. At the point where a decision or purchase is made, lead nurturing ensures the customer knows your unique selling point and why they should choose you. Marketing efforts lead to sales when leads are kept 'hot' and keep the flame's still going when leads reach the bottom of the funnel and it's time to turn leads into a conversion.
With lead marketing, timing is everything. The content that you offer to users through inbound marketing must be relevant in terms of time and place. So if there's a time and place for everything, how do we decide? Well, it depends on the stage in which the lead is within the buying cycle.
The first step in developing a successful Lead Nurturing strategy is clearly identifying and locating the stage your lead is in.
Step by step. The lead nurturing process.
The lead nurturing process involves converting strangers to leads, leads into customers, and converting customers into promoters through referrals. The basic idea is to try and familiarize leads with your brand to be the first that come to mind for satisfying their needs.
Find your lead. Phases of lead nurturing.
Let's look into what steps you should be taking as your leads pass through various phases.
Stage # 1: Attract
The attract stage is where the user must begins to communicate their needs. Likewise, this is the phase where you as a firm begin to show the user how you can step in to fill these needs. To achieve this, your goal here should include high brand visibility and differentiation from your competition. Voicing your unique value proposition to users is what will make the different to convert users from strangers to leads.
Step # 2: Convert
Your users already know you and know what you're capable of doing. It's time to turn those visitors into potential customers. This phase is only possible with in depth understanding of your buyer journey and buyer persona.
This is the stage where your content marketing strategy really comes into play and you offer your users some attractive and valuable content. Such content allows you to invite your leads to download an book, a report, or specific case studies or propose a sign up to a webinar or online training. Through subscription forms you generate contact details and user data.
Step # 3: Close
What good is getting 1000 people to download your eBook if not a single one of those users buy your products or your services? It's time to turn those leads who are already willing to buy into your customers. This kind of lead is also called a SQL; sales qualified lead.
Step # 4: Delight
You have successfully converted a user to a lead and a lead to a customer. Now it's time to turn your customers into promoters or brand evangelists. You want your customer to share the delight that you've shared with them and refer you to their mom, dad, aunt, uncle, and maybe even tech savvy grandparents. Turning your customers into promoters of your brand is a key strategic move for your marketing strategy. The delight stage is the stage where Seth Godin would say, "You turn customers into salespeople."
Overall, lead nurturing through lead marketing strategies allow you to increase the effectiveness of your inbound marketing actions.
How to generate leads in 4 steps with the Automation of Marketing
Getting leads is the first step of our sale. What does this concept mean? To refresh our memory a bit for those who do not have it very clear, it's when a user performs a search on the Internet and reaches a web page where you must fill out a form to request information. So we get our unknown visitor to become a prospect client of which we have data, this being a lead.
Marketing Automation helps us to manage the relationship with the contacts we have obtained. Using software we can automate the communication with the consumer and analyze their behavior and level of interaction with our brand. So we can personalize the information sent and know when a lead is ready to generate a sale.
The analysis is basic! Marketing Automation allows us to obtain useful data that will help us improve the strategy and approach. For example, segmenting users based on the needs of these, we can tailor the content to what they want. So what we send ends up being really attractive.
4 Steps to successful Marketing Automation
Collaborate with sales: We must ripen leads until they are ready to generate a sale. What? Seducing them with our content gradually. So we increase the chances of successful conversion by 20%.
Emails drip during campaigns: 60% of consumers read marketing emails. Segmenting leads by demographic factors or data from their behavior allows marketers to produce automatic email campaigns that are tailored to each target.
Landing pages: Using automation campaigns in conjunction with landing pages can achieve conversion rates of 50 percent.
Customization and A / B testing: 3 out of 5 companies say the A / B testing is valuable to increase conversion rates. Testing different images and headlines with the audience will help us discover which impacts the most. Then there will be those who will enter in the landing pages or email copy. Also, customizing the emails generates 6 times more income than those who are not.
The data is drawn from the info graphic created by TechnologyAdvice.
Marketing automation is not just a trend, but a powerful tool that benefits our company in closing deals and increasing ROI.
Lead nurturing: how to care for your potential customers
The classical theory of marketing says that 7 "touches" or interactions are necessary for a lead to become a customer. In the era of Internet, where buyers have as much or more power than sellers, this theory is outdated. But it is still necessary to take care of your prospects with lead nurturing campaigns that keep your brand at the top of your list until they are ready to buy. The best strategies for doing so build a strong online presence and ensure effective communication.
This is an automation technology used in Inbound Marketing campaigns. For example, if you download an eBook, during the following weeks you will receive messages from that company. This method of marketing is called lead nurturing.
Your online presence is key to the lead nurturing
Instead of relying on vendors of your brand, your potential customers are researching on the Internet. Therefore, it is essential to have a strong online presence, which has at least the following elements:
A

well optimized website and a good user experience.

When designing your website, the first thing to consider is the people who visit it: the user must be able to easily navigate the site and find clear and concise information. Second, you must take care of SEO so these potential customers can find you.
LinkedIn

presence. If you're in the B2B world, LinkedIn is a crucial social network to present both your company and each of the individuals that comprise it. Take advantage of all the possibilities of interaction: company pages, personal profiles, groups, articles, etc.
Presence in other

social networks. To go directly to consumers Facebook and Twitter are your best bet, but there are many other social networks with their own audiences. Use them to communicate with your audience and create a memorable brand.
Effective communication to reach your customers
Presence on the web and social networks is essential for the lead nurturing, but you also need to actively initiate conversations through:
Marketing content that provides value. Business calls and emails quickly bored your potential customers. Instead, it creates a content strategy that gives them value and shows them your interest.
Consistent

email marketing

campaigns. Most commercial emails end up in the spam folder or the trash, but it is possible to effectively communicate with your potential customers through emails. How? Providing information relevant to them without ulterior motives beyond a relationship. For example, let them get ebooks, practical guides and other content that you created in step 1.
Sale of valuable materials. Your brochures and catalogs should also add value, noted for their quality and help establish yourself as a leader in your industry. Do not miss this opportunity to reach your audience.
Identifying potential online sales amongst qualified leads
If you want to increase your product's or service's online sales, inbound marketing is your ally. As I am sure you already know, this strategy consists in attracting users using content: ebooks, podcasts, videos, etc. and then taking care of those contacts until they convert into online sales for your brand.
For this strategy to work, leads are absolutely essential. You need to understand how to get more and better leads, how to distinguish different kinds of leads and how to deal with each one to lead them through your conversion funnel. So, to give you a little hand, today I would like to tell you about the different types of qualified leads and how to better define them to increase your online sales. Let's go!
Types of qualified leads
Let's start at the beginning: What exactly is a lead?
Although the exact definition may vary depending on your inbound marketing strategy, we can generally say that a lead is a person who has shown some kind of interest in your products or services and has left your their contact information. The goal of this marketing strategy is to increase your lead database and maintain your relationship with them until you are able to convert them into clients.
In a bit more detail, we can distinguish between 3 main different types of leads:
1# Cold leads
They have consumed some of your content and left you their basic information (their name, email and profession, for example). It is true that they are now a part of your database, but they are still a long way from actually making a purchase. We call this phase of the process the TOFU (Top Of the Funnel).
2# Marketing Qualified Leads (MQL)
These users have showed recurring interest in your content, which you have been able to use to obtain a bit more information about them and evaluate whether or not it might lead to a good business opportunity. This is the MOFU phase (Middle of the Funnel).
3# Sales Qualified Leads (SQL) or Hot Leads
The most interesting of all leads, those who are ready to buy. In this phase, the user is ready to receive a direct offer: a meeting over the phone, a demo, a product sample, etc. and you already have all the information you need to organize this transaction. This is called the BOFU (Bottom of the Funnel).
Through this entire process, lead nurturing is essential. This is basically "feeding" your leads by offering content that will make them advance along the purchasing cycle. For example, if your lead has downloaded an ebook about tourism in China, you could send them a customized email with suggestions of interesting online articles about this country.
Another key concept is that of lead scoring: giving each lead a score or "grade" according to the actions they take. The more the lead interacts with your brand, the higher score they will get and the more interest they will be in initiating an online purchase.
We also cannot forget about subscribers, who are the users who have agreed to receiving information concerning your brand (by subscribing to your newsletter, for example). These contacts have yet to convert into leads, but you have already established a relationship with them. Make the most of this to offer them content that will interest them and get them to convert into qualified leads.
Defining your MQL to increase online sales
For your inbound marketing strategy to be truly effective, the right qualified leads have to be sent from the marketing to the sales department. To do so, you need a lead scoring strategy that will help you distinguish between the different users.
When putting all of this into action, the collaboration between the marketing and sales department is vital. If the former is in charge of the whole process of acquiring leads, then the latter is in charge of sealing the deals. This makes it extremely important for these two departments to be on the same page and coordinate amongst themselves to achieve the goals. These 7 steps will help define your qualified leads to increase online sales:
Develop a joint definition of MQL.

It may seem obvious, but all too often there are marketing departments who begin working on a lead strategy without taking into account what the sales team has to say about it. Wrong! Get both teams working together and you will see your results improve.
Use your

buyer personas.

Start from the beginning: who is your target audience? Take all your buyer persona's characteristics into account when defining your MQLs and SQLs, and not just what stage they are at in the purchasing cycle.
Ask your sales team.

Sit down with your online sales people and ask them what a qualified lead is to them, or what kinds of users they find more appropriate to close a sale with. This doesn't mean you have to include every word they say in your MQL definition, but they will be sure to give you a great place to start!
Determine your qualification factors.

Take a look at what your clients have in common: demographic characteristics, what sector they work in, the size of their company - basically any quality that can help you filter the more interesting leads.
Take notice of your qualified leads' behavior.

Your users' "digital footprint" is extremely valuable information to know when they are ready to buy. Use your best detective skills and analyze all the data: the ebooks they download, videos they watch, pages they visit, etc. For example, someone who visits your Pricing page several times in one day may be ready to get an offer.
Don't overlook quantity.

Sure, if you combine 57 different characteristics, you will get the perfect lead… but it's no good if you then only have 3 people who actually fit this description. Put both marketing and sales brains together to find a balance.
Revise your definition.

As always in marketing, you will have to analyze results and see what in fact is working and what isn't. My recommendation: sit down once every trimester with your marketing and

sales teams to revise your MQL definition.