By Enric Llonch, on 2 August 2022
If you want to grow on YouTube and boost your video marketing strategy, you need to be familiar with YouTube Studio and its features. To access it, you will have to log in to YouTube and click on your icon photo in the upper right corner of the main screen. A menu will appear and YouTube Studio will be the third option listed on it.
What is YouTube Studio? In this article, we'll answer this question as well as share everything you can do on the platform to create and share your audiovisual content.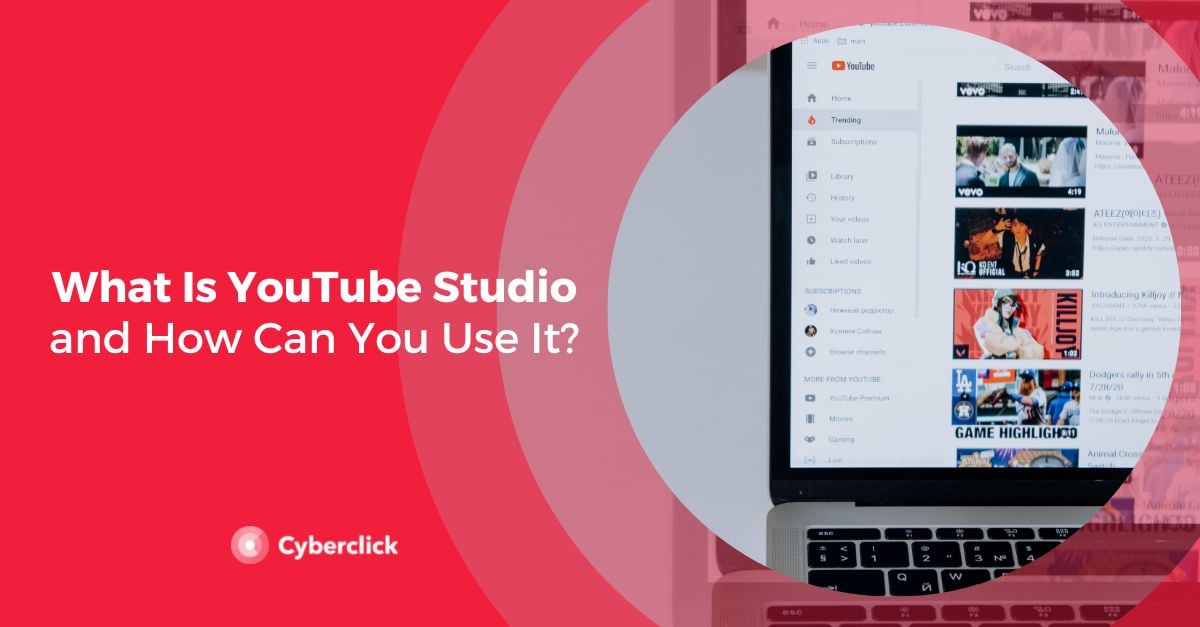 What Is YouTube Studio?
YouTube Studio is the tool provided by YouTube to be able to manage your own channel. You can find all the information you need to analyze a large amount of data within it. In addition, if you are considered a partner by the platform, you can start monetizing your channel, analyzing your earnings, and downloading free music to use in your videos.
What Can You Do in YouTube Studio?
If you want to enhance your video marketing strategy, YouTube Studio is for you. It is essential to know exactly what it has to offer so that you can take full advantage of it. Here are some of the most important features you can find in YouTube Studio.
Manage Your Channels
YouTube Studio only allows you to monitor the account you are logged in to, but if you have multiple accounts, you can easily switch between the two by logging and clicking on your image in the upper right corner. A menu will pop up and it will give you the option to change your account.
View Analytics
Analytics is one of the main features of YouTube Studio. It will allow you to see the performance of your channel and analyze your audience, views, impressions, and engagement, as well as give you information about your subscribers and the playback time of your videos. To access the analytics, simply click on the "statistics" section of the dashboard on the left side of the screen. Whether you are a company with a branded channel or an individual content creator, monitoring analytics is essential for planning strategies.
Edit, Program, and Upload Videos
With YouTube Studio, you can edit and upload your videos, as well as schedule them to be published on a specific day and time.
While it is true that it does not have advanced editing tools, it does allow you to perform basic editing in which you can add cuts, merge frames, add a final screen, blurs, video elements, or audio.
As for uploading videos, although you can do it through the mobile app, we recommend that you do it with your computer. To do so, go to the "Create" tab located next to your profile picture in the upper right corner.
Allow Access for Multiple Users
At the enterprise level, this is a very useful feature of YouTube Studio. To enable it, you need to go to the "Permissions" section of the "Settings" panel located in the left menu. Once you are there, click on the "Manage permissions" option. Once you have authenticated your account, click on the "+" sign to invite other users.
Design Your Playlists
Playlists are a great way to keep your channel organized for your audience. They allow your followers and viewers to easily navigate your channel and identify the videos they are interested in. To create your playlists, simply click on "Lists" and then on "New playlist".
Manage Comments
Through YouTube Studio, you can also decide how to filter the comments that users leave on your videos or channel. You can allow any comment, have them go through moderation before being published, or disable them completely.
Add Subtitles to Your Videos
To boost your video marketing strategy and make your content reach audiences in other countries, you should add subtitles in the languages of the countries where your brand has a presence as well as the markets that you want to break into.
Hide Your Channel
If you have just created your channel and you only have a few videos, it will take time to create enough content to get your audience interested in your account. For this reason, it is best to hide your channel until there is enough material. To do this, go to the "Settings" panel located in the menu. Then, click on "Channel" and "Advanced settings". Finally, select "Remove content from your channel" and you will be able to delete or hide your channel from the public.
Access the News Section
Creator Insider is the channel for YouTube Studio news. Here, you can find updated information about the latest features of the platform, both for YouTube Studio and YouTube in general. We recommend that you check it frequently to make sure you don't miss anything.
Differences Between YouTube Studio and YouTube Channels
YouTube Studio is for content creators. It allows them to manage everything on their channels. Meanwhile, a YouTube channel is where users can watch videos, share them and interact with both the creator and other viewers. In short, a YouTube channel is the center stage, and YouTube Studio is the behind-the-scenes.

As soon as you open a YouTube account, you will have instant access to YouTube Studio. You don't need to upload a certain number of videos or reach a minimum number of subscribers. YouTube gives you access to it from the start so that you can grow as fast as possible. Even if you open an account with the sole purpose of commenting on videos on your favorite channel, you will automatically have access to YouTube Studio and be able to upload videos whenever you want.
If you open a YouTube account to view videos, comment on them, and interact with the community, a YouTube channel is perfect for you. On the other hand, if you want to create content, you will have to need access to both a YouTube Channel and YouTube Studio (to manage your account).
Here are the main differences between the two platforms:
YouTube (and a YouTube channel) is a social network, while YouTube Studio is a tool for analyzing and managing YouTube channels.

Having a YouTube channel allows you to share, like, and comment on videos. YouTube Studio allows you to analyze, edit, schedule, and upload videos, among other things related to content creation and control.
Both brands and individual creators use YouTube to increase brand awareness for their businesses and monetize their channels. The ability for creators to make money from their YouTube channels is a major incentive for users.
If your video marketing strategy is limited by the formats of social platforms like Instagram, Facebook, or TikTok, YouTube will give you a fresh space with many features to create unique and engaging content.