By Enric Llonch, on 9 November 2022
Video marketing has become a favorite form of expression for millions of creators and an important source of revenue for them. Over the past three years (2019 to 2021), YouTube has paid more than $50 billion to creators, artists and media companies on its platform.
YouTube's partner program has changed a lot since its launch in 2007, adapting to advances in the marketing world and user preferences. Recently, they have announced 3 major changes to YouTube monetization in 2023. Let's see what they are!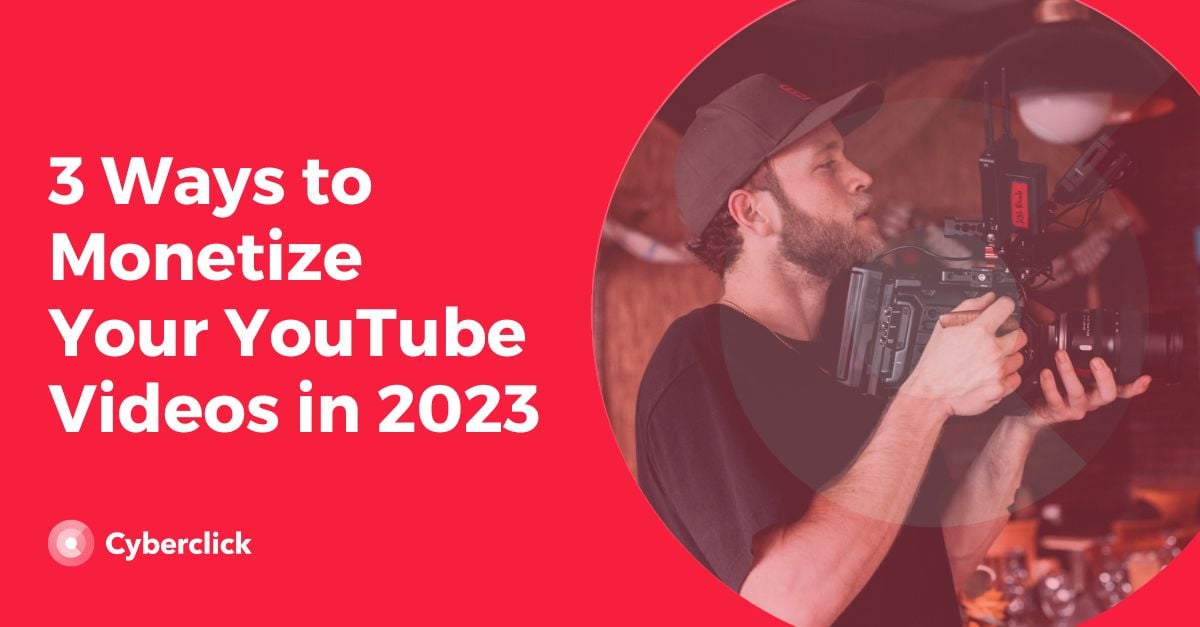 The 3 Ways You Will Be Able to Monetize Your Videos on Youtube in 2023
1) Access to the Youtube Partner Program for More Creators
One of the major new developments in YouTube monetization for 2023 is the expansion of the YouTube Partner Program, which means that more creators and artists will have the opportunity to earn revenue on YouTube through content in different formats.
Shorts creators will be able to apply to join the partner program when they achieve a minimum of 1,000 subscribers and 10 million Shorts views in 90 days. New partners will be able to take advantage of YouTube's different monetization formats.
As in the past, creators of standard videos will be able to join the partner program once they reach 1,000 subscribers and 4,000 viewing hours. Thus, creators will be able to choose the path that best suits their channel's mainstream content type.
In addition, YouTube has announced that it will create a new tier within its partner program, which will be accessible to less experienced content creators. Access requirements will be lower and creators will be able to access only fan-based monetization features such as Super Thanks, Super Chat, Super Stickers and Channel Members.
2) New Ways to Monetize Shorts
When they first launched their partner program, YouTube videos had a single creative format (the standard horizontal video) and one main source of revenue: ads. Today, that landscape has changed a lot: formats range from 15-second Shorts to 15-hour live broadcasts, and there are up to 10 different ways to monetize on YouTube:
Ads are still the main source of revenue on YouTube.

The Shorts fund: in 2021, YouTube announced a fund to sponsor the most successful Shorts creators with between $100 and $10,000.

YouTube Premium: most of the revenue from Premium subscriptions goes to YouTube partners.

Channel Members: with this feature, creators can offer benefits and content to their channel subscribers.

Super Chat: Viewers of live broadcasts and Premieres can use this feature to highlight their messages in the chat.

Super Thanks: viewers can purchase Super Thanks as a way to thank their favorite creators and get a featured comment in return.

Super Stickers: similar to the above, but in this case the reward is a sticker.

Merchandising: creators can design their own merchandising and offer it for sale on their channels.

Concert ticket sales.

YouTube BrandConnect: a platform to connect creators with brands and facilitate sponsored collaborations.
Shorts ads have now been added to all these formats. Starting in early 2023 (YouTube sources put the date in February), creators in YouTube's partner program will be able to receive revenue from Shorts ads.
Shorts ads will be placed between different videos in the Shorts feed. Each month, revenue from these ads will be used to reward creators and help cover music licensing costs. Creators will receive 45% of the revenue, split based on the total views of their Shorts. The amount received will be the same whether they use music or not. According to YouTube's calculations, creators will receive more revenue with this new model than with the previous Shorts fund.
They have also announced the launch of Super Thanks on Shorts in beta for thousands of creators. Now, viewers can show their appreciation for their favorite Shorts and creators can interact with their fans through Super Thanks featured comments.
3) New Music Library for Content Creators
Music licensing is a complex topic within video marketing. Until now, creators of long-form videos who used copyrighted music in their videos could not monetize them, even if music was not the main subject matter (e.g. in exercise videos).
To address this situation, YouTube has announced the launch of Creator Music, a new tab within YouTube Studio that allows YouTube creators to easily access an ever-growing catalog of music they can use in their videos. The feature is currently in beta in the U.S. and will expand to more countries in 2023.
Creators have two different options to be able to use music from this library in their monetized videos:
Purchase a license to use the music and still earn the same percentage of revenue as for videos without music.

Use the songs without paying a license fee and share the revenue earned with the music author and rights holders.
Creators will be able to select the songs they prefer from the library and consult the licensing terms before adding them to their videos.
YouTube officials expect Creator Music to lead to more collaborations between video creators and musicians, more musical variety for video viewers, and more revenue streams for musicians and creators.