By Laia Cardona, on 10 February 2022
Marketers have long known that personalization is key to improving results, but did you know that you can also apply it to your video marketing strategy?
Personalized videos can be used to celebrate your audience. You can congratulate them on special occasions, send invitations to events, promote products, and more. Personalized videos can help you achieve a lot of goals, so let's talk about how to apply them to your brand!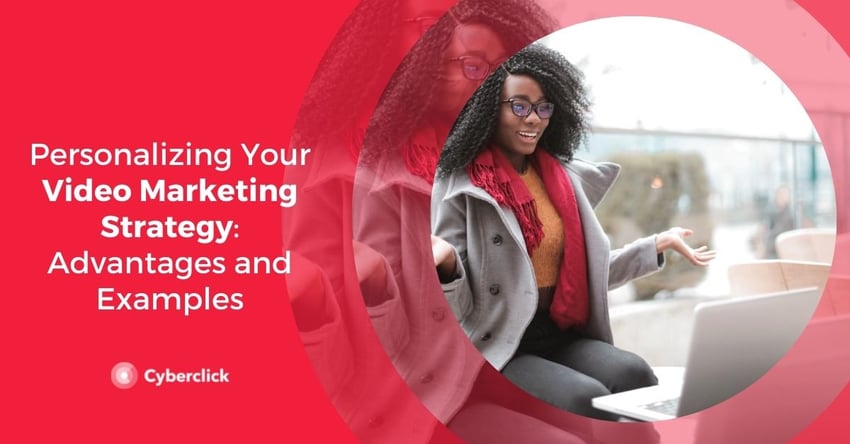 What Are Personalized Videos?
Personalized videos are videos that appear to be created especially for the person watching them, as they use data collected about an individual to create a personalized experience for him or her. Personalization can appear in the form of the viewer's name, the industry he or she works in, the company name or logo, the job title, age, gender, or even the location.
You can create personalized videos manually or by using video automation tools. Let's look at both options in a little more detail.
If you choose to personalize your videos manually, you will have to record or create a new video from scratch for each recipient. The advantage of this strategy is that you can create truly tailored content, and the person who receives it will value that effort, making your impact will be greater. But, even if you opt for a very simple video, this option is only viable if you are targeting a small group of people.
Using video automation, however, allows you to scale your video marketing and reach a much wider audience. Instead of making individual videos from scratch, you can create a template that can be customized for each viewer. You can even automate the entire process, integrating the template with a contact form or CRM to get the information you need to personalize quickly and easily.
Benefits of Personalizing Your Video Marketing
Making personalized videos requires extra effort, but the results are worth it.
Customizing your videos helps you grab the attention of your potential customers. It's the same principle that's applied to email marketing and other channels, but with a deeper layer.
They evoke positive emotions and humanize the marketing process, making your brand memorable. They also help you improve your brand image and customer satisfaction, boost open, interaction, and conversion rates, and ultimately improve the relationship you have with your customers.
Here are some results 1to1video has seen with its personalized video campaigns:
Its average open rate for personalized video emails is 35-50%, 100% higher than its traditional advertising emails.

The average time spent by users consuming email content with personalized videos is 250% higher than for conventional emails.

Personalized videos have very good playback rates: 65% of users watch 90% of the video and more than 35% watch it twice.

In ecommerce campaigns, personalized videos have improved abandoned cart recovery by 25%, reduced customer service calls by 20%, and improved Net Promoter Score by 24 points.
How to Use Personalized Videos in Your Video Marketing Campaigns
What Are the Best Channels to Incorporate Personalized Videos?
Email: Email marketing has always been an important channel to include in a personalization strategy. This is because individual uses are targeted. Some examples of personalization on a large scale are customized videos in abandoned cart recovery emails, offering tailored discounts, and informing users of new product launches.

Company website: The simplest way to incorporate personalized videos on your website is to include a thank you video when a user fills out a form on your website. You can use the data he or she left you to customize the video. If you want to go deeper, you can use automation software to track each visitor and offer them content tailored to their profile at each step of the process. This way, you will create a truly unique customer experience.

Social media: Personalized video campaigns on social networks take advantage of the information available on the user's profile to create unique content that boosts interaction rates.
4 Best Practices for Incorporating Personalized Videos in Your Marketing
Think about what objectives you want to achieve: Personalized videos can be used for just about anything: promotional content, thank you, congratulatory, and welcome messages, product presentations and demonstrations, event invitations, customer service, and more. So the first thing to do is to think about your most important marketing objectives and look for ways to reach them with personalized video content.

Quality over quantity: Consumers demand quality content. It is always better to opt for simple content that has a refined look and feel.

Be careful with user data: Consumers are very privacy-conscious, so be careful about the type of data you use to personalize your videos. If it looks like you know too much about your target audience, you'll get the opposite of what you're hoping for.

Have fun: One of the best advantages of videos is their ability to provoke emotional responses in users. If you can make your audience laugh, you've won them over.
4 Platforms to Create Customized Videos
4 Successful Personalized Video Examples
Reltio is a B2B data management platform company. To publicize its services, it created a customized video highlighting the details.
At first glance, it seems like the video consists solely of a man explaining the benefits of Reltio's services to its viewers. However, it included personalization by including the viewer's company's name in strategic places: the headline of a newspaper, the sender's name in an email, an infographic, and even a coffee cup. This is truly a clever way to grab the user's attention!
The University of Waterloo turned to the power of personalized videos to recruit students for the new academic year.
The video tells the story of a student's first day in college in the first person, with lively music playing in the background. Meanwhile, the user's name appears in different places, like moving boxes, a plaque in the dorm room, a personalized T-shirt, and a cup of Starbucks coffee offered to him by the dean of the university himself.
Marketo created a video invitation to its event, making the recipient feel like he or she was personally invited to attend.
4. Amnesty International Canada: Thanking Donors
In this video, Amnesty International recognizes that the credit for its work goes to the people who work with them. To improve donor satisfaction and retention, they created a personalized video summarizing and thanking donors for their achievements.
The video begins with the sentence: "[Name], thank you for your support. You have defended the human rights of millions of people around the world". Simple, yet effective!