By Oier Gil, on 11 February 2022
With 50% of people on Instagram following at least one business page and more than 1 billion monthly active users, it's safe to say Instagram is a massive marketing tool.
Millions of companies and small businesses have a business profile and use Instagram as their primary or secondary revenue generation tool.
That said, there's a lot of competition so if you want to win on Instagram, implementing an effective marketing strategy is key. Spamming your posts with random hashtags was a trendy thing to do in 2012 when it worked, but not anymore. Here are the 10 Instagram trends that will keep you ahead of the curve.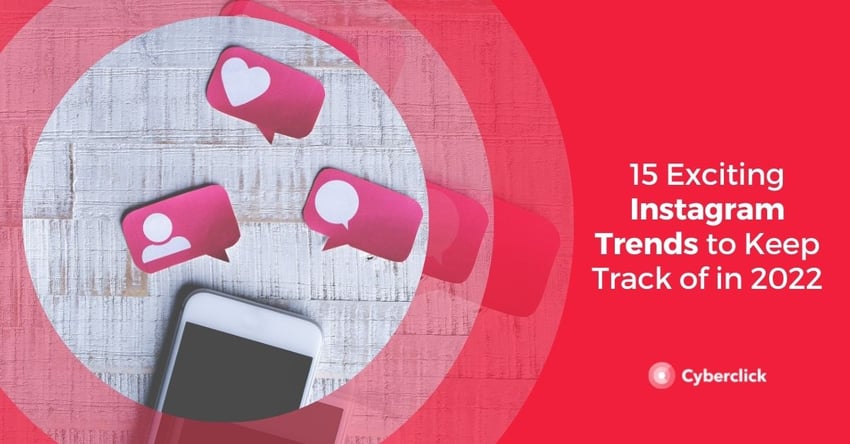 15 Instagram Trends You Can't Miss in 2022
1. Instagram Shops and Instagram Checkout
Instagram Shops is a new feature that allows professional profiles that have an ecommerce to create their own store within this social network, instead of just tagging products. This way, users can complete their purchases without leaving Instagram.
Additionally, Instagram has launched a Checkout feature which allows bank and payment details to be stored within the app to make shopping faster and easier.
2. Live Streams on Instagram
Instagram's live streams have greatly increased in popularity this year, especially during the various quarantines. As a result, the social network has announced that it will lengthen the maximum duration of its live streams from one to four hours and launch an archiving feature.
3. Influencer Advertising Regulations
Instagram has worked to ensure that influencers do not spread misinformation about products or services that they share with their followers. Influencers must follow the community guidelines, comply with they platform's content monetization policies, understand the difference between paid partnerships and branded content, etc. Instagram has a list of policies you can always refer to.
4. Sticker Selfies
This fun feature allows users to create their own emojis or reactions from selfies and then add them to their Stories. These stickers will be animated.
The Sticker Selfies feature began testing in several countries in spring 2020, although it does not yet have a date for the global launch.
5. Instagram Guides
This Instagram feature launched in May 2020 for a select group of users and is now available to everyone. With it, content creators can share resources and tips around a topic. Although it was originally launched for health and wellness publications, it can now be seen in other sectors and topics.
6. Merging Facebook Messenger and Instagram Chats.
Another novelty in 2021 is the merging of the Facebook and Instagram instant messaging apps. Neither of them will disappear, the conversations will just be merged so that it will be possible to view and reply to messages from both chats.
This fusion could be the first step in combining Facebook Messenger, Instagram, and WhatsApp platforms, although there has been no news about the incorporation of the latter.
7. Instagram Stories
Yes, you read that right: we are listing Stories as an Instagram trend for 2021. Even though they've been around for several years now, their popularity and usefulness for brands continues to grow. 78% of brands say Instagram Stories have had a "massive" impact on influencer content and 63% of influencers say they've started using them much more frequently in the past year.
8. The Explore Tab
More than 50% of Instagram users use the Explore tab at least once a month. The social network continues to tweak its design to make it increasingly attractive and user-friendly and is becoming a very interesting place to gain visibility.
9. Reels
Instagram Reels was launched to compete with another social network that is trending in 2021: TikTok. In India, where TikTok was banned a month before the launch of Reels, the average time spent on Instagram has increased by 3.5%. In the coming months we will be able to see the global impact of Reels and see if the trend continues.
10. Branded Augmented Reality Filters
Instagram's AR filters offer a lot of interesting commercial possibilities, such as trying on makeup or clothes virtually, or placing furniture in your home to get an idea of how it would actually look. For this reason, we expect them to be one of the Instagram trends of 2021.
11. TikTok-Like Content
Instagram in 2021 looks very different than it did a few years ago, and part of that is due to the influence of TikTok. Not only can we see the spectacular photos that made this network famous, but also memes, dance challenges, GIFs, special effects and much more. Brands need to take note to adapt their content.
12. Ads on IGTV
Instagram has announced that it will show ads on IGTV, which makes this feature more attractive for both influencers looking to monetize their content and brands looking to gain visibility. Therefore, we expect IGTV to be trending in 2021.
13. Instagram Carousel Posts
Since they launched in 2017, carousel posts have gone from making up 3% to 19.4% of content on Instagram and the trend is continuing to grow. When planning your posts in 2021, think about how you can leverage this format to showcase even more content and how you can better communicate your brand's message.
14. Social Causes
The Social Causes tool was introduced in 2020 to respond to the economic crisis generated by COVID-19 and encourage users to support struggling businesses. In the first 7 months of 2020, this tool managed to raise over $100 million.
15. Digital Stickers
Finally, a design trend that is all over Instagram is adding virtual stickers with extra information to the images. These can display things like a price, the validity period of an offer, or even an inspirational message. If you want to try these with your brand, Canva has several sticker templates that you can customize.