By Shanon Roberts, on 13 February 2020
When it comes to social media marketing, there is a fine line between being engaging and annoying. Overly promotional posts can alienate your audience, and bland content can leave your brand with plenty of followers but zero interactions.
Understanding how to increase social media engagement organically is essential for optimizing your overall marketing strategy and connecting with your audience in a meaningful way
In this article, we'll explain how to engage your social media audience without annoying your users, and provide examples of engaging social media posts.
5 Ways to Increase Social Media Engagement
1. Think About Your Buyer Persona
The first place you should start is with your audience. Take a good hard look at your buyer persona and consider if what you're posting is something that your audience would actually enjoy consuming.
SocialMediaToday explains that when considering what to post on social media, you have to think about what your ideal customer would actually find valuable. Rather than thinking about the value your post will bring to your brand, think about why your audience would care about what you've just posted.
There are a few different ways you can offer value to your audience on social media:
Entertain your audience: This can be through fun videos or just your general social media style (take Wendy's, for example).
Offer educational content in your field: The users who follow your brand are most likely interested in your product or industry. Tutorials and educational content can be super valuable for your followers.
Solve a problem: Consider how your content can help to solve a problem your audience is actively having.
Demonstrate you are a Subject Matter Expert in your field: Share your knowledge with pride!
Califia Farms does a great job with its social media. As a healthy almond milk company, they have managed to crack the code of exactly what their health-conscious, mostly women followers want: quick, easy, and healthy recipe videos. This content strikes the perfect balance between promotional and valuable.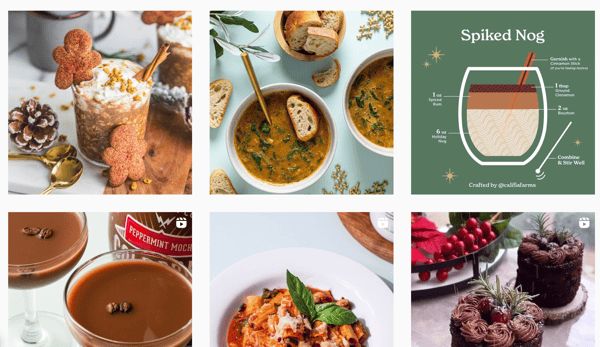 2. Don't Have a One-Sided Conversation
The purpose of social media is to connect with people. How does this apply to brands? Simple! When users engage with your content, make sure to engage back!
No one wants to have a one-sided conversation; not brands and certainly not their audiences. Users are savvy enough to understand that there is a real person behind the brand's account, so don't be afraid to humanize your brand's online presence!
When a user comments on your posts, leave thoughtful responses back. Use the different engagement features of each platform, like polls, multiple-choice questions, answer boxes, and live videos on Instagram and Facebook.
3. Personalization
Incorporating personalization is a great way to make your content more relevant to your audience.
Spotify does a phenomenal job of incorporating personalization in its online marketing strategy. Check out the below diagram of how Spotify curates songs for its famous "Discover Weekly" playlist.
According to an Adobe Study, audiences "stop paying attention to content [they] see from brands" if it is not personalized to their interests.
4. Video Marketing
When it comes to creating content on social media, video marketing plays an important role. On average, videos generate many more shares than text and image content combined. The best part about creating them is that they don't need to be perfectly edited or take up a quarter of your marketing budget.
Thanks to the popularity of TikTok and Instagram Stories, short-form video content is easier than ever to make and is extremely engaging to users. Brands can share behind-the-scenes content, host Q&As, and post funny videos for their audiences.
5. Avoid Cross-Posting
Our final tip for increasing social media engagement is to avoid cross-posting. This doesn't mean you can't post the same content across different platforms, you just need to be mindful about how you're doing it.
We recommend maximizing the functionality of each unique platform like Popeyes does in the example below.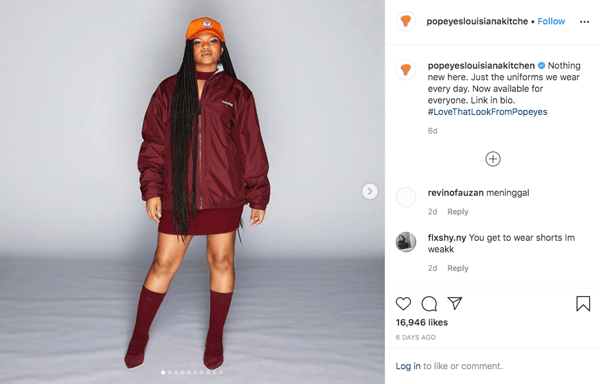 This example works well because Popeyes posted an image on Instagram, and then prompted users to visit the link in its bio to continue engaging with its content.