By Shanon Roberts, on 13 February 2020
When it comes to social media marketing, there is a fine line between engaging and annoying. Overly promotional posts can alienate your audience, and bland content can leave your brand with plenty of followers but zero interactions.
Understanding how to increase social media engagement organically is essential for both optimizing your overall marketing strategy and connecting with your audience in a meaningful way.
In this article, I'll explain how to engage your social media audience without annoying them, and provide examples of engaging social media posts.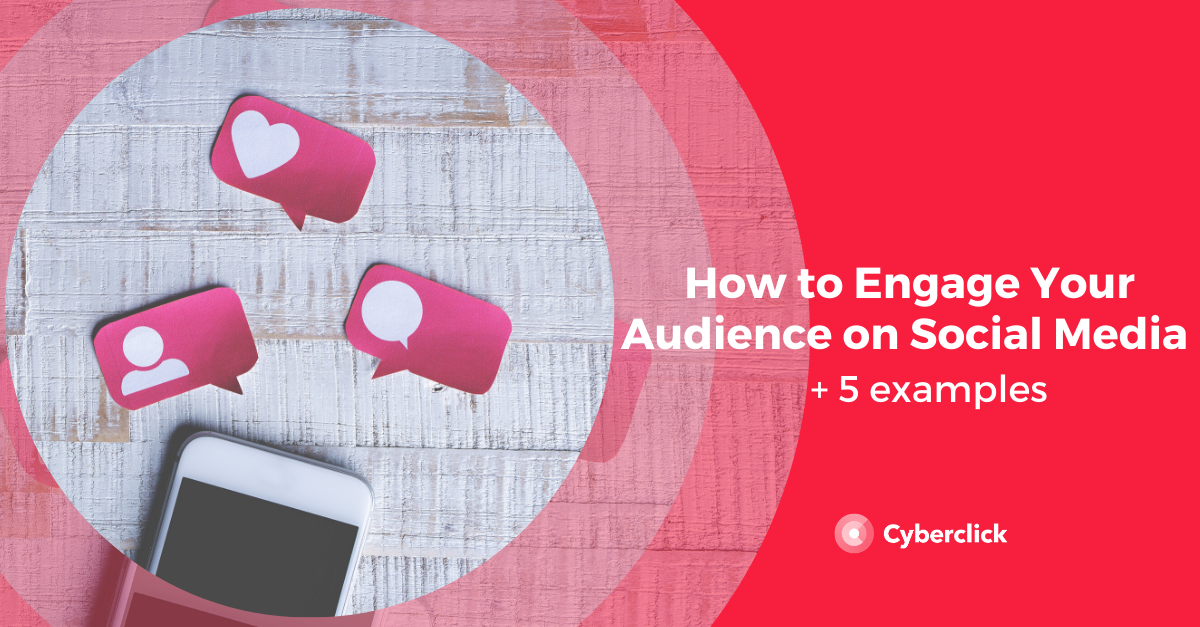 5 Ways to Increase Social Media Engagement
1. Think About Your Buyer Persona
If you're considering a new social media strategy to increase engagement the first place you should start is with your audience. Take a good hard look at your buyer persona and consider if what you're posting is something that your audience would actually enjoy consuming.
SocialMediaToday explains it best, through their "What's In It For Me (WIIFM)" Filter. When considering what to post on social media you have to think about what your ideal customer would actually find value in viewing. Rather than thinking about the value your post will bring to your brand, think instead about why your audience would care about what you've just posted.
There are a few different ways you can offer value to your audience on social media:
Entertain your audience: This can be through fun videos or just your general social media style (a la Wendy's).
Offer Tutorials or Eduction on your product or field: Most likely the users who follow your brand account are either interested in your specific product or the industry/topic that your business deals with. Tutorial or educational content can be super valuable to those types of followers.
Solve a Problem: Consider how your content can help to solve a problem your audience is actively having.
Demonstrate an Expertise in a Subject: Share the knowledge you've amassed in your field.
A perfect example of this is Califia Farms. As a healthy almond milk company, they have managed to crack the code of exactly what their health conscious, mostly women followers want: quick, easy, and healthy recipe videos, using their own product. This content strikes the perfect balance between promotional and valuable.
2. Don't Have a One-Sided Conversation
From its initial conception, the original purpose of social media was to connect people with one another. How does this apply to brands? Simple - when someone engages with your content, engage back with them.
No one wants to have a one-sided conversation; not brands and certainly not their audiences. Users are savvy enough to understand that there is a real human being behind the brand account, so don't be afraid to humanize your brand's online presence.
When a user comments on your posts, leave thoughtful and inviting responses back. Utilize the different engagement features on each platform, like polls on Twitter, and polls, multiple-choice questions, answer boxes, and live videos on Instagram and Facebook. The more acknowledged your audience feels the more likely they are to engage with your content.
A good example of this is Netflix. The below example is just on of the many times that they've directly reached out to their audience. The key is to keep the connection two-sided. Remember to respond and don't leave your audiences hanging!
Not sure what to watch today? We've got you covered. Start by telling us something like...
How you're feeling today
Who you're watching with
The last thing you watched and loved
How much time you have on your hands#whattowatchonnetflix

— Netflix US (@netflix) January 1, 2020
3. Personalization
When it comes to personalization there is a fine balance between too much and not enough. If you get too personalized you risk creeping out your audience, but on the other hand 63% of consumers said they'd think more positively of a brand if it gave them content that was more valuable, interesting or relevant.
While personalization can be difficult to do in normal social media marketing (excluding social media advertising, which you absolutely should be personalizing), there are a few ways you can make your content more relevant to your audience.
Vans, the famous shoe brand, provides a great example of this. Not only do they have their main account, @Vans, but they've also developed separate social media accounts dedicated to their different audiences, like @VansSurf, @VansGirls, and @VansSkate.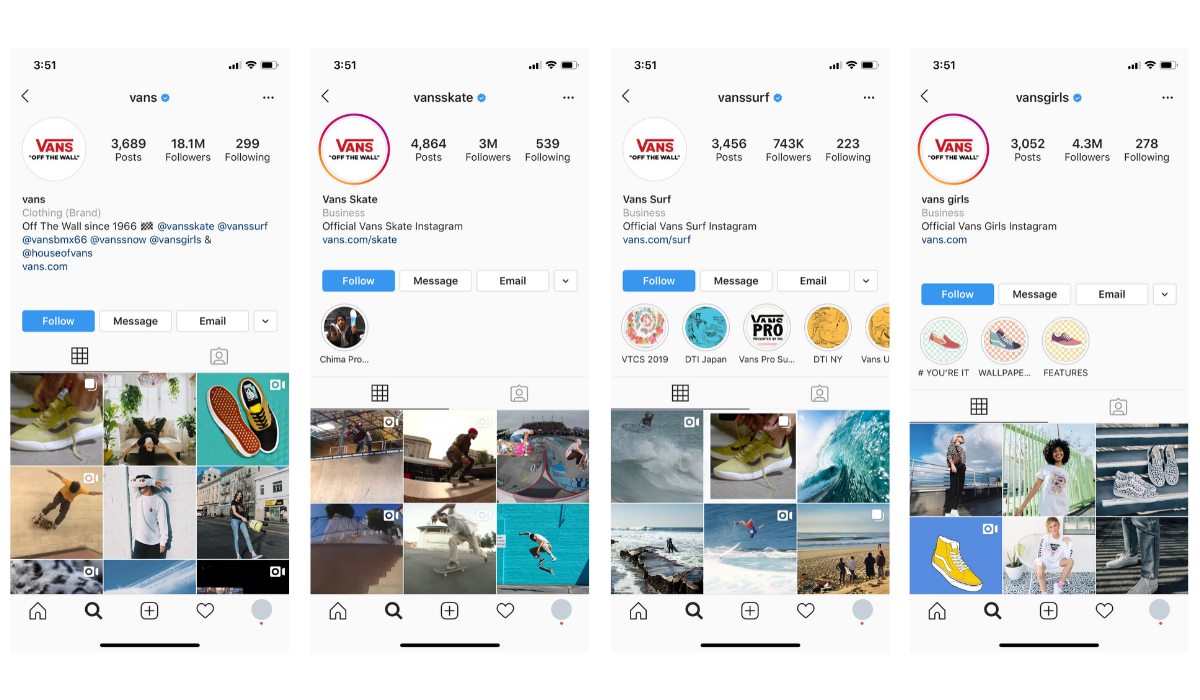 According to an Adobe Study, audiences "stop paying attention to content [they] see from the brand" if it is not personalized to their interests, so this is a great way to personalize your content to your buyer personas, especially if they are interested in totally different things.
4. Video Marketing
When it comes to creating engaging content on social media, video is one of the highest engaging mediums. On average, videos generate 1,200% more shares than text and image content combined. The best part about videos is that they don't need to be perfectly edited or wipe out your quarterly marketing budget.
Thanks to the popularity of TikTok and Instagram Stories, short-form video content is easier than ever to make and extremely engaging to users. Brands can share behind the scenes, host Q&As, or even just post funny videos that their audience would enjoy.
Bonus: If you think your brand is too "boring" or "serious" to engage in stories or TikTok, then take a look at The Washington Post TikTok. If a serious and reputable news institution can find a way to engage their audience on the platform, you can too.
5. Avoid Cross-Posting
Our final, yet maybe most important, tip for increasing social media engagement is to avoid cross-posting. This doesn't mean you can't post the same content across the different platforms, you just need to be mindful about how you're doing it.
As Hootsuite points out, "Twitter users are never going to click through to see an image on Instagram. And why would anyone say "link in bio" on Twitter, when you can easily post a link?"
For example, while this message from Chick-Fil-A, featuring a link to their catering information, works fine as a Tweet, it becomes ineffective on their Instagram since you can't click into the link.
This weekend's party spread. Don't forget to order your Chilled Nugget Tray today: https://t.co/NNMnxegsfD pic.twitter.com/dnKUkrvHAO

— Chick-fil-A, Inc. (@ChickfilA) January 31, 2020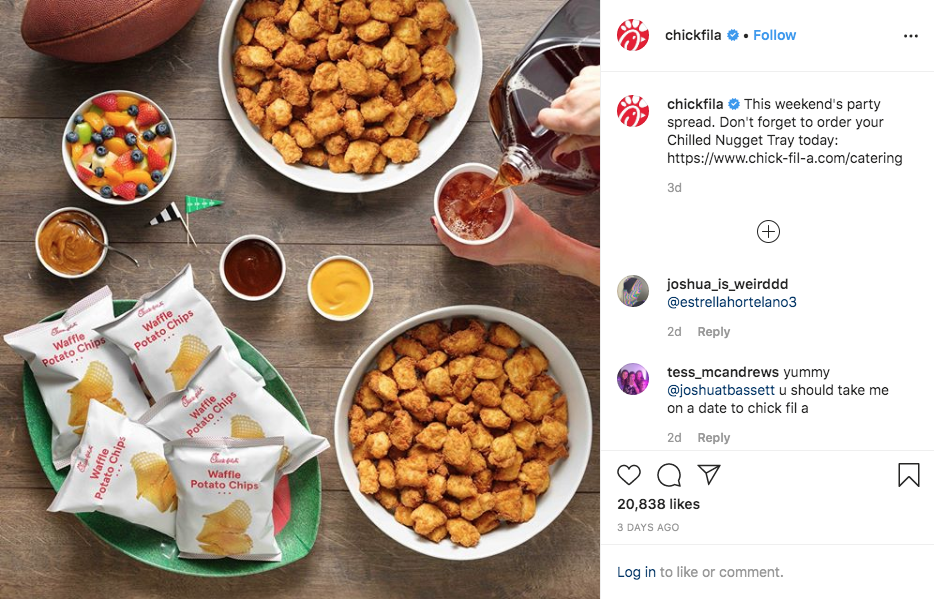 Instead, I recommend ensuring you maximize the functionality of each unique platform, like Popeye's did below.
Love that look? It's our uniform. Has been for a while. And now you can buy it. https://t.co/0ufWo7yLTz #LoveThatLookFromPopeyes pic.twitter.com/eXHA3Rjswi

— Popeyes Chicken (@PopeyesChicken) January 29, 2020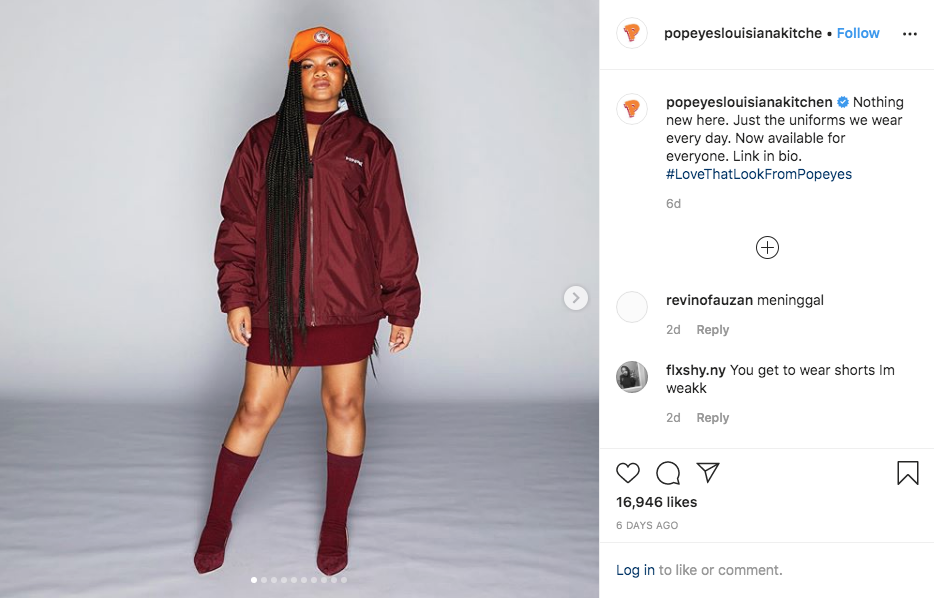 I hope these examples have inspired you on how to engage your audience on social media for your next social media marketing campaign! Do you have any tips we you think we missed?