By Enric Llonch, on 25 October 2022
YouTube, with more than 2 billion monthly active users, is one of the biggest video platforms worldwide. For this reason, many brands are designing video marketing strategies on this channel.
YouTube is used to present content related to a company's industry and to publicize products and services. If you're using the platform and are receiving a high amount of views on your videos, it's best to join the YouTube Partner Program. In this article, we'll explain exactly what this is and what it consists of.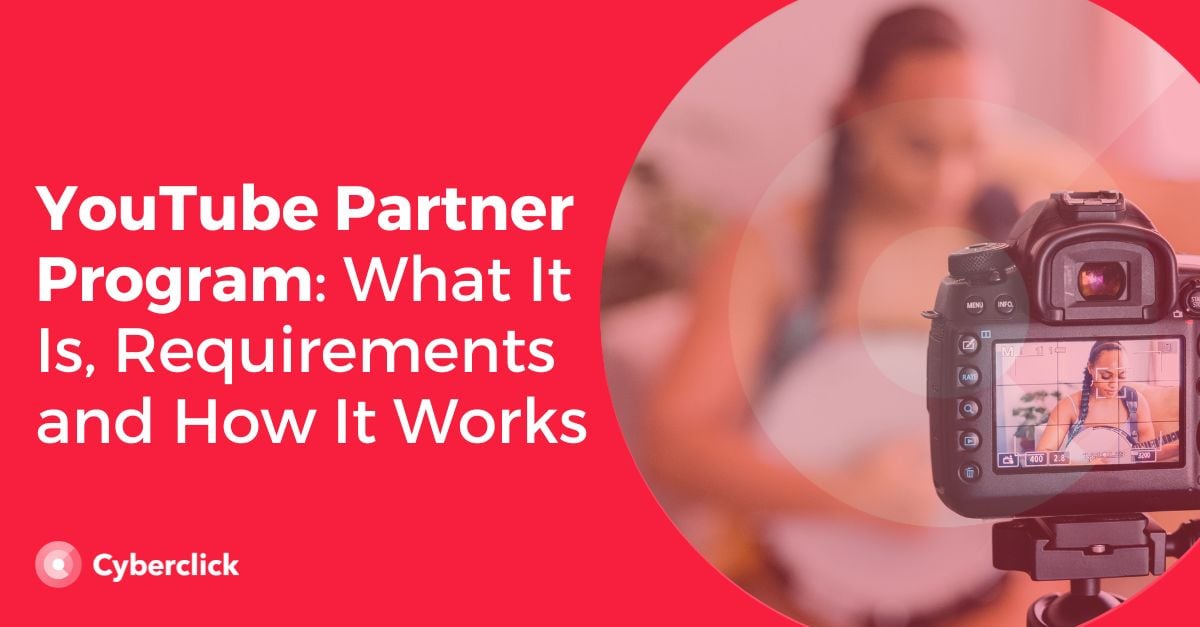 What Is the YouTube Partner Program?
The YouTube Partner Program is a way to obtain more resources and monetization opportunities from YouTube. In short, you can earn income from the ads shown in your videos and it also makes it much easier to reach agreements with advertisers and gain more visibility on the platform. It also offers priority support.
Monetization on YouTube and the YouTube Partner Program
One of the most common questions is whether all channel owners can earn revenue through advertising on YouTube. The answer is no. Even if a video has ads in it, the owner of the channel will only obtain income if the channel belongs to the YouTube Partner Program. Otherwise, the platform will keep the profits.
Currently, being a member of the YouTube Partner Program is one of the few ways to monetize a YouTube channel. The other way is to offer users access to exclusive content in exchange for a monthly fee.
Requirements to Join the YouTube Partner Program
In order to be part of the YouTube Partner Program, you should meet a series of requirements:
Comply with all YouTube Channel Monetization Policies and have no active community offenses. When you submit your application, YouTube checks that you comply with all policies and standards. Even if you are already part of the channel, the platform will continue to regularly check that you continue to comply and respect them. If you don't you'll immediately be expelled.

Live in a country or region where the YouTube partner program is available.

Have more than 4,000 hours of public viewing of content during the last 12 months and more than 1,000 subscribers. This indicates that you post frequently and have subscribers who find value in your content.

Have an AdSense account linked to the YouTube account.
In the event that an application is rejected or expulsion is issued, the channel owner may submit a new one after 30 days.
Process for Joining the YouTube Partner Program
If you have a channel that meets all the requirements mentioned in the previous point, you can proceed to apply to become a YouTube partner. First of all, we advise you to enable Google's two-step verification process for greater protection. Then these steps should be followed:
Log in with the account you want to monetize.

Click on the profile image and select YouTube Studio.

Within YouTube Studio, from the menu on the left, select the Monetization option.

Now there are two options. In case you don't meet all the requirements you can request to receive a notification when you do meet them. This is very useful when you don't reach the minimum number of subscribers or views. If you meet all the requirements, go to Review YouTube Partner Program terms and click Start.

You must accept the terms and enter the AdSense account where payments will be received. In order to access the YouTube Partner Program, it's mandatory to have an AdSense account or to create one, since payments can only be received through this platform.
Once all of this is done, the channel will go to the review process and two things can happen, the application can be approved or rejected.
Benefits of the YouTube Partner Program
Being part of the YouTube Partner Program has numerous advantages for a company, especially for those who want to carry out video marketing strategies on YouTube. The most notable is that it's a way to increase revenue quickly, since being a member of the YouTube Partner Program can not only monetize a channel but also help it gain visibility and increase views.
Another benefit is that a brand won't have an exclusive contract with YouTube, so it can monetize its video content on this platform and on other websites.
Finally, another advantage of using the YouTube Partner Program is that you can have full control over the performance of your posts and track them with YouTube Analytics. This way you can find out what kind of content is most interesting for users and what kind of videos are most profitable.