By Laia Cardona, on 3 September 2020
Did you know that your competitors are already using video in their content strategy? According to a recent study by HubSpot, 81% of brands are currently doing video marketing.
This form of content marketing is an ideal way to reach Millennials and Gen Z, and to connect with users in a fast, direct way.
Here, we are going to talk about what video marketing is, the latest trends, and how to incorporate it into your social networks, blog, Youtube channel, website, and other channels.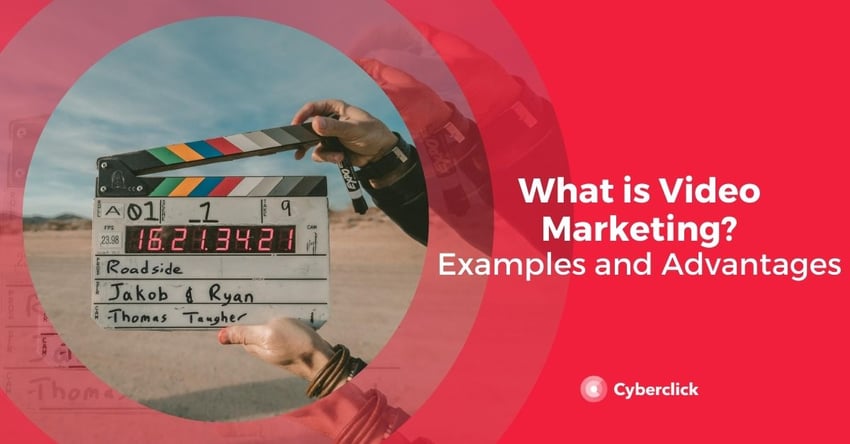 What Is Video Marketing?
As its name suggests, video marketing is an online marketing tool that is based on using video marketing, mainly through the Internet, to achieve different objectives of the marketing strategy.
In short, and in a simple way, it is about adding video to your content marketing strategy.
The aim is to create pieces that can be shared (although they do not necessarily have to become viral) and optimized for the particulars of each social network. Creating quality video content is big time and effort investment, but it is worth it.
Video Marketing: Top 2020 Trends
Today, data clearly shows that video content has a positive impact on sales and ROI:
Tweets with video get 3 times more responses and retweets than those that don't include it.
90% of users say that product videos are useful when making purchasing decisions
64% of users who watch a video tend to purchase one of the associated products.
Video is one of the key trends of the last few years and it will be one of the key trends in the years to come.
In 2018, an average of 6.75 hours of video per week were consumed, compared to 5.75 hours in 2017 and 4.28 hours in 2016. So the growth is exponential. Adding up to a full hour each year that passes.
If you want to learn more about the success of video marketing, we've gathered 30+ video marketing statistics in one of our recent articles. Here a few highlights:
85% of all Internet users in the United States watched video content at some time during the month through one of their mobile devices. (

Statista, 2018

)
54% of consumers want to see more video content related to the brands or companies they follow. (

Hubspot, 2018

)
87% of marketers use video as a tool in their strategy. (

Wyzowl, 2019

)
Videos are what users most want to see in social networks about the brands they like. (

Animoto, 2018

)
88% of marketers are happy with the ROI of their social media videos. (Animoto, 2018)
Video marketers get 66% more qualified leads per year. This means that video marketing is a channel for generating high interest leads. (

Optionmonster, 2019

)
Users spend 88% more time on a website if it has integrated video content than on one that doesn't. (

Forbes, 2018

)
If on the same page, consumers have video and text to learn more about a product or service, 72% prefer the audiovisual option. (

Wyzowl, 2018

)
Video is more captivating than text. 95% of the audience is more receptive to remembering a call-to-action if they have seen it on video, compared to 10% if they have read it. (

Forbes, 2017

)
Video Social Networks: Which Is Best for Your Brand?
When it comes to your video marketing strategy, the first question is inevitable: which network or networks should I focus on when creating and promoting my videos? To help you, here are some interesting facts about the most popular social video networks.
YouTube
Since its creation in 2005, YouTube has become the world's premier video platform. And by April 2020, it already has 2 billion active users per month!
Its audience is focused on the Millennials and Centennials, since they are the ones who consume the most hours of video.
The 16-25 year old age group consumes an average of 9.21 hours of online video per week (only 6.19 hours of TV) and the 26-35 year olds consume 8.68 hours (compared to 7.90 hours of TV). Videos around 3 minutes are the most popular.
As the website with the second highest web-traffic in the world (behind Google), there are some key data pieces that are important to know about YouTube:
According to

YouTube

, more than 1.9 billion users log in to the global video platform every month, and every day, more than 1 billion hours of video are viewed. Not one life would be enough to see it all!
It is present in 90 countries, through 80 languages. That means that 95% of internet users can understand the platform.
In the last five years, they have paid over $2 billion to partners who decided to monetize their claims through Content ID.
YouTube is the second most visited place on the Internet according to

Alexa

, as people spend on average 8 minutes and 41 seconds every day.
Within this trend, mobile devices play a crucial role, since 70% of the reproductions come from cell phones.
Facebook
This is the social network par excellence. It is true that in recent times it has received criticism and has had to put solutions to several problems. But it is always reinventing itself and adapting to new consumer needs, which is why it continues to be the platform with the most users in the world. It already has 2,498 million active users per month, according to Statista with data from April 2020.
People are five times more likely to watch videos on Facebook from their cell phones. On average, Facebook generates more than 8 billion daily visits to video content, which means more than 100 million hours of video per day.
And yet, for now, only 3% of Facebook's content is in video format - the potential is great and the competition is still low! This makes it easier to get the consumer's attention. Videos are shared on average 89.5 times more than any other type of format, making them the most viral type of content on Facebook.
In addition, the platform's native videos have 10 times the reach of Youtube links. So upload your videos to this network, instead of just sharing them from another channel. One of its tricks is the autoplay of the videos as the user goes through its latest news section.
Facebook covers all age groups, although the most common is from 25 to 34 years old (25% of its active users). Videos between 21 and 44 seconds are the most popular.
Instagram
Although Instagram used to be associated with photos, video is now a major player with features like IGTV and Stories. Videos can show up on the normal feed, in Stories, Instagram TV, and now Instagram Reels.
Instagram has more than 1 billion active users per month in 2020 and its audience is mainly millennial and Gen Z.
TikTok
TikTok is one of the biggest trends of 2020 and it provides plenty of unique video marketing opportunities. If you're especially interested in targeting Gen Z, then your brand needs to be on this app.
TikTok consists of 15 to 60 second videos, usually accompanied by background music or sound effects and unique filters or editing. Companies have a few different options when it comes to promoting their brand on TikTok, such as TikTok Ads or creating organic content.
Twitter
Video marketing is also possible on Twitter. This network brings interesting innovations in the video marketing sector.
You can watch live videos in Moments, from the Explore tab, from the trends section, or from the Tweets of an account that is broadcasting live.
You can also watch live Twitter programming and Periscope's global broadcasts on Amazon Fire TV and Apple TV. In addition, you can watch live 360° videos from Periscope and discover content on the Periscope global map on Apple TV. Xbox and Android TV users can enjoy Twitter by launching their web browser and logging in to twitter.com.
You can share videos with a link from Youtube, but also upload them natively, although these can't last more than 2 minutes and 20 seconds today. Otherwise you will have to cut them.
9 Tips to Succeed With Your Video Marketing on Social Networks
Are you ready to dive into video marketing now? Before you start, I want to share 9 tips so that your video marketing strategy starts out strong:
Look for videos that generate interactions. In particular, focus on creating content that users can and want to share. Make it as easy as possible and look for themes that make them feel reflected, move them to action or are useful to them.
Create emotional content. As Aristotle said: the pathos or recourse to emotion is one of the most effective tools to persuade and move the masses. Video is one of the best formats to provoke an emotional response so take advantage of it!
Adapt your videos to the algorithms of each social network. Think about the different ways in which networks like Facebook, Twitter or Snapchat behave when sharing content. For example, on Twitter, the last hour prevails and on Snapchat the contents are ephemeral, while on Facebook you can count on longer times for users to react.
Include SEO in your strategy. Especially if your video campaigns include YouTube, it's crucial to have good optimization to increase the number of views. But each social network has its own positioning strategies so be sure to do your SEO homework!
The good, if brief, is twice as good. You know the saying, right? Well, the time has come to apply it. Although every network has its "star length", one of the features that make it easy for your videos to succeed is that they are short. The shorter, the better!
Use storytelling to communicate more effectively. If you want to win over your users and make them remember your brand, tell them a great story! No one wants to see (let alone share) "just another ad", be creative and you will win their heart.
Make the client the protagonist. For your content to have an impact on the user, they must feel that it speaks to them. We live in a world full of content and we have gotten used to quickly filtering out what doesn't go with us, so if you want to win the users' attention, make them feel they are a central part of the story.
Start strong. One of the great enemies of video marketing is abandonment. Many users stop watching a video after a few seconds, so you need to hook them from the very beginning. The first 30 seconds are key to making sure they stay with you.
Integrate the video with the rest of your brand. Digital marketing in general, and video campaigns in particular, are one more ingredient of your advertising and branding strategy. Create videos that reflect the style, values and unique personality that define you.
I hope that this article on video marketing has clarified this concept for you and helped you to have a more general view on the subject. In addition, we have provided you with important facts about social media and the social video trend and 9 wonderful tips to make your videos great.
Do you want to create your first social media video and promote your video marketing?