By Berta Ventura, on 20 January 2020
Launched in 2018, IGTV (Instagram TV), is one of the platform's more involved features. With this tool, Instagram has expanded the possibilities of creating and sharing videos, positioning itself as a direct competitor to YouTube.
Instagram TV is a great opportunity for brands to increase their social media presence and strengthen video marketing content. In this article, we'll explain what IGTV is, how it works, and how advertisers and content creators can use it.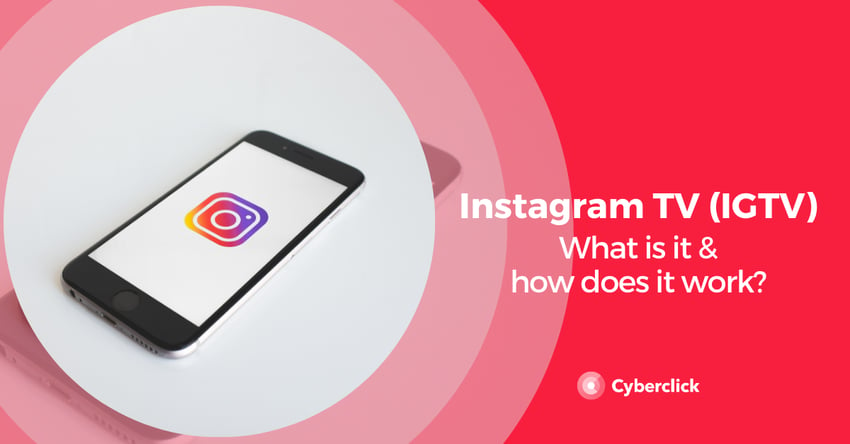 What Is Instagram TV?
Instagram TV is a kind of integrated TV channel on Instagram, where users can consume video content created by other accounts. It can be accessed from the Instagram app itself (by clicking on the TV icon next to direct messages in the upper right side) or through the standalone IGTV app.
Previously, accounts could only post 15-second videos on their stories or 60-second videos in their feed. Now with Instagram TV, the time limit is extended to up to 10 minutes, while verified accounts and accounts with large followers can post videos that are up to an hour-long.
As opposed to video Stories, IGTV videos are permanent and can accumulate views over time. Also, there is no option to host a live stream through IGTV. Rather, these are prerecorded and edited videos.
The video format is mostly vertical (to best suit phones), with the option to post horizontal, and is displayed full-screen. As opposed to YouTube, when you click on the IGTV button or enter the IGTV app directly, it instantly starts playing videos, as if it were a real tv channel. The view count of the video is posted, and users can still like and comment on videos, like on normal Instagram posts.
Instagram TV combines the possibility to watch videos from accounts already you follow, as well as discover new content. Inside the application, there are 4 main categories:
For You: Personalized recommendations based on each user's interests.
Following: Videos from accounts you already follow.
Popular: Videos with a lot of views and engagement on IGTV.
Keep Watching: Videos that the user stopped watching partway through. This is a smart strategy to encourage full views, since videos tend to have a high dropout rate.
How Does IGTV Work?
Creating your Instagram TV channel and publishing videos is very simple. You only have to do the following steps:
If you don't have an Instagram account: Download the Instagram or Instagram TV app and Create an account.
Click the settings icon and then click "Create Channel"
To publish a video, click on the TV icon next to the DM button in the upper right area, and then click the + sign in the right-hand corner
Choose a video from your mobile gallery (remember that it has to be in portrait format).
Add the title, description, and a link to an external page. If you're using IGTV for your brand, be sure to carefully optimize this section so users can find you and eventually get directed to your page.
Create a thumbnail image for your video. This way, you'll control the image displayed and your channel will look better.
Hit publish and then you're done!
IGTV for Brands
As of right now, Instagram TV is not an exact alternative to YouTube. But it is still a very interesting complement to your content marketing.
The vertical format of IGTV Videos means that you cannot simply copy and paste videos that you've already created for other platforms, like YouTube. However, there is an option to post horizontal videos on IGTV. Remember, if you do post a horizontal video the thumbnail will still be vertical. In general, we recommend coming up with unique content for your IGTV videos or, if you want to use the same content, film it both vertically and horizontally. Since IGTV videos are made for mobile, it is okay to have a more relaxed and casual approach than videos you would post on YouTube.
IGTV Video Ideas for Brands
Tutorials and unboxing videos

Behind the Scene Videos: Take your viewers behind the scenes of events, product launches, or even your everyday office life. You can take short clips and put them all in one video.
Product launches and sneak peeks of new products: Offering unique content through this platform can encourage users to check out your IGTV channel.
Discounts and promotions: This can be another way to encourage people to watch your IGTV.
Interviews: Interview different people from your company, influencers, celebrities who have a relationship with your brand, or someone who would be interesting for your audience.
Storytelling videos: Since you're no longer limited to just 60-second video, try sharing videos about the history of your brand or videos that further the perception of your brand.

As with YouTube, SEO is an important aspect of IGTV so users can find your videos. Think of popular hashtags and keywords that fit your content, and include them in the title and description. And of course, don't forget to take advantage of the link section to direct users to your website, your online store or other sites.
Currently, IGTV has no monetization options for content creators or advertisers. But if this feature continues to grow, we wouldn't be surprised to see this feature come soon. In any case, it's an initiative with a lot of potential to develop your brand presence and better connect with your audience. I encourage you to try out this feature and see how it can work for your brand.