By Laia Cardona, on 2 April 2020
By now, you've surely heard at some point the phrase "Content is King". Far from going out of fashion, content marketing continues to be as important as ever for marketers. In fact, according to a study by DemandMetric, 78% of CMOs believe that custom content is the future of marketing.
If you haven't yet jumped aboard the content train for your brand, I'd like to encourage you to start doing it as soon as possible with this guide to getting started! We'll go over what is and isn't branded content, the benefits, the most used formats, as well as some strategies to attract clients.
To start this guide, I'd like to recap for you what content marketing really means. I'll then go deeper into the matter, delving into what the world of content marketing can bring to your brand, explain the best methods of implementation, and a case study on best practices when working with influencers.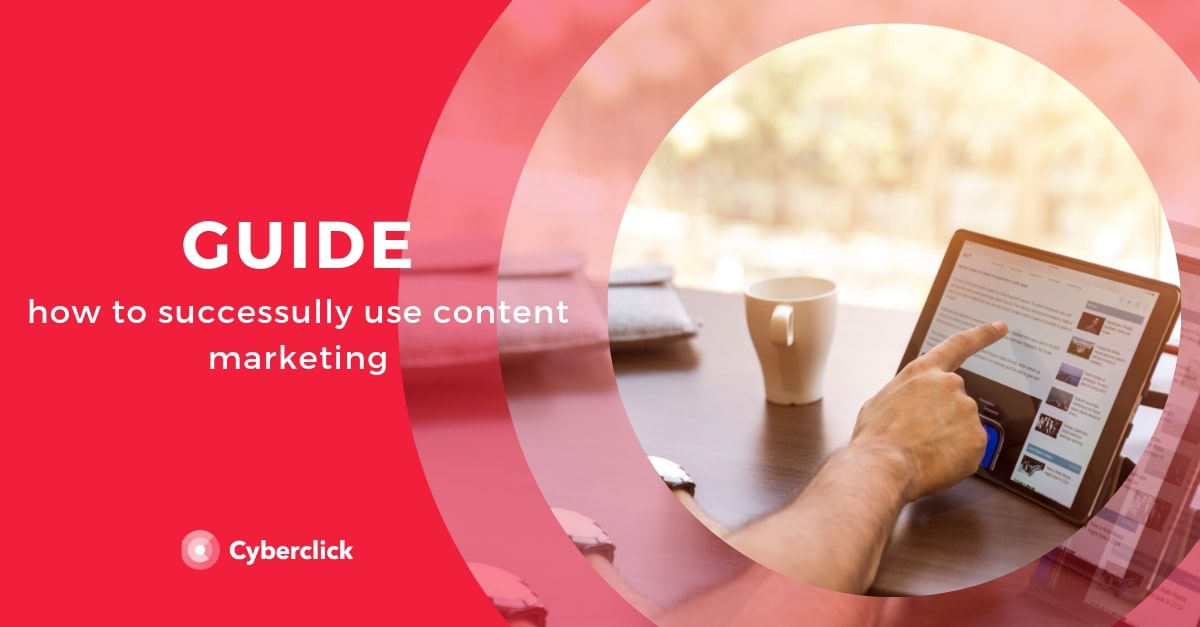 Index
What Is and What Isn't Content Marketing
Content is to the digital marketer as black is to fashion: a classic that never fails. 12 years ago, Joe Pulizzi gave a definition that continues to ring true: "Content marketing is a strategic marketing approach focused on creating and distributing valuable, relevant, and consistent content to attract and retain a clearly-defined audience — and, ultimately, to drive profitable customer action."
Simple enough, right? Just to make sure you really have it down pat, let's take a look at some clues as to what this kind of marketing is, and what it isn't.
What Is Content Marketing?
Offering value, free of charge.

"Give and you shall receive" is one of the big mottos of content creation.
A long term investment.

Some companies start writing a blog with all the enthusiasm in the world, and then give up when they can't quantify results after a couple of months. Wrong! Before jumping in, you need to fully understand that to get the best results, you have to be consistent, and think in the long term.
A whole-team effort.

If you think about all the different people who work in your company, you'll be sure to find that everyone can offer new and fresh perspective on your content. Although the bulk of the responsibility belongs to the marketing department, getting your whole team involved will make your content much more interesting.
What Isn't
It is not just writing articles.

When we think about this kind of marketing, we often only think of the first step: creating content related to your brand. In reality, it is an entire content strategy that consists in four phases: generating traffic, generating leads, lead nurturing and generating clients.
It is not native advertising.

Although they do share some common characteristics,

native advertising differs from content marketing

in two major aspects: first of all, it is based on paying for other people's spaces (as opposed to publishing on our own channels) and uses a pre-existing audience (rather than creating our own from scratch).
It is not inbound marketing.

Well, content marketing is inbound marketing, but the opposite is not necessarily true. The concept of inbound marketing encompasses all actions to attract clients to your business, including more traditional tools such as advertising.
It is not copywriting.

Do not give in to the temptation of using your blog as an excuse to sell! Content marketing revolves around helping and supporting the user. Slogans and excessively sales-y monologues are not welcome here.
---
"The main goal of content marketing is to offer
value to the user to strengthen your brand."
---

The Benefits of Content Marketing
Content marketing is a long term investment, that requires time and resources. So why even bother? Here are some of the benefits of a good content strategy:
You win your users' trust.

Regularly publishing quality content lets users know they can trust your brand. After all, if you are willing to help them for free, what won't you be willing to do when they're paying you?
You position yourself as an expert in your industry.

If you can "be there" when a newspaper writes an article about your industry, or when someone wants some information on a specific topic, you will gain recognition and authority, turning yourself into an industry expert.
It improves your long term strategy.

With a well developed content plan, you can take comfort in knowing what direction your marketing is going in and what you will be doing and when.
It improves your

search engine positioning (SEO).

Regularly publishing content is a sure-fire way to get Google to love you. If you are able to get your content positioned among the first search engine results, you will have access to an incredible source of free traffic.

It generates clients and sales.

As a consequence of all of the above, your sales will grow, with more users visiting your website, and who trust you more. Nevertheless, if you want your strategy to actually work and be effective, do not forget about the next steps in the content marketing conversion funnel we mentioned earlier (lead generation, lead nurturing, client generation).
Key Content Marketing Understandings
In case the concept of content marketing still seems vague, here are a few points that will help you sharpen your understanding of content marketing:
It's a way of adding value for free. In other words, you give to gain.
It's a long term investment. When choosing between the various options in your marketing toolkit, understanding which tools will bring a quick fix, and which provide a long term solution. In the case of content marketing, you're looking long term, placing a bet on the future of your brand. Keep in mind that you will most probably not see profitable results within the first months, but keep your eyes on the prize, and don't lose motivation just yet.
It's a lot more than just writing articles. Content comes in various shapes and sizes; it's certainly not limited to your blog posts. In reality, a complete content marketing strategy has four phases: traffic generation, lead generation, lead nurturing, and client conversion. We'll be looking further into the world of content marketing in the next section.
It's not publicity. As opposed to focusing on selling something directly, your content should have the main focus of adding value. There's nothing worse than a poorly timed sales pitch. Be a helping hand, giving support to your user and sounding authentic. Don't speak through slogans.
The World of Content Marketing
Normally when we talk about content marketing here at Cyberclick, we refer to a very concrete strategy based on publishing to our own channels. If we take on a more holistic perspective, we see how various techniques and different strategies come into the scope of content marketing. Let me show you a few examples:
Brand sponsorships. When a brand sponsors an event, they are associating themselves with particular content (the themes and messages addressed at the event) that reflects their values and spirit. It can be understood that the sponsorships are an indirect form of producing relevant content.

Even clearer examples of this are the campaigns in which the brands convert a group of creators, responsible for producing sponsored content, into advocates. In this way the brand demonstrates their support for artists who reflect their philosophy whilst receiving in return a valuable source of regular content.
Native Advertising. Native advertising is a form of paid advertising in which you publish content in a medium external to the firm. This content will reflect the type of medium in which it is published, and adds value to the audience of this medium.

IHS and Facebook Audience Network recently wrote in a report that by 2020, 63.2% of mobile advertising will be native. This number gives us an idea of the importance of native advertising and its potential opportunities for growth.

An example of this type of advertising includes a campaign for the series "Orange is the New Black". The show is about the lives of female convicts in a prison in the United States. On the release date of its new season, The New York Times published a long report on the challenges facing women in prison, with interactive elements and which was sponsored by the Producer of the series, Netflix.
Social Media. Social networks are a channel of interaction with the consumer and for disseminating the content. We can use social media to spread existing branded content, as well as creating content directly for specific channels.

Each social network presents unique characteristics regarding the format of the contents, so the best creative solutions will adapt to them. A recent example are Instagram and Snapchat stories, which have changed the way we understand and consume content.
Guest Blogging. Guest blogging consists of publishing content created by brand representatives to other important blogs in the sector. In this way, we get to expose ourselves to a new audience and improve SEO (by creating external links to our site). It can also help position ourselves as specialists in a specific topic as well connect with other influential blogs of the sector.
The most popular branded content formats
Before beginning to think of the different formats you can use, my recommendation is to know exactly what you're focusing on: what value can you offer your potential clients, and how will you get the message across. According to this, you will find yourself leaning towards some formats or others. In any case, keep in mind that it is always a good idea to create different kinds of content, to see which ones work best, and to offer some level of variety.
That being said, here are the most popular formats, whose efficiency in content marketing have been proved time and time again:
Blogs.

Although they have been around for decades, they are still one of our favorite ways to consume content.The key to a successful blog is to publish regularly and consistently, have well organized categories and tags and invest in high quality articles. "Filler" content may be cheaper to produce, but will cost you in the long run.
Reports, white papers and other downloadable PDFs.

This kind of content offers a lot of value to people who are looking to learn more about a certain topic, and are a big help in positioning you as an industry expert. They are also a very efficient way to get your potential clients emails and basic contact details.
Newsletters.

Once you have been able to gather a database of people who are potentially interested in your brand, newsletters are a great way to keep in touch. You can use them to promote your blog's best content.
Videos.

Video continues to be a trend

and is only becoming more and more popular among users. Formats such as video tutorials are very effective in position you brand, while live videos are a great, innovative way to reach out to your audience and show off your spontaneity.

Infographics.

The perfect addition to your blog to make it easily shareable on social media.
---
Create different types of content in order
to see
which ones work best, as well as offer some variety.
---
10 Inspiring Ideas for Your Content Marketing
We all know that digital marketing mantra: "content is king". Creating quality content is critical to have a strong digital presence, but sometimes the inspiration fails and it is hard for us to find ideas for our content plan. For this not to happen to you again, today we give you five inspirational ideas for your content marketing.
Use the FAQ to create content on your blog. Think of the 20 most frequently asked questions about your product or service and how you could answer them in a didactic way. You have ideas for 20 posts! Besides being a great source of useful content, this will help you save time in customer service: the next time you receive one of these questions, you only have to send the link.
It Includes GIFs in your emails to show special offers. GIFs are back in fashion thanks to social networks like Tumblr or Vine. This is a simple way to communicate with pictures, easy to remember and speaking to Internet users in their own language. Do not miss this opportunity.


Partner with influencers to create video content. The video content is one of the most attractive for users, but also one of the most difficult to produce. Therefore, a good way to create video content is associating with influencers like YouTube. A common model of collaboration is the criticisms and opinions about products, but if you need inspiration to go further, you can have a look at the new season of the American brand

Wendy's. In any case, remember that a good "casting" is essential: youtubers choose to really be in touch with your audience.


Harnesses the power of memes on Facebook. A meme is, by definition, a viral phenomenon. Is there a picture or a video circulating on the wall of all your friends? How could you use it in a humorous way for your brand? Be creative and remember that the goal here is not to sell, but to get likes.


Do not forget hashtags. Twitter hashtags are used to classify publications and increase your visibility. Although not usually a good idea to shamelessly exploit the topics of the day, it is valuable if you can use them to talk about your brand in a humorous way and connect with your audience. Be careful not to refer to political or potentially offensive topics. If you manage to find the right combination and hashtag tweet, you can get your brand to thousands in a single publication.


Make an entry in your blog about your mistakes and failures. Failures and errors usually teach us much more than the easy successes.Often brands and companies are determined to give an ideal image of themselves, but the fact is that everyone makes mistakes and being too perfect isn't credible and can become tiresome. So dare to talk about your mistakes on your blog! Your readers will appreciate your honesty.


Make an entry in your blog about your mistakes and failures. Failures and errors usually teach us much more than the easy successes.Often brands and companies are determined to give an ideal image of themselves, but the fact is that everyone makes mistakes and being too perfect isn't credible and can become tiresome. So dare to talk about your mistakes on your blog! Your readers will appreciate your honesty.


Organize a webinar with Google Hangouts tool. Training is one of the most valuable content that you can give to your followers. What is your company an expert in? Think about how you can express this expertise through a 30-60 minute talk using Google Hangouts tool to organize it. This way you can interact directly with attendees and answer their questions, all in real time and for free. A great opportunity to position yourself as an expert.


Ask fans of your

Facebook

page what topics they would like to find on your blog. When inspiration to create new content weakens, asking the followers of your brand through social networks is a resource that never fails. So not only do you get new ideas, but your fans feel heard and valued. All are advantages!



Reuse your tweets programming content throughout the year. Sometimes we become obsessed with publishing new content when we have a blog or website full of articles that have not received the attention they deserve. So we suggest that you take a good look at your files and think what content deserves to be republished and when is the best time to do so. Then schedule your tweets with any type of tool like Hootsuite and let your content be distributed on its own.
How to Implement Content Marketing
There are many keys to success for your content, but if you were to force my hand to give you one sole piece of advice, it would be, "tell a story".
As I touched on earlier, direct sales pitches don't work with content marketing. They simply don't achieve the goal of truly connecting with the audience and adding value. To reach your consumers, you need to be authentic and sincere, make them believe they are seeing your true colors. Show them you are there for their benefit alone with no hidden agenda. Do this by avoiding intrusive ads, and instead contribute to the user navigation experience.

Make use of title and intro to attract users. Stand out in the sea of content. Your intro and title are your buoys in the ocean. The title and intro must achieve a good balance between two factors: attractiveness and descriptive of what is yet to come. Briefly outline in an engaging and appropriate what type of content the reader can look forward to (especially important to avoid rebounds of disappointed users).
Prioritize clarity. Journalism seeks to inform a large segment of the population. Best practices will include picking out the facts that are most relevant and communicating these in a clear and simple way. When we talk about reading on the internet, expressing oneself in a simple way is more important than ever. Try using short paragraphs and add in elements to break things up; like bullet points!
Have a clear focus. How you tell your content, is just as important as the actual content itself. In many cases, the difference between one medium or another is not the news or facts themselves, but in the distinctive perspective the medium takes. Here I can urge you to take a moment for self-analysis, and reflect on what your brand voice is and why.
Be concise. Gone are the times where an article had to be double spaced and squeezed into a column. But we can always learn a lot from journalists, like learning not to abuse the patience of our users, in both text and video content. There's beauty in brevity.
Images. They say a picture is worth more than a thousand words, and these golden words remain valid. Photo galleries, infographics and videos provide value to the content and are far more attractive than a long read of plain text.
Strategies to Attract Clients with Content Marketing
When planning your content marketing strategy, you can focus on many things. My main advice is to start off simple, always keeping the four steps we mentioned above in mind. Here are some ideas:
Create the best content possible.

If you are going to make the long term investment this kind of marketing requires, do it well! You need your content to impress your users, so much so that they recommend it to their friends and view you as a reference point.
Don't focus only only traffic, but on conversions, too.

Traffic and visitors, on their own, won't benefit you all that much. Leads, on the other hand, are very beneficial to you. Which is why you need to make sure you have a strategy to get visitors to leave you their contact details, and offer them something of value in exchange.
Invest in SEO.

Consistently creating high quality content makes search engines very happy… but this isn't the only SEO related thing you should keep in mind. For your content to be easy to find and relevant, they should be well tagged and follow some sort of positioning guidelines (that do not include nonsensically repeating a keyword). If you are careful with this from the very beginning, you will start seeing the effects of your content much sooner.
Think long term.

I will not get tired of saying it: planning is half the battle. In order for your publishing to be consistent and reliable, you need to organize your content calendar in advance.
Case Study: Using Influencers in Retail
To conclude this guide, I would like to share some insights from a case study by Affilinet made for the Retail industry.
The objective was to increase the lifetime value for the customer through an Influencer campaign. This campaign achieved a revenue increase from blogger publications by 37 %.
Here are a few of the 'best practices' behind its success:
Specific campaigns and recruitment by categories. Bloggers were categorized according to the content they published and marketing communications were adapted to these categories.
Reactivation campaigns. In order to increase the number of active bloggers, a program was carried out to identify those influencers who had stopped participating, to ensure active influencers were categorized well and to send these specific contents.
Recruitment strategy. Extensive efforts were dedicated to ensure that the brand collaborated with the best bloggers in the sector, including specific events and educational materials.
Maximizing your reach. Thanks to the social networks of the collaborating influencers, the brand was able to multiply the scope of its contents. Affilinet and the social team of the brand collaborated closely to ensure that the corporate identity was maintained in all the Channels.
Source: PerformanceIN / Affilinet
6 Captivating Pieces of Data About Content Marketing
Content Marketing is one of the most successful current trends in native advertising. Companies seek to captivate their audience naturally, with messages that are not invasive, as in both the Business to Business (B2B) and Business to Customer (B2C).
The goal is to plant added value content in different media or digital media, providing people useful or entertaining information.
70% of B2B marketers have chosen to create more content than anterior year and 94% say the most used social network in distribution is LinkedIn. This fascinating data comes from the study 'B2B Content Marketing - Benchmarks, Budget and Trends 2015' just published by the Content Marketing Institute. They provide data from 5,000 respondents from 109 countries marketing sector.
I will make an approach to the 6 key data points from the report that I consider most significant.
86% of companies use Content Marketing.

Understanding this concept as "a strategic marketing approach focused on creating and distributing valuable, relevant and consistent content that attracts and retains a clearly defined audience."
94% of marketers use LinkedIn as their principal social network.

This social platform is the most successful in the distribution of content. Furthermore, its effectiveness ratio is the highest, with 63%.
38% effectiveness in meeting all targets.

The organizations included in this figure are those that believe that content marketing has helped them to realize their annual targets. In addition, 42% appreciate that this strategy has been useful in fulfilling part of the objectives.
Documenting the marketing strategy increases its effectiveness by 25%.

Only 35% of B2B marketers' reflect their plan in paper. Unfortunately, this is a factor to be taken into account and that must be developed. Documenting the route guide is essential to the whole team to be aware of what the objectives are, the tools and the right way to go.
The info graphic is the tactic with a further increase in its use, from 51% to 62% in a single year. In our brain we like info graphics because they are diagrammed and simplify the information graphically. The eyes are drawn to the visual, causing the content to be more attractive to us. For example, bright colors increase the desire to read by 80% according to the book 'The Persuasive Properties of Color'.
For 84% of companies the main objective is brand awareness.

And who does not want to be known by its potential audience? By creating valuable content you're able to know the organization and to create positive associations with its products and services. Other important objectives are lead generation, 83%, and Engagement 81%.