By Clàudia Martínez, on 30 March 2020
As one of 2020's top marketing trends, video marketing has gained a lot of momentum as a marketing tactic. And it's for good measure, when you consider that 99% of people who use video marketing say they'll continue (Wyzowl, 2020).
If you are looking for some reasons as to why you should consider adding video marketing to your marketing plan, we've compiled a list of over 30 video marketing statistics that will help you make the leap.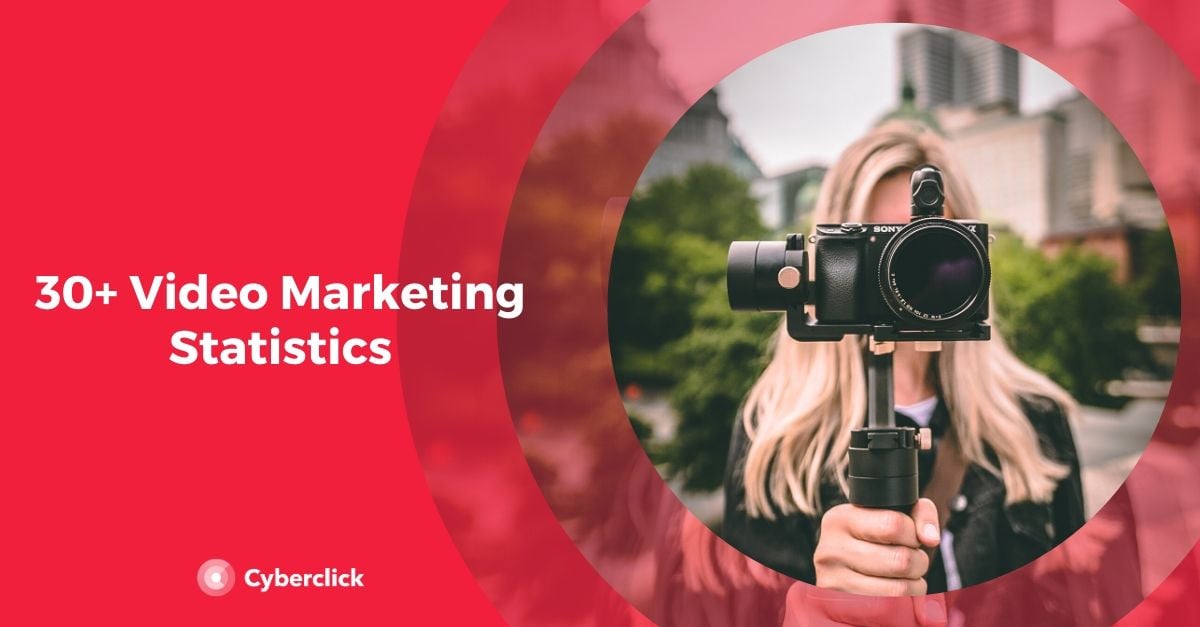 General Video Marketing Statistics
Video marketing is one of the most popular techniques that marketers are investing in, in 2020. While it may require a bit of an investment or learning curve, this marketing method is proving to have a substantial impact on campaign results and ROIs.
Video content is the #1 form of media used in content strategy and is preferred over blogs or infographics. (HubSpot, 2020)
Users prefer videos 54% more than other forms of content from brands, like emails, social images, blog articles, and downloadable content. (Hubspot, 2018)
Mentioning "video" in the subject line of your email increases its open rate by 19%. (Hubspot, 2018)
Videos on landing pages increase conversions by 86%. (Wordstream, 2018)
75% of millennials watch videos on social media on a daily basis. (Animoto, 2017)
Millennial consumers show the strongest preference for video content from brands. (Hubspot, 2017)
If video and text are both available on the same page, 72% of people will watch the video to learn about a product or service rather than read the text. (Hubspot, 2018)
Since 2016, marketers using video as a tool has grown 24%, with 61% use in 2016 and 85% use in 2020. (Wyzowl, 2020)
Similarly, the importance of video marketing in their overall strategy has grown as well. 92% of marketers say it's an important part of their strategy in 2020, as opposed to 78% in 2015. (Wyzowl, 2020)
87% of video marketers say video has increased traffic to their website and 81% say video has helped to keep users on their page longer. (Wyzowl, 2020)
75% of all videos are played on mobile devices. (eMarketer, 2018)
A website is 53 times more likely to reach the front page of Google if it includes video. (Insivia, 2018)
Video Marketing Statistics: Ecommerce
Video marketing and ecommerce go hand in hand. Now more than ever consumers want to do their due diligence and background research on a product before they buy. Including video into your marketing plan will help your customers discover the value of your product.
Product videos can increase purchases by 144%. (Neil Patel, 2017)
4 out of 5 consumers believe that demo videos are helpful. (Workplace Digital, 2019)
95% of marketers say video helps increase user understanding of their product. (Wyzowl, 2020)
80% say video has directly helped increase sales. (Wyzowl, 2020)
96% of people have watched an explainer video to learn more about a product or service. (Wyzowl, 2020)
84% of people say they've been convinced to buy a product or service after watching a brand's video. (Wyzowl, 2020)
90% of customers say video help when making buying decisions. (Hubspot, 2018)
After watching a video, 64% of views are more likely to buy a product online. (Forbes, 2017)
Video Marketing Statistics: YouTube
It's safe to say video marketing as we know it today wouldn't exist without YouTube. Let's look at the impact this video sharing platform has on video marketing.
62% of YouTube users are male. (Omnicore, 2018)
YouTube is the most widely used platform for video marketing. (Wyzowl, 2020)
YouTube is the second most popular website, just behind Google. (Alexa, 2020)
65% of people use YouTube to help them solve a problem. This highlights the importance of YouTube and video marketing in your Inbound Strategy. (Google, 2018)
Video Marketing Statistics: Social Media
Social media plays a major role in the success of video marketing as a technique. Social media is the perfect place to share your videos with your audience, and can even help your video become viral.
87% of marketers say LinkedIn is an effective channel for video marketing. (Wyzowl, 2020)
85% of marketers say Facebook has been a successful channel for video marketing. (Wyzowl, 2020)
62% of people said they were more interested in a product after seeing it in a Facebook story. (Marketing Land, 2018)
Square videos are more effective than horizontal videos on Facebook. (Animoto, 2017)
64% of consumers say watching a marketing video on Facebook influenced a purchase decision of theirs within the last month. (Animoto, 2017)
Video generates 1200% more shares than text and image content combined. (G2 Crowd, 2018)
Video campaigns on LinkedIn have 50% view rates. (LinkedIn, 2018)
Video Marketing Best Practices
Now that you know a little bit more about video marketing, here are some tricks and tips once you decide to start recording.
Videos under two minutes long get the most engagement. (Wistia, 2016)
85% of Facebook videos are watched without sound. (Digiday, 2016)
60% of Instagram Stories are watched with sound on. (Instagram, 2020)