By Dany Ortiz, on 7 August 2020
Instagram has announced a new feature that is aiming to overshadow TikTok: Instagram Reels. With this new feature, users will be able to create short videos using audio and video tracks and share them with their Instagram community.
The first tests of Reels started in Brazil in November 2019. In early summer 2020 it was launched in France and Germany and since August 5th it is now available globally, including in Spain, the United States, and many other countries around the world.
In this article we will explain what Reels is, how it works, and why it has come at just the right time to build on TikTok's success.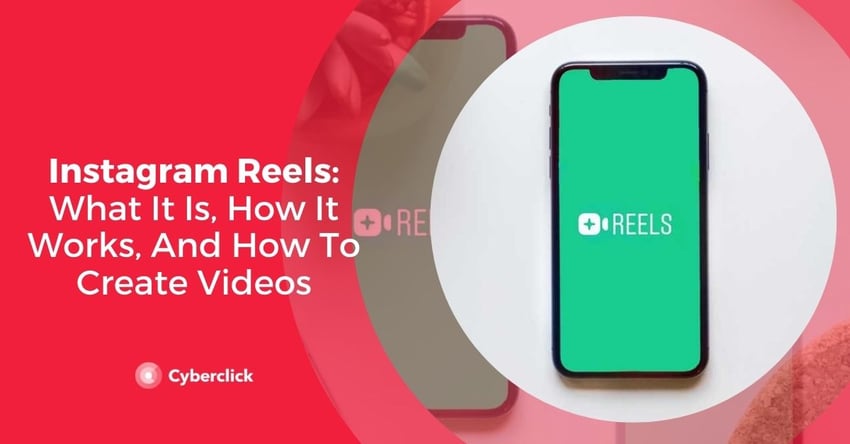 What Is Instagram Reels?
Instagram Reels is a new format that is available to Instagram users (this means that it is not a standalone app but a feature like Stories). With Instagram Reels you can:
Create short videos of up to 15 seconds.
Add filters and creative effects from a pre-designed collection.
Add music that you already have or that you have created.
Speed up or slow down a video.
Publish your video in the Stories section or in the feed, or send it to another user as a direct message.
View the most popular videos in the Top Reels section.
This format, consisting of short videos to which audio tracks and songs can be added, is obviously inspired by TikTok and intended for users to "playback" the content and contribute their own versions. The main difference is that videos on Reels are limited to 15 seconds, while TikTok extended the length of its own to 60 seconds in early 2020.
A key factor in TikTok's success is the collaboration with music and audio partners, who provide much of the "track" library, which users then include in their own creations. At this point, it is unclear what content will be available to Instagram Reels users, but since Facebook has announced that it will be launching music videos soon, it appears that they are working on it.
Is Instagram Reels Available in The United States?
Yes, starting August 5, Instagram Reels is available to all users in the United States. Instagram Reels was already available in Brazil, France, Germany and India earlier in 2020. Starting August 2020 other available countries include the United Kingdom, Japan, Mexico, Spain and some 50 other countries.
Instagram Reels vs TikTok: A Fierce Rivalry
TikTok is already one of the most successful applications of all time. In just a few years, it has become a very important part of the Gen Z's Internet culture and social interactions.
Its success is based on a unique combination of short videos with viral challenges, playbacks, dancing, humor and opinions on social issues. This Chinese app has managed to accumulate more than 2 billion downloads and has surpassed American applications such as Instagram itself. In fact, its popularity has skyrocketed in the wake of the global confinement of the COVID-19 pandemic.
This is not the first time that Facebook has tried to compete with TikTok, but the first attempt was a flop. In November 2018, the company launched a short video application called Lasso, but it never managed to gain momentum and barely exceeded half a million downloads. On July 10, 2020, Lasso closed down for good, allowing Facebook to focus all its efforts on promoting Reels.
This is not the first time that Facebook has copied a popular format into another application and launched it with great success in its own networks. The best example is Instagram Stories, which has far surpassed the popularity of the original format of Snapchat.
This time it seems that the competition is going one step further, since according to the Wall Street Journal, Facebook is offering the creators of TikTok a very tempting amount of money to start creating videos for Instagram Reels. TikTok is trying to solve this situation and has announced that it has created a fund of $200 million to empower the most creative and influential American TikTokers to turn their passion into a career. The project is called TikTok Creator Fund and soon the creators with the most potential will be able to register and apply. This fund has also been established for other internal markets, including a 70€ million fund for European creators.
Will this be the beginning of a historic struggle between social networks? We will see evolution as time goes by.
Why Is Instagram Reels Being Launched Now?
It's not clear how long Facebook has been preparing for the global launch of Instagram Reels, but the fact is that it is taking advantage of a great opportunity.
The Trump government has long been investigating TikTok's ties to China, where the company that created it (ByteDance) is based. In early July 2020, Trump threatened to block TikTok in retaliation for the coronavirus, and some concerns have been expressed about possible Chinese government access to TikTok data and content moderation on the platform.
With the possible demise of TikTok, users and creators are looking for a platform where they can continue to share these types of videos, and Instagram Reels is meeting that need. With an estimated 80 million users in the US, TikTok may be the perfect opportunity to capture market share. However, Microsoft has announced that it will purchase the rights to the TikTok social network in the United States, Canada, Australia and New Zealand, in order to keep users' data on servers in the United States and to avoid information security problems, thus avoiding the blocking of the app and remaining a very strong competition against Instagram Reels in the United States.
A similar situation has already occurred in India, where in early summer 2020 its government blocked the download of multiple Chinese applications, including TikTok, on the grounds that they posed a threat to the country's security, although there is also a political and border background. The launch of Instagram Reels in this country in early July came at the perfect time to fill that gap.
How Does Instagram Reels Work?
As mentioned above, one of the big differences between Instagram Reels and TikTok is that Reels is not a standalone application, but a new feature integrated within the Instagram app. However, Facebook has ensured that this new content is highly visible, as the Reels are fixed in a section of the profile, between the posting timeline and the Instagram Direct tab. They also have their own section within the application.
How Can You Post Reels Within Instagram?
On Instagram you can view Instagram Reels' posts on the home page or in Explore. Reel videos are identified by a clapperboard icon in the lower left corner.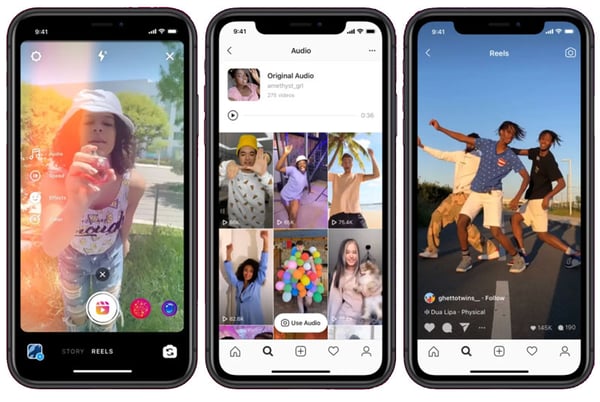 How Can You Interact With Instagram Reels Videos?
At first glance, it seems that watching Instagram Reels is a very similar experience to watching TikTok videos. You can hit "like" or comment and click to see which audio track has been used in each video.
Where Can You See All the Reels Posted by a Particular User?
A new tab will be added to Instagram profiles to show all of a user's Reels in the same place. The tab is next to the latest posts, IGTV videos, and videos where a user has been tagged.
How Do You Upload Videos to Instagram Reels?
The new format for Instagram Reels is located within Stories, which can be accessed by touching the top left corner of the home page. It appears that Instagram has updated the options menu at the bottom of the Stories screen to include Instagram Reels.
To create your first Instagram Reels video, just follow these steps:
Go to the Stories section of the Instagram application.
Click on the Reels section, which appears at the bottom next to other options like Super Zoom or Boomerang.
All of these options will appear:

Audio: lets you search for a song or piece of music in your Instagram library. You can also record a reel with your own original audio. Any original audio from you will be attributed to you, and if your account is public, other users will be able to use that piece of music in their creations.
Augmented Reality (AR) effects: if you want to record several clips with different effects, just select one of the effects from the gallery offered by Instagram (they can be developed by the website itself or by creators from all over the world).
Alignment: you can align the objects in your previous clips before continuing to record the next ones. This way, you can create much smoother transitions from different moments, such as during a change of clothes or if you decide to add new friends to the reel.
Speed: you can slow down or speed up your video clips or audio itself. This allows you to keep up with the pace and create slow motion videos.

Add audio, either from content saved on your device or from a popular song. You can search for these songs with hashtags, just like in TikTok.
Record your video.
Edit the video with the different options available: speed up, slow down, add filters, add text, etc.
When your Instagram Reels video is ready, you can share it in the Stories (for everyone or just for the Best Friends list) or send it as a direct message.


How Do You Share Reels?
Don't worry, sharing a Reel you've created with your fans and the Instagram community is easy through the "Explore" section.
With a public account, you can share your reels in a special space in the "Explore" section to be discovered. Or you can include them in your feed and have them seen by your followers. If you have included a hashtag, songs or effects, your reel has a chance to appear on certain pages, when someone clicks on just that song, hashtag or effect.
Private Account: Instagram is very mindful of the confidentiality of its users and their settings, so if your account is private, your reels can only be viewed by your followers. You can post it on your feed and have it seen by your community. The original audio from your reels cannot be used and your reels, if shared, will only be seen by your followers anyway.
The Reel will always be available in your Instagram Reels section or if you have shared it in your feed or by direct message. If you share it in Stories, it will last 24 hours and then disappear.
It will be interesting to follow the development of this app as it continues to grow and as TikTok's future in many countries comes into question. We'll update this article with new information as it comes in.