By Laia Cardona, on 4 September 2015
Do you feel that you cannot surf the Web safely? Are you bothered by intrusive ads that are automatically activated when you enter a new website? If this is your common feeling and you'd like to avoid these ads, because your goal is to surf the web with ease and find the content that you like,
ad blockers are the solution for you.
How do experts that develop online
advertising
and marketing campaigns recommend the ads to me? Very easy, because we want to show you the publicity you like and to create a pleasant experience for you, not a nuisance. Even so, we prefer to recommend tools that help you to remove ads.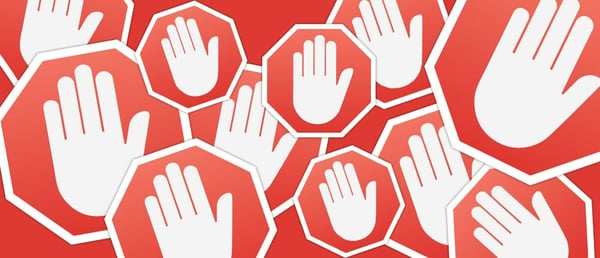 The 3 most valuable applications to block advertising:
AdBlock Plus: is a content filtering extension for the browser, which can block the display of ads on websites. It is very popular among users, and very effectively hides all advertising content. This application aims to make Internet browsing more enjoyable, preventing you from seeing ads when playing videos from Youtube, Facebook ads and banners. You can create your own filters, apply rules to block some domains and special elements on a page. Based on the user community, AdBlock Plus allows default ads deemed acceptable but not intrusive and causes no discomfort in reading web content. This extension is the most popular for use in computers and mobile devices. In contrast it is not 100% foolproof.
AdFender: Improves Internet experience eliminating every indication of advertising from sites you navigate to. It is very effective and extremely configurable. The ads are identified and removed by filter lists. There are different types: generic, for specific languages, for the privacy or focused on the risk of malware domains. Lists can be seen from the filters menu. You can use one or more lists, or define custom rules. It also removes the ads of P2P programs (BearShare, BitComet, iMesh and Pando) or Instant Messengers (ICQ, Trillian, Yahoo Messenger and Windows Live Messenger among others). The cons are that it has an improved design that is not foolproof.
AdMuncher: One of the most powerful adkillers on the market thanks to an effective system of blacklists that can be edited to prevent pop-up ads. It also blocks music, videos, texts or even some wallpapers that we deem annoying. The difference with other blockers is that it is a program that is installed on the computer. Thus the problem with others such as AdBlock Plus is that they are built as extensions to the browser, which are detected and prevented by some websites when advertising is avoided.
We will discuss more of this subject in the next blog. In particular I will talk about AdBlock and the ability to create quality advertising integrated into the websites that is not intrusive, and the user decides if he or she wants to access it or not. In reality the last idea is the best way to reach the target audience for advertisers.
Laia Cardona
Image by PageFair