By Nerea Boada, on 8 August 2022
If you want to have a presence on Pinterest, it is very important that you use Pinterest Analytics to measure the performance of your organic and paid strategies.
In this article, we'll show you how to use this analytics tool and how you can get the most out of your advertising and content marketing strategies on the platform.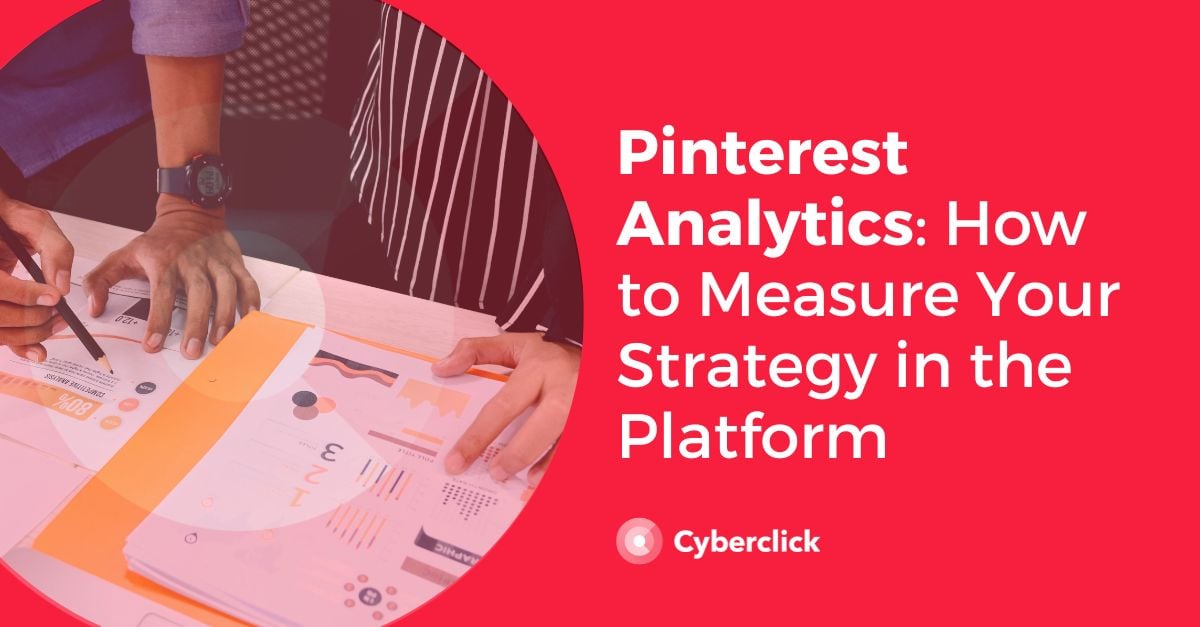 What Is Pinterest Analytics?
Pinterest Analytics is available to Pinterest users. It provides interesting information about how users' profiles, boards, pins, and social ads are performing.
Thanks to the information provided by this tool, content creators get insights about their target audience and trends in the market. In addition, it also comes in handy when setting goals and designing a content strategy for the social network.
Because Pinterest Analytics will help you learn more about your audience and their needs, you will be able to better target your campaigns and publications and thus increase your sales.
How You Can Use It to Measure Your Strategy
First of all, in order to access Pinterest Analytics, you must have a business account on the platform. If you access Pinterest through your computer, you will find this tool in the upper left corner of the screen, under the "Analytics" button. If, on the other hand, you access Pinterest from your cell phone, you must go to your profile and click on the three bars located in the top right.
Once you are inside, you will be able to see analytics regarding the following: general overview, your audience, conversions, videos, and trends.

We will explain each of them in more detail below.
General overview analytics: Here you can analyze the performance of your boards and pins in general. The tool gives you the option to select a date range and whether or not you want to see the performance of all your posts, only the social ads, or only the organic posts. All the information will appear in a graph and you will be shown metrics including the number of saves, impressions, engagement, clicks and reach. Finally, you will be able to see your most successful boards as well as the pins with the best results.

Audience analytics: In this section, you will find information about the language and device through which your audience views your content, among other demographic data. If you want to know the characteristics, tastes, and preferences of your audience, this will be the best place to learn more.

Conversion analytics: Although this is still being developed, all users with a business account have access to it and can start exploring it. It is designed so that you can analyze the number of visits your website is getting directly from Pinterest as well as the products that users have added to their shopping carts through Pinterest Shopping.

Video analytics: You'll be able to visualize which videos have better results and the ones your audience like the most.

Trend analytics: What are the current trends on Pinterest? What are users' search intentions? You'll have insight into these questions and more in order to start building an online community on the platform.
What Are the Main Metrics You Can Measure on Pinterest?
Now that we have seen the five types of analytics, let's review the five types of metrics you should be monitoring:
Impressions: Indicates the number of times your posts or pins have been displayed on-screen, i.e. how many times your pins have been seen on the platform.

Engagement: Indicates the number of saves, scrolls, and clicks your pins have generated.

Engagement Rate: This is obtained by dividing the total engagement of the pins by the number of times they were seen (or, in other words, by the number of impressions). In this case, the engagement will take into account the number of saves, clicks on the pins, and clicks on outgoing links.

Total audience: The sum of the number of people who have viewed or interacted with your pins.

Pin clicks: Show the total number of clicks on a given pin or social ad. It will let you know if something has caught your audience's attention and made them want to know more.

Outbound clicks: The number of times a person clicks on pins that take them outside of the social network. The higher the number of outbound clicks, the more interest you have created among users. This is an indication that your posts are performing well.

Total engaged audience: The number of people who have interacted with your content.

Total monthly audience: The number of users who have viewed or interacted with your pins in a 30-day period.