By Kelly Rogan, on 1 June 2016
The war between ad block fans and advertisers continues. Recently, mobile operator Three made a crucial step by confirming that they will introduce ad blocking into their networks in Italy and the United Kingdom, where they have over 9 million users. It has now become the first high-ranking European operator to support mobile ad blocking. Find out why!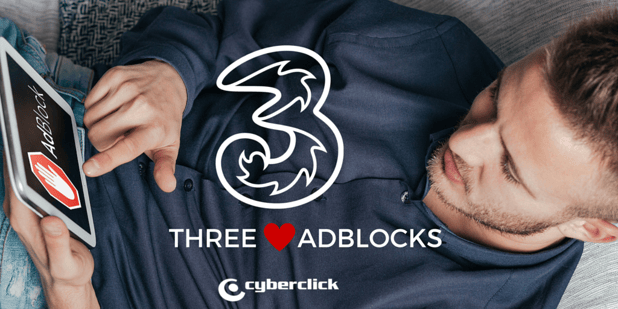 Why did Three decide to implement ad blocking on their networks?
According to Three's marketing manager in the UK, Tom Malleschitz, "irrelevant and excessive mobile ads disturb consumers and affect their experience on the network". He explains that the company has three main reasons for implementing the mobile ad blocking technology:
Users pay for the amount of data that they consume, and ads increase their level of data consumption. Three defends that it should be the advertisers who pay this extra data consumption.
Some advertisers intend to keep and use users' data and information without them knowing about it.
Use should only receive ads that are truly relevant to them, instead of having their mobile experience harmed due to excessive, intrusive, unwanted or irrelevant ads. "The industry has to work together to offer users desired and beneficial mobile ads". In honor of this, Three is willing to work with the advertising community to "offer a better, more segmented and transparent mobile ad experience".
Reactions to Three's decision
Three's decision to make this move did not go unnoticed. The Internet Advertising Bureau (IAB) has already warned that Three's strategy might force content creators to start charging users for ads that are currently free. According to their marketing and communication director, Alex Kozloff, "at IAB we believe that an Internet financed through ads is essential to be able to benefit content creators, for these to be able to continue putting content, services and applications in the hands of users at low costs or even for free. We believe that ad blocking contradicts this focus and might force consumers to pay for content which they now get for free."
Meanwhile, and according to a study from IAB themselves, at the end of 2015, 18% of British adults online are currently using ad blocks. The trend is unstoppable, which is why, here at Cyberclick, we are a digital marketing and advertising company who supports ad blocking. We believe users should have the freedom to choose what content they consume, and that the solution is to offer them high-quality ads that entertain and add value to their experience… in other words, a better advertising for both users and advertisers alike.
Kelly Rogan