By Kelly Rogan, on 23 February 2016
The truth is, no matter what sector or product we work with, we can no longer afford being behind on the times – not being up to date is not an option. Consumers are constantly being targeted and bombarded with an infinite amount of brands products and services, and, like anyone, they only have room in their memory and in their lives for a limited number of products. Which poses a challenge for us marketers and businesses – How do I make my brand standout from the crowd? In the unending sea of choice and variety available to consumers, we have to fight to not let our brand get buried in the noise of modern day.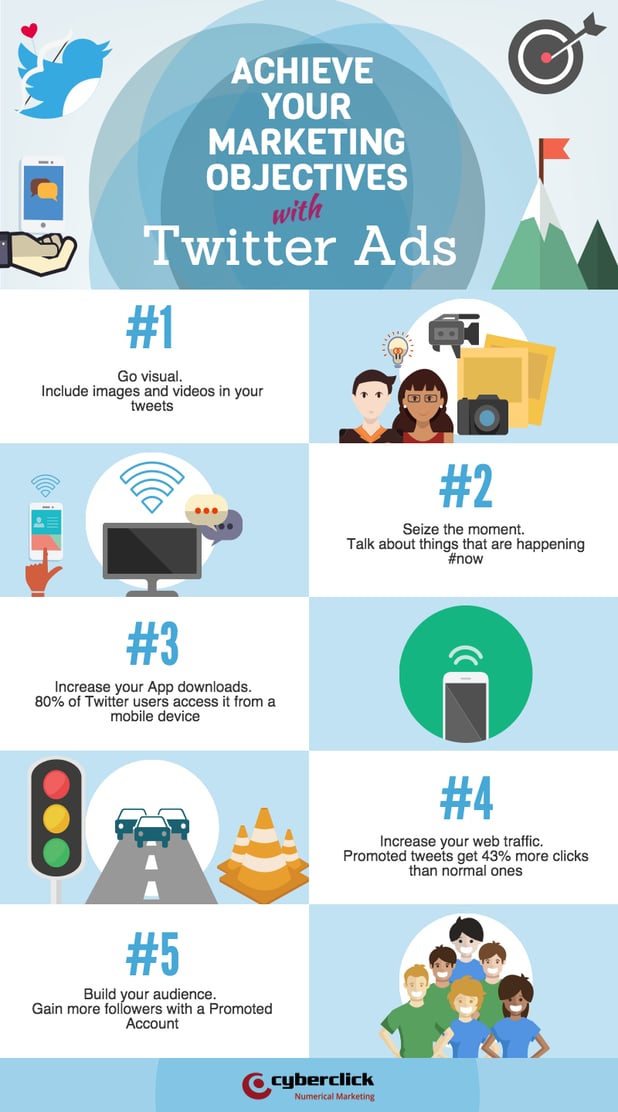 For this precise reason, we have to make a tremendous effort to stay in sync with our clients and potential clients, to get a feel for their tastes and preferences and how they change, how they communicate and interact, and adapt to fit their needs. The society we live in is not only growing, but growing faster and faster every day, and shows no signs of slowing down. What yesterday was the "hottest topic", today no one remembers.
And so I stress, with the upmost emphasis, how essential it is for your brand to be using Twitter. Twitter is one of the fastest moving, most popular social networks of the moment, and an opportunity we cannot pass up. With 316 million total active users worldwide, Twitter is currently one of the best chances to not only keep in touch and maintain a relationship with your current customers, but also to reach out to new ones, through the viral characteristic of social media, and the ease of using and sharing via Twitter.
What I want to show you with this post, is that no matter what your product or brand, and more importantly, no matter what your marketing objectives are, Twitter is somewhere you must be present if you want to succeed! So here are the most relevant objectives you may have, and how you can use Twitter to achieve them…
Raising Brand Awareness and Tweet Engagement
As I mentioned above, the whirlwind of information hurled at consumers 24/7 can be very overwhelming, so it is important to make sure that people know of the existence of our brand and what we can offer them that others do not. This makes this one of the most important marketing objectives we can have.
One of the amazing things about Twitter, and about social networks in general, is the invaluable interaction and engagement you can have with your followers, allowing you to take your relationship to a whole other level. What before could only be done through mass advertising of one ad which targeted an enormous amount of people (like on TV for example), you can now do on a much more personal level.
To increase your brand awareness, the most important thing is to get your message out there, by increasing your tweet engagement. For this objective, the ideal option is an Engagement Campaign. The great thing about promoted tweets is that they are, in fact, ads, but they only thing differentiating them is a small label saying "promoted" – meaning they can be commented on, liked, retweeted, etc. The more your followers engage with your tweets the more people will see it and engage themselves, creating a virtuous cycle. So how can you get people to engage?
Make it visual.

People find things much more interesting when they are visual, so be sure to include images or videos in your tweets to make them more appealing, instead of just plain text.

Seize the moment.

Make the most of Twitter's instantaneous connection with followers and potential clients, to talk about things that are happening at the moment. Remember, it's all about letting people know you exist, so try to connect with them and their interest by tweeting about other things as well, such as current events, news or trending topics.
Be sure also to define your target audience and know who they are, and update it constantly. Use keywords that are frequently searched for, hash tags related to current events or popular topics (such as TV shows or movies, celebrities or movements and causes) and create tweets that will interest the people that you're trying to target. Lastly, be sure to define your budget. Promoted Tweets are payed for on a Cost-Per-Engagement basis (without charging for organic engagements), meaning that you will only have to pay for what really works, instead of forking out cash for something you are not sure will actually work. Furthermore, Twitter gives you the option to set daily and total budget limits per campaign, allowing you to control your expenses to a T.
Increase App Installs
In a world that is becoming exponentially more mobile even as we speak, it is key that we adapt not only our marketing strategies but even our products themselves to consumers' needs. This is why Mobile Applications have become so relevant so quickly in recent times. According to Twitter themselves, around 80% of their users access Twitter from a mobile device, making it the perfect platform to boost your brand's application.
The best way to do this on Twitter is by launching a campaign using App Cards. Ad cards are similar to a Promoted Tweet, but with the added benefit of having a direct way to install an application at the simple click of a button, without even having to leave Twitter. It automatically adapts to the viewer, depending on whether they are accessing via Android or iOS, and is smart enough to not show the app cards to people accessing from a desktop computer (as they will not be able to install the application anyway).
An ad cards allows you to publish a tweet, accompanied by a title, image, application rating and Call to Action, linking directly to the installation.
I've said this before but I'll say it again: make sure your campaign is optimized for mobile devices. With so much choice out there, viewers will not have the attention span or patience to wait if your loading times are too long, or to fiddle around with a website or ad which is not going to run smoother than silk on their mobile device. They will instead close it as soon as they see it does not run properly, and you will be missing out on a large piece of your potential audience. For this reason, it is sometimes better to keep it simple and user friendly - sometimes, less is more.
Increase Web Traffic
Increasing web traffic is one of the most common marketing objectives for companies of any sector. By getting viewers to visit your website you give them the chance to know who you are, why you exist and what you can offer them.
For this type of campaign, your best option is to use Website Cards. Similar to the App Cards, Website Cards allow users to view an image, a short description, URL and a Call to Action. Be sure to make the most of each of these features, and don't make the mistake of repeating the same information (don't put the same information in your description as in your copy, for example). It makes redirecting viewers to your website easier than ever, and with a single click or touch of their screen, they can be automatically redirected. Twitter's studies show that Tweets with Website Cards achieve 43% more clicks than normal tweets.
Your job isn't done however, as you should make sure to track your online conversions. Instead of blindly creating tweets and hoping they will hit home, be sure to make the most of all the tools at your disposal. By measuring conversions, you will be able to track what it is people do one they reach your website through your Twitter Ad, and you will know which tweet they were redirected from, as well as where your viewers came from (type of device, operating system, etc.) All this information will help you significantly to develop your next campaign, as you will be able to see which tweets were more successful, what groups of people were more susceptible to your tweets, and why they clicked through to your website. It will also help your budget, as you will be able to focus your efforts and resources on campaigns and audiences you know, from experience, will work, and set aside those which were less successful.
Build an audience
When your marketing objective is to increase your number of followers of your Twitter account, your best bet is to create a Promoted Account. Increasing your follower count is a great way to start off, as it will increase your reach and ease of contact with your audience. The more followers you have the more they will interact and engage with your tweets, and it will boost not only your promoted tweets but also your organic ones. After having them as followers, you can use that information to reach out to people who follow them or have similar interests and therefore will more likely be interested in your brand also, and engage with them over time.
Promoted Accounts are promoted in sections such as advice to users on "Who to Follow", their Home Timelines and other key locations to be viewed by the maximum amount of Twitterers. When promoting your account, be sure to be clear, concise and appealing. You basically have 140 characters and an image to ignite love at first sight, so be sure to use them wisely and to the best or your abilities by making it clear who and what you are, and giving them a reason to want to follow you.
The payment method works according to a Cost-Per-Follower model, charging you only when someone clicks the Follow button on your ad placement, meaning you will only pay for the cases in which your ad is actually effective and achieving its objective.
The blue bird is definitely "flying high" in terms of social networks, and offers us the chance to "hitch a ride" by making the most of the invaluable advertising tools they put at our disposal. No matter what your marketing objective is, Twitter helps you achieve it in a simple and easy way, to implement, control and track and it is vital for marketers to realize what an amazing tool it is. So get started, and tweet your way to success!
Kelly Rogan