By David Tomas, on 10 November 2020
The 2020 holiday shopping season is right around the corner. And the months of November and December have represented 19% of yearly spending for the past five years running. Despite COVID-19 and all its complications, shoppers are still poised to make the most of the season's two biggest days: Black Friday and Cyber Monday
A survey from Pitney Bowes Inc. and Morning Consult, found that 57% will shop more online this year and spend $80 more than in 2019. Even more telling of how shopping has evolved, 45% of consumers surveyed said that online shopping makes up more than half of their purchasing –nearly three times pre-pandemic levels.
Creating a solid and creative marketing strategy for both Black Friday and Cyber Monday is a sure fire way to ensure your brand makes the most of the ongoing digital transformation.
In this article, we'll review 6 marketing ideas for Black Friday and Cyber Monday that you can use to make Q4 your best one yet.
Marketing for Black Friday and Cyber Monday
Black Friday refers to the day after Thanksgiving (November 27th, 2020) that marks the beginning of the holiday rush. Traditionally Black Friday (named for pushing retailers into the 'black', or profitability) has been the biggest single day of spending but has been losing clout recently. With our current conditions this is being accelerated; many retailers are stretching Black Friday through the weekend leading into Cyber Monday—what's now called Cyber Weekend. Let's review 6 strategies you can incorporate into your Black Friday and Cyber Monday marketing plan.
1. Know Your Audience: Who's Likely to Buy Online?
Making sure you're targeting the right demographic is marketing 101, yet it's a key consideration often forgotten. 72.6% of online users were digital buyers in 2019, but who were they? Unsurprisingly, 86.4% of users aged 18-24 made purchases and 87.6% of those aged 25-34. Compare that with 68.5% of 55-64 year olds and 48.9% over 65.
And age is only one factor. Research your industry data carefully and narrow down your audience.
2. Maximize Your Mailing List for Black Friday and Cyber Monday
Those existing customers and pre-qualified leads? They're the ones you want to focus on leading up to the days following Thanksgiving. Securing new customers can cost up to five times more than retaining existing customers. They've already bought your products and are likely satisfied (if not, you've got other problems), so why not begin informing them ASAP?
Create engaging, suspense building email marketing content that demands their attention. Offer them exclusive offers, sneak peeks and VIP customer service. By creating exclusivity you build on your existing relationship and create loyalty, which will serve you well during Black Friday, Cyber Monday and beyond.
3. Create Video Ads for More Engagement
Studies show that video content gets 59.3 % of the engagement pie compared to image and text. Short, impactful videos highlighting holiday offers will do wonders for your Black Friday and Cyber Monday marketing efforts. You can focus on product benefits and features as well as show potential customers your brand culture and brand style. With the right personality on screen you can also build trust and be seen as a thought leader in your industry.
4. Create a Gift Guide
There are a multitude of options around this idea. By creating a curated gift guide that packages products together and highlights uniqueness of products as potential gifts, you're creating an emotional connection with shoppers. Small touches like, 'For Him' and 'For Her' make people think of loved ones while browsing. A well designed and attractive gift guide can be:
A downloadable file shared on social media or directly on your shop (in return for an email address, of course)
Sent to your email list
Sent via direct mail
5. Take Advantage of Facebook Live and Instagram Stories
Facebook and Instagram live/stories are the perfect tools for not only showcasing products, but for maximizing engagement with your audience. Instagram accounted for 32% of ad spend on Facebook channels between Thanksgiving and Cyber Monday in 2019. Instagram Stories played a significant role. Take advantage of these tools to build suspense with a countdown and sneak peeks. Collaborating with influencers is also a great option to reach more sets of eyes and create buzz.
6. Get Creative: Focus on Brand Integrity & Points of Differentiation
Reaching potential customers in our current times needs a special touch. Many of us have given materialism and the glitz of shopping the cold shoulder, in exchange for more quality time with loved ones and practical pursuits. Wallets are tighter and getting people to spend requires more effort. By providing exceptional customer support and service overall, one can set themselves apart quite quickly; integrity matters. 86% of millennials say they would switch brands following a bad customer service experience.
Letting the public know you support social causes takes things one step further. How are your products different from competitors'? If your operation is more sustainable, energy efficient or fair trade make these points pop in your ads. And don't forget to mention if your product(s) are made in the good ol' US of A!
How Black Friday will be Different in 2020
In 2019, ecommerce accounted for 20% of spending, but if numbers from our pandemic are any indication, these figures will increase. And with health concerns, many will indeed choose to do all their shopping online.
There's no doubt Black Friday will be different in 2020. Yes, our current pandemic will have a sizable effect, but as previously mentioned, Black Friday has been losing steam for years. This 'Pandemic Black Friday' might just be the nail in the coffin. Traffic jams, camping in parking lots and hordes of people, doesn't sound too appealing does it? Especially when you consider you can get similar deals from the comfort of your home while sipping hot cocoa!
64% of respondents from an Accenture study of 1,500 people said they've lost interest in Black Friday events compared to previous years. 61% from the same study indicated that they will minimize in store purchasing and over 40% said they won't shop at retailers who have laid off employees due to coronavirus.
2020 Black Friday and Cyber Monday Trends
The good news for retailers, especially those with strong online presence, is that shoppers are still eager to buy, albeit differently. Amazon's Prime Day was moved from July to October, starting the holiday shopping season even earlier. The two day sale generated an impressive 45.2% more in sales than last year. Some, like Walmart, are even breaking their sales up across multiple weekends. What's more is that many are focusing most, if not all of their efforts on online sales.
Conscious companies who support workforce diversity, treat employees well and create hygienic and safe shopping experiences are being heralded. Big box stores like Walmart, Best Buy and Target announced they will shut their doors on Thanksgiving Day. And the public agrees: enjoy family time at home and let retail workers do the same.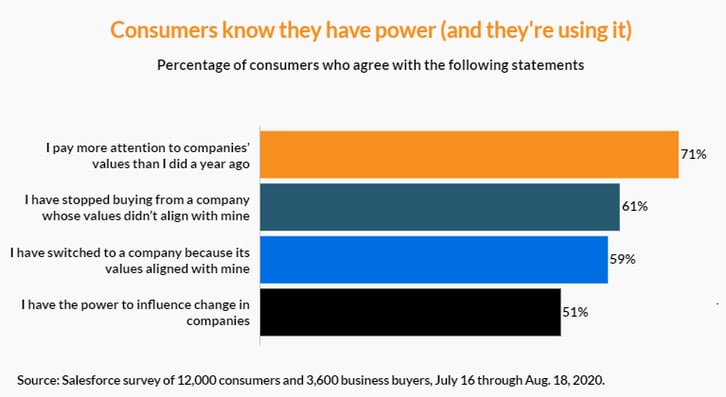 Image Source: DigitalCommerce360
Another trend for Black Friday and Cyber Monday 2020 is the end of the one day, or four day super sale. Retailers like Macy's are planning to stretch their sales across weeks. "We expect it to start in full force after Halloween," Macy's CEO Jeff Gennette said. More purchasing online combined with in-store pickups is also expected as a hybrid shopping option. Retailers will also likely offer better credit rates as an incentive for higher priced items.
More predictions for Black Friday 2020
More exclusivity of products
Bundling of products
Push for more upselling and cross selling
Overall lean towards bolstering online presence for coming years
A number of factors are contributing to what could be the end of Black Friday as we know it: a global pandemic; an increasing trend towards online and specifically mobile shopping; concerns over safety and health; people becoming more comfortable with doing daily activities like shopping from home, etc. That being said, holiday shopping days like Black Friday and Cyber Monday will live on, just in a different format as consumer shopping habits evolve.