By David Tomas, on 09 May 2018
Social media ads are one of the quickest and most effective ways to connect with your target audience. These ads provide plenty of profitable opportunities and are a great way to boost your digital marketing campaigns.
These small but mighty ads utilize all the data users share on social media to offer highly personalized and relevant content, which ultimately expands conversion opportunities and introduces your brand to more potential customers.
As more and more brands are getting on board with social media ads, it's important to understand how this advertising medium works. Social Ads are an incredibly profitable and versatile advertising channel that give us the ability to build specific campaigns on social media to meet a selection of different business goals at relatively low costs.
To clue you in a bit more on how social media advertising works, let's review an example of an actual social media ads campaign and walk through everything you need to know about social media advertising. Let's go!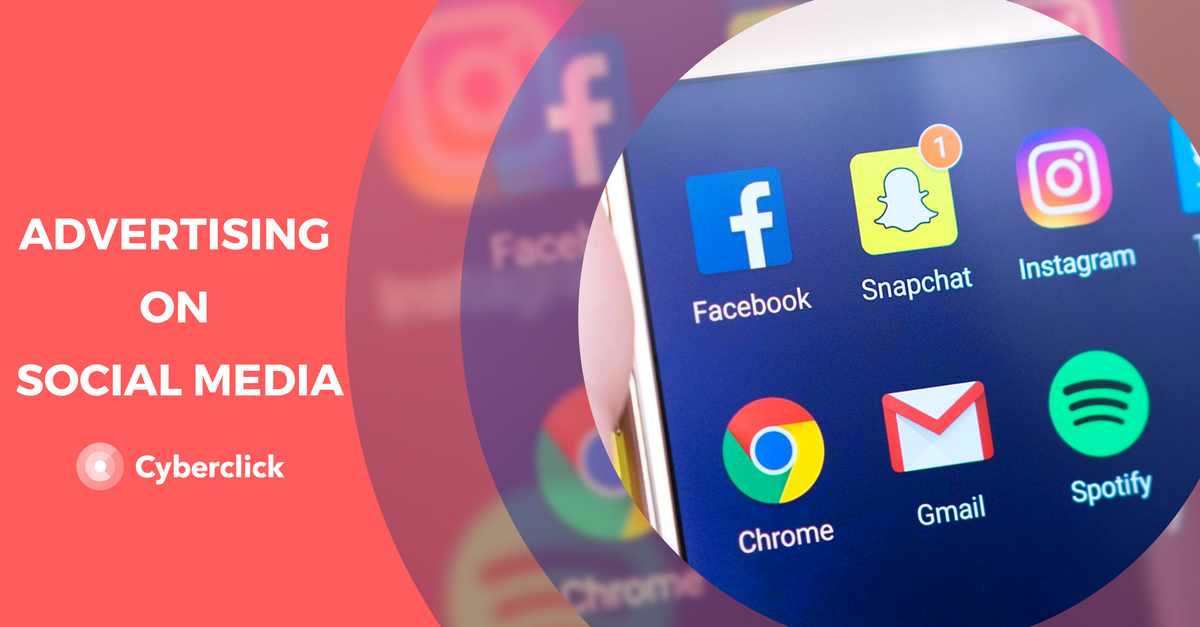 What Exactly Are Social Media Ads?
On social media, what is the best way to invest in social ads? While you may think the answer lies in knowing, "which social media platform has the largest user base", there is actually no one correct answer. It may be cliché, but the truth is that is that with social ads, it depends on the situation. When making your decision, you need to think about where you can find your audience on social media, what kind of campaign you're looking to spread through social ads, and how you can use this information to optimize ad investment. To help you out a bit, here is a short summary of the different types of social media advertising options:
Social ads on Facebook. Facebook is the world's largest social media platform, with one of the largest user bases (especially when you add in WhatsApp, Instagram, and Messenger.) Their advertising platform is solid and reliable. Aside from having an enormous potential audience, it has the advantage of being extremely visual and offering multiple and detailed segmentation options, from demographics to lookalike audiences.
Social ads on Instagram. As an extremely visual social media, users are inclined to consume a large quantity and variety of posts. To take maximum advantage of Instagram's potential, find examples of Instagram advertising that you would like to emulate and focus on optimizing your images and videos.
Social ads on Twitter. This little blue bird network also offers very interesting social ads options, letting advertisers create campaigns adapted to various different objectives (conversion, leads, app installs, etc.) and increase their potential audience with Twitter Audience Platform. If you want to make the most of it, combine it with an artificial intelligence tool!
Social ads on YouTube. Video marketing on YouTube is the closest form to traditional advertising that exists. Make the most of its potential to tell your audience stories they will connect with.
Social ads on TikTok: TikTok is one of the newest social media platforms, but don't underestimate its potential, especially with younger audiences. TikTok advertising is a new and exciting option in the world of social ads, and it's safe to say the ads will be just as creative as the content on their platform.
Social ads on Pinterest. Pinterest brings a largely female audience to social media and is an absolute hotspot for topics such as weddings, cooking or fashion, making it very useful for advertisers in this niche.
Social ads on LinkedIn. This social media platform with a large professional user base brings an advertising solution for those looking to reach out to a corporate audience, with B2B marketing.
Tips for Social Media Advertising
Before we delve into the various types and examples of social ads, let's consider what they are, how they are designed, and why they're important.
Over 500 million Tweets are published per day. On Facebook, over 300 thousand photos are uploaded a day and around 4 million shares occur a minute. Amidst this staggering amount of content, how can we make our advertising campaigns stand out on social media?
Social Ads Design
The way that your ads are designed, the images and text you use, and the context they work in will all have an impact on encouraging users to click on your ads.
The truth is that on other digital platforms, like Google Ads, users are already quite willing to go through the conversion process - after all, more often than not, the reason they came across the product is because they were searching for specific keywords which happen to be related to the product. On the other hand, social media ads show your product to users who coincide with your target audience, but who don't necessarily know your brand or weren't thinking of buying the product.
Which is why, with social media advertising, we come across very different strategies when dealing with communities vs ads, and organic vs paid content. The massages' tone, the content itself and the user behavior is different in each situation.
Tips for Designing Social Ads
Because the look and feel can have such a great impact on the success of your social ads, its important to nail the design.
We tested two different types of ads to gauge the most successful campaign: One ad featured images that aligned to the brand's style guide across all channels, versus ads that featured new images created specifically for performance.
With the same level of ad investment in each campaign, the performance oriented images experienced a 35% higher CTR compared to the images focused on branding. In addition, the ROI achieved in terms of sales as well as investment was more than doubled in the ad sets that used these images.
Some key take aways from this experiment include:
When creating a social media campaign with the goal of achieving maximum visibility on Facebook and Twitter timelines,

we should work with distinctive images, with strong contrasts and striking colors,

such as orange, yellow or red, which are very different to the often blue and white environments of the various platforms.
Be sure also

not to overuse filters

that will diminish their intensity and presence.

Another important aspect is making sure that the other elements in the images actually fit in -

guaranteeing that any text is perfectly legible, and avoiding any overlapped logos and texts covering up important parts

of the background image.
If we are offering

discounts or working with reduced prices, it may help to include them in the image,

using resources or colors that user associate with discounts or sales, such as red for the previous price, and green for the reduced one.
When the objectives for your social ads are goals such as installations, purchases, registrations, etc., it is important to design all the variables in the campaign to strengthen the conversion process. It just so happens, that the interaction with the ad's image is, without a doubt, the first step of that process.
Applying Social Ads to Facebook
Over the last few years, Facebook has developed a very competent and complete advertising solution, with no lack of tools to create our ads exactly as we want them, directed at the perfect audience.
But the best of Facebook Ads is still to come, as they are constantly perfecting their interface to be as precise as it possibly can. If you are able to fully understand and master all its new features and details, your limits are pretty much blown out of the water. Which is why I would like to tell you today about this network's 3 new advertising features, which will allow you to perfect your ads down to a T.
1) Audience Network's Improved Location Filters
Audience Network is Facebook's advertising network, that amplifies your campaign to go even beyond the borders of the network itself. Audience Network ads are published on apps and mobile websites, instantaneous articles and videos.
This tool has the same segmentation, mediation and delivery options as Facebook, but until now, you were not able to exclude any locations, apps or content from where your ads were shown. The latest feature is a function that will be introduced gradually, allowing you to restrict your ad from being shown in:
Specific categories.

You can block your campaigns on dating, politics and religion apps or websites.
URL domains and apps.

You can upload a blacklist of specific websites and apps where you do not want your ad to be displayed.
Together with Audience Network's traditional double checking system (automation + human revision), this new feature gives you control over the context in which your ads are displayed.
To activate this feature, all you have to do is click on Show Advanced Audience Network Options when configuring your campaign locations. Then, go to Explore to select the categories you want to block or Activate Blacklist for Audience Network to restrict specific places.
2) Lookalike Audiences in Other Countries
Facebook Ads' Lookalike audiences allows you to search for Facebook users who share characteristics with other, pre existing audiences, such as as their location, age, gender or interests. For example, you can use it to locate users with profiles similar to your current clients.
Until now, this Lookalike function could only be used to look for users in the same country. But this limitation has now disappeared: you can now use the tool to search for users with common characteristics in other countries, making internationalization strategies significantly easier to set in motion.
There are a few of things to keep in mind:
To create a lookalike audience, the original database must have at least 100 people of the same country.

You do not need to have anyone from the country you are trying to target in your original audience. For example, if your original audience is made up of 5000 people in the USA, you can use it to create a lookalike audience in Canada or the United Kingdom.

The personalized audiences sources can be based on an app, a conversion pixel or a Facebook page.
3) Global Demographic Segmentation
Last but not least, the third new feature in social ads is the ability to target your ads at a global audience, make it even easier to internationalize campaigns. Before now, Facebook Ads only allowed you to segment your campaigns by country, meaning that global campaigns had to be created manually, causing discrepancies in the algorithm.
At the moment, these new segmentation options can only be applied to website conversion campaigns, app install campaigns or app engagement campaigns.
Here are some key points to this new feature:
Keep in mind that you can not only target your social ads at a global audience, but also a single region (like Asia, for example) or an free-trade zone (such as the European Economic Area).

You can also exclude specific areas from a region, like targeting Europe, but excluding France, for example.

If your ads prove to be more successful in certain locations, it will reallocate a larger part of your budget to those locations. In your ad administration area, you can see any budget reallocations.

Facebook recommends using the same language for each ad group, so you might have to create separate ad groups for different regions.
Examples of Advertising on social media with Cyberclick's social ads
Social Ads Case Study: Iberia on Social Media
Here at Cyberclick, we work with Spanish international airline Iberia to promote the growth of their main routes originating in Spain, Latin America and other European markets. In order to do so, we use our artificial intelligence based Twitter Ads optimization tool, Twitter Tech Marketing.
Our primary goals were to optimize the unit cost for each user's search using the form on their website, as well as to get to know the users' purchasing behavior, given we were targeting a mobile audience who still finalize the majority of their purchases from desktop devices.
The strategy was based on a series of actions in Spain, France, Brazil and Germany, progressively testing all the routes with the maximum amount of microsegmentations allowed by the tool.
In the first phase, the campaigns were "always on", with generic and timeless messages. In the second phase, we introduced Real Time Ads, which displayed real time prices and destinations, updated according to the airline's offers. In order to do so, we developed a pioneering integration with the company's price feed.
These were the most noteworthy results:
Over 1000 active segmentations in the in live campaigns.

Over 70,000 visits were directed to the landing pages from our ads.

The average CTRs were around 0.25%, with special emphasis on premium destinations such as New York (with a CTR of over 0.60%).

After arriving on the website, users showed high reactivity rates, with almost 27.000 availability requests using the forms (38.5% conversion rate, in terms of visitors).

The cost per search came down to under 1€, which is 10 times less than those obtained through previous campaigns and efforts.
Social Ads Success Story: Groupalia on Social Media
In this case, we decided to let our more adventurous and curious side out to play by trying out Twitter Audience Platform, a tool that allows advertisers to significantly increase their Twitter Ads campaigns' outreach with help of an external mobile app network.
To try out this tool, we did a 60 day test with Groupalia, launching a campaign designed to boost app installs. These were the main results:
Significant amount of generated impressions (and, hence, outreach), with significant presence and distribution in the mobile environment.

The engagement rates related to banner and interstitial formats were very noteworthy and constant over time: between 0.35% and 0.45% with banners, and up to 4.20% in static interstitials. There was a less frequent need to update creative elements in the Twitter-only campaigns.

Costs per engagement between 0.02 and 0.03€. By obtaining very inexpensive traffic, it is possible to attract high volumes of visitors with very small investments.

Very competitive CPIs were obtained, between 1€ and 1.15€, much like the app's own campaigns within Twitter itself.

Installation and purchase data were also very similar to the app's Twitter campaigns', showing, for example, a 3.85% purchase conversion rate after installation.