By Chantal India, on 24 August 2021
In a time when most social networks rely on algorithm-based news feeds, do social media posting times still matter? The answer is yes!
Not only does knowing the best time to post on social media help when planning your digital marketing strategy, but it also ensures you're giving your content the best possible chance to reach your audience. Even though most news feeds are no longer chronologically ordered, platforms still value fresh content over old content.
Let's take a look at the best times to post on social media, broken down by each platform.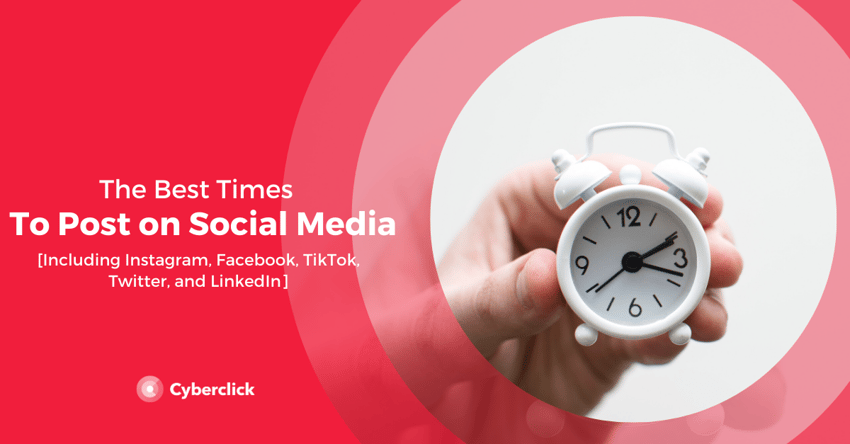 Index
1. The Best Time to Post on TikTok
2. The Best Time to Post on Instagram
3. The Best Time to Post on Facebook
4. The Best Time to Post on Twitter
5. The Best Time to Post on LinkedIn
When Is the Best Time to Post on Social Media?
If you've done any research on this topic, you'll quickly discover that there is a lot of information out there. Sometimes that information can tell you the exact opposite things. When researching for this article we combed through dozens of studies and data in order to assemble the best information for you. The information for this article has been sourced from reliable sites such as Sprout Social, Hubspot, Hootsuite, and CoSchedule. Most studies were based on the eastern and central time zones in the United States.
It is important to note that the following statistics represent an average of the best posting times. However, in order to truly determine the best times to post on social media you should examine your own analytics and track what works for your particular audience.
Additionally, your content will have a bigger impact on your engagement rates than your posting times. Take a look at the content your followers tend to respond best to. It may vary across different platforms.
However, if you're just starting your brand's social media strategy or you're looking for fresh ideas then follow along for the best-suggested posting times.
The Best Time to Post on TikTok
TikTok is the social platform that is on every marketer's mind right now. Although best practices regarding marketing TikTok have yet to be established,
That said, posting times may not be as important for TikTok since there are no time stamps or post times on the app. Unlike other social media sites, TikTok does not publish the time that videos were posted, meaning something from 3 months ago is just as likely to show up on a feed as a video that was posted 3 seconds ago.
Regardless, if you feel more comfortable with posting times, Influencer Marketing Hub suggests that the best hours to post on TikTok are early in the morning (7 - 9 am) and then later in the afternoon (3 - 10pm).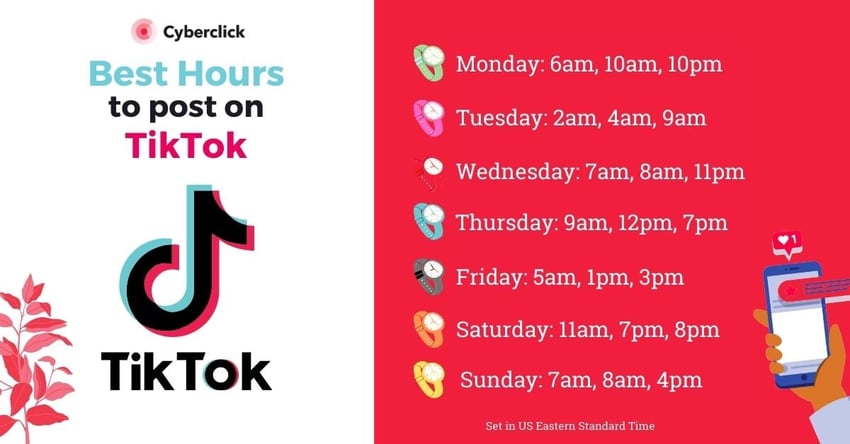 Does It Matter What Time You Post on TikTok?
While TikTok works differently than the other social media apps, it's still important to pay attention to your most active engagement times and post then.

TikTok has two main feeds that users interact with. There's "Following" and "For You." The Following page works similarly to other social media newsfeeds, where you can see content from the accounts you follow. The For You page (often abbreviated to FYP) shows content that the app thinks you are interested in, based on your activity, similar to Instagram's Explore page.

Because TikTok lacks both time stamps on posts themselves and a chronological algorithm, it may be easy to think that what time you post on TikTok doesn't matter. However, we still recommend looking at your analytics to find when your audience is most active, and posting then.
The Best Time to Post on Instagram
For brands, the best time to post on Instagram seems to correlate closely with working hours. In fact, this will be a theme with many of the different social platforms we're highlighting today. This suggests that people often check their social accounts when they want a quick break from work.
With Instagram Stories and IGTV, Instagram is one of the more dynamic platforms when it comes to content options. This means you have many different ways you can try to engage your audience and many opportunities to post at different times.
Best Day and Time: Wednesday at 11am, and Friday at 10-11am

Best Days: Wednesday and Friday

Best Overall Hours: 8am - 4pm

Worst Day: Sunday

Worst Overall Hours: 11pm-3am
The Best Time to Post on Facebook
In the past few years, Facebook has been altering its algorithm to put more focus on posts from friends and family and less on those from brands and pages. However, this doesn't mean it's impossible for you to generate high engagement rates from Facebook. By posting at the right times you can help give your organic posts an extra boost that will lead to higher engagement and secure your spot on your followers' feeds.
Best Day and Time: Wednesday from 11am to 1pm

Best Day: Wednesday and Thursday

Best Overall Hours: Most 9am to 3pm

Worst Day: Sunday

Worst Overall Hours: before 7am and after 5pm
The Best Time to Post on Twitter
Twitter is a unique social platform and has evolved quite differently from Facebook and Instagram. Out of all of the different social networks, Twitter is perhaps the most reliant on a chronological newsfeed (although the platform does also prioritize posts that they think users will enjoy). This means that it's especially important to post during peak hours to ensure that your Tweets don't get left in the dark.
Best Day and Times: Wednesday and Fridays and 9am

Best Days: Wednesday and Tuesday

Best Overall Hours: 9am - 3pm, with a major peak at 9am

Worst Day: Saturday

Worst Hours: 10pm - 4am
The Best Time to Post on LinkedIn
It comes as no surprise that the best time to post on LinkedIn is during working hours, and that the engagement levels on the weekends are very low. Posting on LinkedIn is especially important for B2B businesses and anyone looking to generate leads.
Best Day and Times: Wednesday between 9-10am, and 12pm

Best Day: Wednesday

Best Overall Hours: 8am - 3pm

Worst Day: Sunday

Worst Overall Hours: 9pm - 6am