By Judit Pan, on 28 June 2021
LinkedIn is the ideal social network for B2B marketing. Because it is focused exclusively on professionals, it is one of the best places to find contacts that can lead to new business opportunities.
Yet when it comes to social media marketing, LinkedIn remains a relatively unused network. To help you boost your business, here are the keys to generating leads on LinkedIn.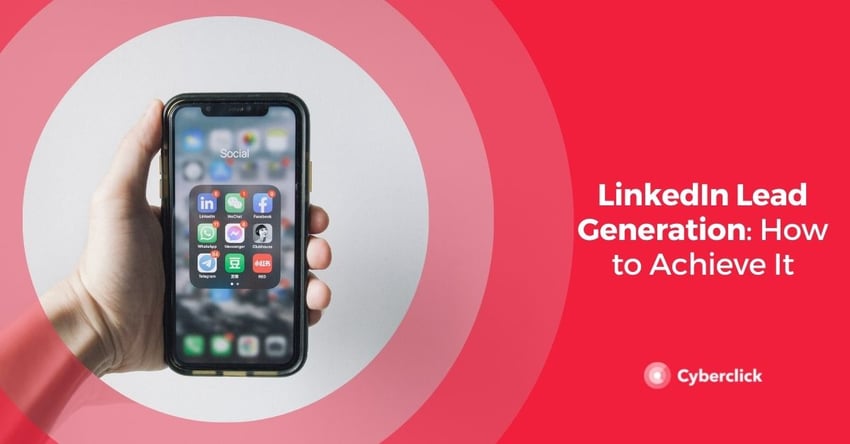 10 Tips to Generate Leads on LinkedIn
1. Complete Your Profile
You know that first impressions are important, and in the case of LinkedIn, they depend largely on having a complete and updated profile.

Your profile shows what you can offer to potential clients and suppliers, so it should be attractive and stand out from the competition. This is especially important for entrepreneurs and freelancers who are looking for new clients and projects.

Therefore, the first step to generating leads on LinkedIn is to give your profile a thorough review and make sure it includes all the relevant information about your work experience, positions, education, professional achievements, language skills, etc. Mention the most important projects you have worked on and ask your colleagues and bosses for recommendations.
The next step is to create a company page for your business or brand, with details about your company like its size, location, years in operation, products and services, etc. Don't forget to include your logo and the URL to your company's website.
2. Don't Forget SEO
Think SEO is only for Google? Well the same principles can be used to optimize your presence on multiple platforms, including your LinkedIn profile and company page.

Optimizing your SEO on LinkedIn will help your name or brand appear when users search for related products and services, both on and off LinkedIn.

Just like ranking your site on Google, the first step is to identify the keywords that, when searched, will cause your profile to appear at the top of the results. Remember that it's good to include broad terms and long-tail words that target more specific leads.
Once you've chosen your keywords, the next step is to incorporate them in different places on your profile and/or company page. This can be done in the job title, the description or the skills. If you need ideas, you can try doing a search for your keywords on LinkedIn and analyze the results that come up first.
3. Connect with People Who Visit Your Profile
Every time someone visits your profile, LinkedIn sends you a notification to let you know. These notifications can be a very useful resource and can help you generate leads.

When someone visits your LinkedIn profile, it is likely that they are interested in your products or services. Therefore, it is always a good idea to follow up to try to convert these visitors into leads.
4. Search for Connections on LinkedIn
Remember that if you want to generate leads on LinkedIn, you don't have to wait for other users to come to you. Instead, you can go to them yourself.

LinkedIn is a networking platform and offers advanced search filters that can help you find relevant leads, including the company a user works for, previous jobs, location, interests, and much more.

Use all of these search options to find potential leads and send them a contact request. Once they accept it, they will be able to see your content and receive your messages. If you do a good initial search and your posts really add value, you will have a very easy time getting new leads.
5. Publish Engaging Content
Optimizing your profile and company page will help you improve your visibility on LinkedIn but to retain the attention of your visitors, you need to publish relevant, original content.

As marketers know, "content is king". Posting on LinkedIn will help you position yourself as an expert in your industry.

Keep in mind that on LinkedIn, quality content is the key. The audience is made up of professionals, in many cases high-level professionals, who want to keep up with the latest news and gain unique perspectives. Therefore, your videos and articles need to be able to bring something valuable to your industry.
Remember that you can enrich your posts with graphics, videos, presentations, statistics, and other resources. If you need ideas, take a look at the top phrases of the most shared headlines on LinkedIn according to BuzzSumo:
The future of...

X ways to...

...that you need to know

...in the world

...of the year
Lastly, remember that current events are key. Post content regularly so that visitors can see that you are always up to date and try to contribute your view on the hottest topics in your industry.
6. Create Publications that Start Conversions
Remember that your content is a tool to generate leads. It is best to avoid overly promotional texts but it is a good idea to link your publications to your website to generate conversions. Also, do not forget to include calls to action and links whenever relevant.
7. Use LinkedIn Pulse to Generate Leads
LinkedIn Pulse is a news platform integrated into LinkedIn, though you can also use it as a standalone application.

The compelling part of LinkedIn Pulse lies in the fact that the articles you publish there can be discovered by a much larger audience, multiplying the reach you would get with your own blog or LinkedIn profile. Therefore, posting on LinkedIn Pulse can help you reach a wider audience and position you as an expert in your industry.

To achieve maximum effectiveness on LinkedIn Pulse, take note of these recommendations:
Publish articles about the latest trends in your industry. Keep in mind that Pulse is basically a news platform, so it is important to be up to date.

Optimize headlines. Headlines are the first impression users get from your article, so they must be interesting enough to make them want to click on your content.

Include images. Text-only" posts can seem dense, dull, and difficult to read, so liven yours up with images. And remember: quality is key, so don't settle for standard stock images.

Add links to your website. Remember that your goal is to generate leads, so you should link your LinkedIn Pulse article to your own website in order to capture potential customers.

Promote your articles on other platforms (e.g. other social networks where you have a brand presence) to increase their visibility.
8. Use LinkedIn Ads
If you want to extend your content's readership beyond your existing connections and followers, you should start exploring the different advertising options offered by LinkedIn.

An easy way to start is by using LinkedIn Ads to create promoted posts with your most valuable or popular content. However, you also have more advanced options such as video advertising or private message campaigns.

One of the great advantages of LinkedIn Ads is that it offers very precise targeting because it has large amounts of information about users' professional profiles. This helps you reach the right audience.

To make your ads more successful, make sure that the messages fit the specific targeting and include eye catching calls to action.
9. Reach Out to Your Professional Contacts for Help
Your colleagues and bosses can be your biggest allies on LinkedIn. Here are some ways in which they can help you.
Explain that you are trying to improve your brand presence on LinkedIn and ask them to publish your content on their profiles. This way, you will multiply your visibility and credibility, generate more visits to your site, and get more leads.

Ask them to complete their LinkedIn profiles, including links to the company. This way, you will get visibility every time someone visits their profiles.

Ask them to validate your professional skills on your profile.
10. Join LinkedIn Groups
Joining LinkedIn groups is a very effective way to expand your potential audience and generate more leads.

The logical first step to start with is groups in your industry, but then you can broaden your horizons with groups that are more loosely related and can help you grow your business. LinkedIn itself has a guide to choosing the right groups and joining them.

Of course, joining a group is just the beginning. Once you're in, you'll need to contribute to the conversation by posting quality content. You can even post links to your own articles or lead generation pages, as long as they are relevant and provide value to other users. In this way, you will be creating new professional relationships and positioning your brand among the people who would be most interested in it.
You should also take a look at the level of engagement of the groups because LinkedIn has enhanced the personal feed, stories, videos, and live broadcasts, to be more like other social networks and this can take attention away from some of the groups