By Diana Palau, on 4 May 2021
B2B marketing is an ever changing industry with trends that come and go. Marketing in general has seen considerable changes in recent years with the shift towards digital content, and B2B marketing is no exception. The types of content people consume and the ways marketers can reach new audiences continues to evolve. New platforms like TikTok and additions like LinkedIn stories are now shaping the B2B landscape.
So how can you keep up with the times and keep your B2B content fresh and compelling? How can you gain a competitive advantage and grow your businesses with a new marketing plan?
We've gathered the top B2B marketing trends for 2021 for you below so let's dive in!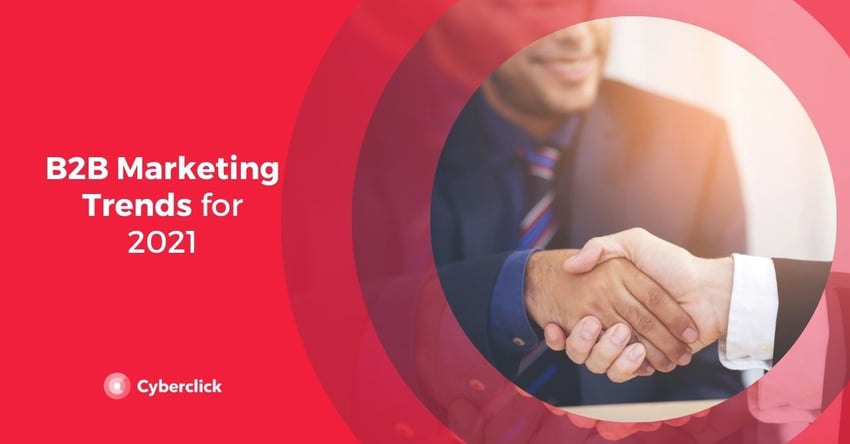 11 B2B Marketing Trends for 2021
1. Artificial Intelligence Marketing
AI has become a significant driving force for many businesses. Through data analysis and machine learning, brands can predict customer behavior and customize shopping experiences. AI is also used in lead scoring to determine the value of potential new clients. This can also include the use of automated AI chatbots to address customer questions and issues in more efficient ways. Customers no longer have to wait hours or days for an answer about their particular issue or concern.
2. Video Content
Video content cannot be denied. In terms of getting your message across or answering a question, nothing beats videos. Over 70% of people say they consume some form of video content during their buying journey. Watching a video is more impactful and understandable for most people than reading an article, and it can transmit your branding message more effectively. Just look at how quickly TikTok has become a major player in content marketing. While TikTok isn't much of a B2B platform yet, don't count out the fact that its Gen Z audience are tomorrow's business leaders and you could win big by being an early adopter of TikTok as a B2B audience builder.
It's important to note that heavily polished and edited content isn't what users want in 2021. They want real footage that's more intimate and human. Sound confusing? Don't worry, shorter videos are also what people want meaning you don't have to learn lines or perform for extended periods of time. Video content generates far more engagement than any other content type, so make sure you're incorporating video into your overall strategy in 2021.
3. Podcast Marketing
Podcasting has exploded as one of the most dynamic ways of delivering relevant content. 155 million people have listened to a podcast at least once in the US alone. Podcasts extend into the B2B arena and are especially impactful when it comes to building your brand or yourself as a thought leader in your industry. Consistently delivering valuable content on your podcasts displays your expertise and helps build trust with business leaders, who are of course the primary decision makers you want to reach out to. These audio/video podcasts can also be transformed into blog posts or short video clips. Just make sure the podcast host knows the topic(s) well and can initiate engaging conversations.
4. Omnichannel Customer Experience
As the relationship between brands and customers continues to shift towards being primarily digital (accelerated by COVID-19), more and more customers are looking for a full circle online experience. This means consistently delivering your messaging and customer care across all relevant platforms and devices. From the investigative first touchpoints all the way to being a loyal fan, B2B customers need to have an engaging customer experience.
Customer loyalty and rewards programs also fall into the overall brand experience. When customers have concerns or questions, they need real-time response in the form of live chat or free training videos/FAQs, not on the phone. If users mention your brand on social media, engaging them in the conversation is another powerful way to connect and build relationships.
Today's market is customer first, meaning the more value and support you deliver (even for free) the better your position in your marketplace. Today's buyer's and decision makers are millennials who expect a quality digital customer experience.
5. Interactive Content
Engagement reigns supreme and nothing boosts engagement like interactive content. Quizzes, questions, and gamification all drive user engagement. This is true for B2B content marketing as well. You can ask for opinions about your video or podcast topics. You can ask people to post their own Instagram content with a hashtag challenge or to share and comment on your posts. There are many ways to get your B2B customers active and generate engagement. The point is for them to not be passive content consumers, but rather active participants in the conversation. This drives interest and creates better business relationships.
6. Search Intent
Google has shifted its focus from keywords to search intent. This means using Natural Language Processing (NLP) to better understand what people are really trying to search for based on combinations of words. This is search intent. Make sure you're building your SEO strategy around search queries and not only keywords. This can include how tos and guides to answer people's most common questions about your industry or brand.
7. Cross Promotion
Partnerships and referrals are nothing new in the B2B world but online cross promotion has become big business. A quick mention here or a packaged cross promotion can be mutually beneficial for partnering brands. Reaching new markets and creating added value for existing customers are just two of the many ways cross promotion can help your B2B marketing efforts. Building trusted partners and relationships will generate more referrals and third party validation, which are things that every business wants.
8. Re-Optimizing Content
Continuously generating fresh, new content is great. However, it's a lot of work and takes a long time to pay off in organic search rankings and if you're not in the top 5 results, you're basically non-existent. A better strategy is re-optimizing existing content, especially guides and ever-green content that can give you continuing SEO results. How do you re-optimize content?
You can update stats or other information that's changed. You can update your imagery and just make your content even better and reader friendly. The point is to take advantage of the link building and positioning you've already achieved and expand on it.
9. Optimize for Featured Snippets
Piggy backing on our last trend, optimizing for featured snippets puts you front and center in Google search results. A featured snippet is what you see in that box at the top of search results that shows a question/answer with a drop down menu. Google curates this content as the absolute best answers to user search queries. By doing research on your target audience's needs, optimizing the answers to those questions, and basically giving Google what they want (answers to people's questions), you can find a coveted spot in featured snippets. Last but not least, ensure your content is clear, simple, and well structured.
10. Webinars
While podcasts are currently in the lead, webinars are still a relevant and powerful tool for B2B marketers in 2021. Webinars are an excellent way to provide valuable content like product trainings while generating new leads and/or delivering services to existing B2B customers. Research has shown that webinars are effective at all stages of the buyer journey, whether as a first exposure or as continued support. Webinars are especially popular in B2B marketing and serve as great introductions to your brand and what you have to offer. Like podcasts, make sure your webinar host is well versed on the topic and has an engaging style.
11. LinkedIn Stories
As the most recent addition to LinkedIn content, Stories allow brands to share moments, tips, and highlight services in short bursts. Like on other platforms, stories disappear after 24 hours and support the trend of more casual, behind the scenes and personal B2B marketing. LinkedIn Stories put you at the top of people's feeds and don't require much of their time but still deliver impactful content in either a video or image format. As the most popular platform for B2B marketing, LinkedIn should be a priority for any brand looking to grow their B2B audience. LinkedIn Stories have made it even easier to reach and expand your professional network.
The lines between B2C and B2B marketing are being blurred. What was once seen as too casual for B2B communications is now commonplace. While more formal professionalism still has its place, many business people have become more relaxed and open to more genuine, humorous, and sincere content. At the end of the day connecting with your audience is what matters and compelling, relevant content is never out of fashion when it comes to building relationships.