By Berta Ventura, on 28 October 2021
Instagram used to only allowed 15-second videos in Stories and 60-second videos in the Feed, but with the arrival of IGTV it became possible to post videos of up to 60 minutes. Additionally, and unlike the Stories, this content remains permanently on your profile.

These videos can be monetized, something that can benefit many brands in their future video marketing campaigns. But how? Below, we explain everything you need to know about Instagram TV monetization.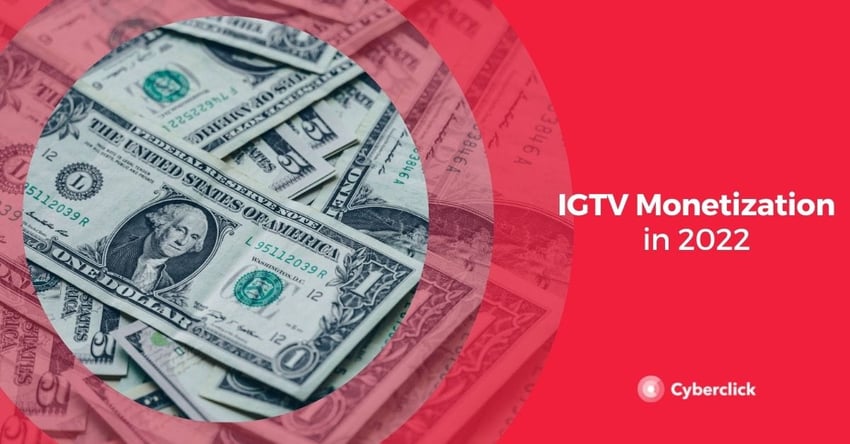 IGTV Ads: A New Monetization Tool
One of the advantages of IGTV is that Instagram allows sharing previews in Stories, which helps generate views. These views can translate into revenue if IGTV Ads, a new monetization tool within Instagram, is used.

According to Instagram, the ads will appear when the user clicks on the video from the Feed. These ads will be optimized for mobile devices and will last 15 seconds at most. It has not been confirmed whether the user will be able to skip these ads, but it is believed that in the future they will work like YouTube ads. What is known is that swiping upwards will take you directly to the brand's website.

At the moment only some users in the UK and Australia will be able to use this new tool. However, the idea is that gradually brands and influencers around the world can join this program that will allow them to receive revenue from advertising that appears on their IGTV content.

One of the advantages that Instagram is playing with is that it would be very rare for this tool to generate rejection from users, since there are other social networks where there is already advertising. In fact, on Instagram itself there are ads between Stories.
How Much Can You Earn on IGTV?
Social media has become an important, yet challenging, source of revenue for many companies and for many influencers, who are hoping that IGTV Ads will mean a significant increase in revenue.

As confirmed by Justin Osofsky, Instagram's chief operating officer, people who use Instagram Ads will receive up to 55% of the proceeds. YoutTube and Facebook Watch, give creators up to 55% of the commercial revenue, keeping the remaining 45% for themselves. Instagram did not want to be different from these social networks, hence its decision.
This tool will make IGTV a very attractive channel for brands, many of which share content for free. It is true that this content generates web traffic and has its advantages, but now it will also directly bring in revenue.
IGTV Monetization Requirements
In order to monetize through IGTV, Instagram requires users to agree to and comply with the Terms of Use, Community Guidelines, Partner Monetization Policies and Content Monetization Policies. Instagram may refuse payment if the content does not comply with any of the stated terms or rules. It will also be essential to set up a payment account.

Another thing to keep in mind if you want to monetize your IGTV through ads is royalties. This means that Instagram will financially benefit the person who owns the rights to the overall content, both image and sound. It is important not to use material that belongs to a third party or Instagram could refuse to deliver the profits generated.

It is very essential to understand the terms and rules of Instagram so that your advertisement is not removed, Instagram does not refuse to make the payment.
Steps to Monetize IGTV
Monetizing IGTV is very simple! You just need to follow a few simple steps.
Upload a new video to the IGTV channel.

When it is uploaded you need to go to the ad manager and select "Create".

It is necessary to choose an objective for the ad. Among these objectives are brand awareness, interaction, traffic generation, etc. Choose the one that best fits your objectives.

The budget, schedule, type of audience, and other information should be specified in order to create an ad that fits the campaign.

The placement should also be specified, which can be automatic or manual.

In the content section, the URL of the Instagram TV must be entered, although depending on the objective, the URL of the main website may need to be specified.

After selecting the URL that will be linked to your ad, the IGTV URL must be pasted in the URL box of the ad manager website.

All that remains is to choose a CTA and finish creating the ad.
Monetizing IGTV is very simple, as it can be done in just eight steps. The most important thing to keep in mind is Instagram's rules and terms. As we have already mentioned, failure to comply with any of them is a reason for Instagram not to pay you.

Social networks have become a very important communication channel between companies and customers, as well as a way to increase sales. Now Instagram has joined the bandwagon of ads, which is very good news for all those brands and all those influencers who were generating content for free.