By Jessica Bubenheim, on 28 August 2019
Professor of psychology Karl Anders Ericsson, known for his findings on personal success, has empirically proven that particularly talented specialists are not born, but become specialists through practice. He has found the "magic" threshold for practice to be 10,000 hours.
The volatile marketing environment calls for innovators, those who thrive in uncertain situations of rapidly evolving technologies. Those who embrace the challenge of uncertainty, and can use new tools to their advantage, are the marketing specialists that will rise with their team and with their firm.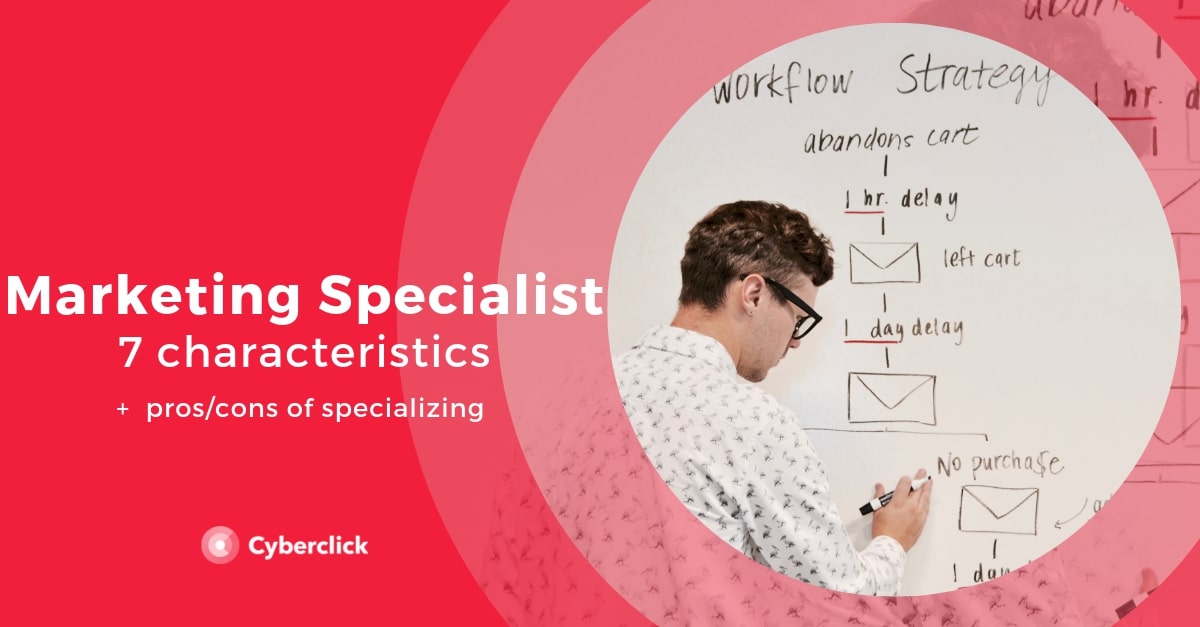 Whilst 'talent' plays a role, a lot of practice and experience are imperative to be a marketing specialist. A smart marketing specialist distinguishes themselves through 7 characteristics:
1. A smart marketing specialist has a well-founded education
A good education is a good foundation for expert positioning. However, this training does not always have to be a state-recognised formal training, for example at a university. But whoever has a fundamental marketing education has at least the chance to classify the new developments and trends, for example in online marketing, and thus qualify as an expert.
2. Smart specialists continuously learn
If you do not continue your education in a dynamic field, you will stop and be overtaken by others. Continuous further training is simply one of them. The sources are very different: In addition to self-directed learning, seminars, courses, congresses and e-learning courses have established themselves.
3. A specialist sets themselves smart marketing goals
SMART goals are essential to the success of any specialist. If you don't take the time to define exactly what you want to achieve, your personal growth will suffer from working towards the SMART goals set by others. Lack of clear direction, can lead to aimless wandering. The end result will never resemble what you would have achieved with a conscious decision and clear goals. Eventually you will get the strange feeling that you may have taken a wrong turn somewhere along the way.
4. A specialist dialogues with specialists
Specialist knowledge can become standard knowledge without the exchange of fresh ideas. Specialists share marketing knowledge with other smart marketing specialists and thus learn continuously.
5. Specialists know the standards and laws relevant to marketing
Knowledge on standards and laws are gaining increasing importance specifically in the field of digital marketing. A smart marketer therefore has experience and is familiar with data protection, copyright, usability standards, as well as the webmaster guidelines of Google and Co.
6. A smart marketing specialist has experience
Marketing specialists aren't born overnight. They are constantly involved in various marketing activities and have worked in the field.
7. A specialist shares their knowledge
Genuine specialty leads to the fact that one also passes on his knowledge. Specialists are visible in their networks and share their knowledge - whether through posts, books, interviews, seminars, or events.
Advantages and disadvantages of becoming a marketing specialist
Marketing specialists have in depth know-how. This specialization of knowhow brings about advantages and disadvantages for the specialist. Choosing a marketing specialization should always be carefully considered. These advantages and disadvantages for smart marketing specialists help you to weigh them up at a glance:
Advantages
+ Individual opportunities. If your area of specialisation is in demand and only rarely occupied, your market value is many times higher than that of most generalists! A tempting call from a dream client is also more likely due to your unique selling point.
+ Individual value. Your value add is not doubted. Few others are as specialized as you. When it comes to hard skills, you can score points with your CV!
+ Personal growth. You receive continuous training to keep up with the latest trends and are at the forefront of newest marketing and communication innovations.
Disadvantages
- Field-specific opportunities. You have decided on a permanent career in a specialist field. Changing jobs in other industries or tasks will be difficult. If you want a change your field of activity, you will need to allow yourself to unlearn and relearn to rise again in the new field.
- Repetitive tasks. You have knowledge that goes into depth. Very varied tasks, such as those enjoyed by generalists, usually require more knowledge.
In many marketing teams, the general statement applies: the larger your team, the more specialised the respective positions of activity will be. Ideally, therefore, your team will consist of a diverse range of smart marketing multi-specialists bringing a broad range of in depth know-how. As innovations and new subject areas are constantly emerging in the specialised marketing sector, new sub-specialisations are continuously being formed and developed.