By Chantal India, on 2 August 2023
Social networks are an essential part of any company's marketing because they give you direct contact with your audience and allow you to create a branding strategy that is more intimate and effective. However, you may not be using them to their full potential. Many people know about ROI but don't know how to measure it on these platforms. In this article, we will explain how to do this so that you can make the most of your social media presence.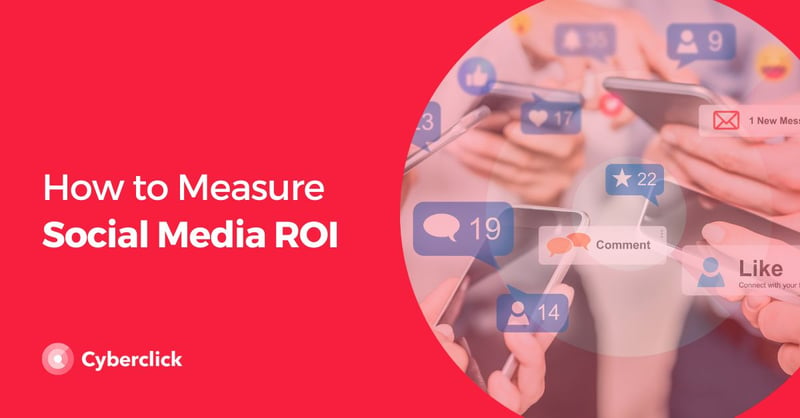 What Is ROI on Social Media?
ROI is a metric that indicates the amount of money that has been earned in relation to the amount of money that has been invested. It lets you know whether your marketing and advertising on social media was profitable. ROI basically shows you is your if your efforts are paying off.
Why Is It Important to Measure Social Media ROI?
Performance Evaluation: Measuring social media ROI helps you determine whether you are doing things effectively.
Identifying Impact: Measuring helps you identify which actions have the greatest impact.
Areas for Improvement: Measurement provides insights into areas where you can see where you need to improve.
Revenue Generation: Measuring ROI helps you understand the revenue generated through different social networks.
How to Measure ROI on Social Networks
1. Establish Your Objectives
What objectives do you want to achieve with your social media branding strategy? This is the first thing you must decide, as it will determine your next steps and have repercussions on your ROI analysis. Maybe you want to increase your number of followers or increase sales. Or maybe your current social media goal is to improve interaction with your audience.
2. Monitor the Tracking Metrics
Depending on the objectives you have set for yourself, you will have to choose the metrics to monitor whether or not you are getting closer to your goal.
3. Calculate Your Social Media Spending
You will not be able to know your ROI if you do not calculate your total investment in social networks during the period of time you want to analyze. Remember that your total cost should include content creation, different platforms and tools, advertising, your team's salary, and collaboration with agencies, among other costs.
4 Create Your ROI Report
It's time to analyze the results. Whether you have met your goals or not, it is important to recorded them in a report that the whole team can see in order to make sure everyone is aligned and decide next steps.
If your objectives have been met and you have greater profits than losses, your social media branding strategy will have a positive ROI.
The Most Important Metrics Affecting ROI
Below are some of the most important metrics companies use to analyze their ROI on social networks. Depending on your objectives, certain ones will be more important than others, so the goal is to select the ones that suit you.
Traffic
Monitoring the number of visitors your website or ecommerce receives from social networks is essential if your goal is to increase traffic. Assess whether this increase in traffic translates into increased sales and positive ROI.
CPC (Cost-Per-Click)
CPC refers to the cost incurred for each click on a paid publication. This helps determine if the investment is worthwhile. The cost per click directly affects your ROI.
Reach
Reach refers to the number of followers on your social networks. A higher reach means more people will see your content, ultimately increasing your ROI. Monitoring how your reach evolves over a specific period enables you to conduct an analysis.
Client Response Rate
Responding to user queries or comments on social networks can motivate them to purchase your product or service and boost your ROI. For instance, if customers ask about using a cosmetic product on acne-prone skin and receives no response, they may turn to one of your competitors. Monitoring response rate helps identify whether or not you're adequately responding to your audience.
Conversion Rate
Another metric that directly impacts ROI is conversion rate. This tells you what percentage of the web traffic from social networks converts into qualified leads (potential customers). Comparing conversion rates from different sources, such as social networks or newsletters, provides valuable insights.
Brand Relevance
This metric measures the level of discussion surrounding your brand, product, or service on social networks. While it does not directly influence ROI, it indirectly indicates the popularity of your company, guiding potential changes in your branding strategy.
To understand brand relevance, calculate the number of brand mentions within a specific time frame and compare them with those of your competitors.
Tips to Improve ROI on Social Networks
Stay Updated and Adapt
Social networks are ever-evolving, and what works today may not be effective tomorrow. So keep an open mind and be willing to make changes, including adjusting your objectives.
For example, having many followers doesn't guarantee high interaction, as bots and decreased audience engagement can affect interaction. Explore new opportunities, such as leveraging micro-influencers who can attract more qualified followers.
Experiment and Test Hypotheses
If you have a hunch that certain types of content, like images or videos featuring people, generate more interactions, don't rely on intuition alone. Take action and test your hypothesis using real data. If your assumptions prove true, be flexible and adapt your branding strategy accordingly. Sometimes, initial ideas may sound good but aren't effective enough, so be open to evolving and improving.
Always Think Long Term
While measuring ROI is crucial, don't solely focus on short-term gains. Prioritizing immediate returns may lead to sacrificing your brand's essence and long-term value for the sake of quick sales or follower growth. Remember that short-term gains may not sustain your brand's growth and reputation in the long run. Strive for a balanced approach that aligns with your brand's identity and values.
By staying updated, experimenting, and thinking long-term, you can enhance your ROI on social networks while maintaining the integrity and value of your brand.
Tools to Help You Measure Social Media ROI
Social Network Analytics
Many social networks provide built-in analysis sections within their platforms. These features allow you to view the results of your posts directly on the platform.
Google Analytics
This completely free tool from Google enables you to monitor web traffic, including traffic originating from social networks. It offers useful insights and the ability to track data over time, contributing to a comprehensive understanding of your social media ROI.
Hootsuite Impact
This tool provides in-depth information about organic and paid social media posts. It offers various metrics and visualizations, giving you a detailed social media performance analysis.
Facebook Pixel
This is a code snippet that you need to embed in your website to track conversions from ads published on Facebook. By implementing the Facebook Pixel, you can measure the effectiveness of your Facebook advertising campaigns and assess their impact on your ROI.