By Nerea Boada, on 9 March 2023
Trying to create a marketing plan without having clearly defined objectives is like trying to prepare for a vacation without knowing the destination. Should you pack a coat and gloves, or a bathing suit and flip-flops? If you don't know where you're going, you can't plan properly. Similarly, without clear marketing objectives, it is impossible to optimize your plan and get the best results.
The key elements directing every effective marketing plan are the objectives you set. But what are marketing objectives? In this article, we're going to define this and share 10 examples of marketing objectives that you can use in your next marketing strategy.
Watch our video to learn about marketing objectives!
Index
Marketing Objective Definition
Essentially, your marketing objectives are the actions you and your marketing team take to achieve your marketing goals.
Although it's common to hear the words "goals" and "objectives" used interchangeably, marketing goals and marketing objectives are actually two separate things. Marketing goals are long-term, expansive, and often inspired by the mission of a company. On the other hand, marketing objectives are more specific in scope and should be measurable, either using statistics, time frames, or both.
Below we've outlined 10 examples of marketing objectives you can set for your next campaigns.
How Do Marketing Objectives Influence Your Marketing Plan?
While the objectives are a key piece of the marketing plan, they aren't necessarily the first thing you need to define. In order for your goals to be realistic, you have to understand several other elements of your brand first. Before defining the objectives of your marketing plan, you should:
Determine your brand's mission. For a company to succeed, everyone should be working towards a greater goal. Therefore, the marketing plan must line up with the company's mission statement.
Conduct a analysis of the company, including both internal and external factors. External factors include your general industry climate and the market. The internal factors refer to your own company, including your resources and staff. This is also a good time to conduct a SWOT analysis.
Analyze your competition. What are the main brands that you compete with and how are they perceived in the market? What is their budget and the volume of business they handle, the price of their products or services, their sales process, customer acquisition, etc.?


SMART Objectives
It is important to always ensure that your objectives are SMART. This popular acronym is a great guide when defining objectives. It ensures that your objectives are thorough and makes them easier to measure when you're analyzing your campaign. So, what does SMART stand for?
Specific

: the objectives must be detailed and concrete. Try to answer the basic questions of what, who, where, when, how, and why.

Measurable

: if you can't concretely measure an objective, it will be impossible to know if you've

reached it. Therefore, you should think about what KPI you will use and how you will define success.

Attainable

: goals that are too easy or too ambitious don't yield any results.

Realistic

: take into account your previous resources and achievements.

Timely

: specify a deadline for your goal to see if it has been fulfilled. It may be useful to divide a global goal into smaller objectives, in order to course-correct as you move forward.



10 Examples of Marketing Objectives for Your Brand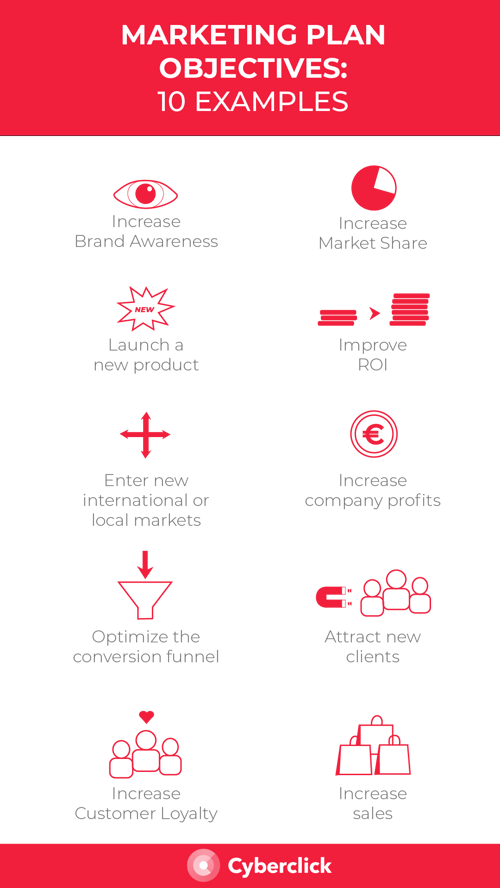 1. Increase Brand Awareness
Whether you're a new company, you're launching a new product, or you've decided to target a new audience, increasing awareness of your brand or products is a good goal to guide your marketing plan.
Let's take the example of deciding to target a new audience. With this objective, success can be measured by the number of impressions or by comparing audience brand awareness before and after the campaign.
Example: increase social media impressions among a new target audience by 30% by the end of the quarter.
2. Increase Market Share
This marketing objective is related to the competition analysis discussed at the bottom of this blog. By taking a look at other existing brands in your industry, you can define your specific position in the market, as well as project where you would like to be after your campaign.
Example: increase market share by the end of the fiscal year by decreasing customer churn by 10%.
It's important to note that your objective does not always have to be "to become the market leader,'' since that may not be realistic.
3. Launch a New Product
Launching a new product presents a unique set of challenges to any marketing department. Informing the public about a brand new product and generating excitement is no small feat. Between developing the communication strategy, pricing, and positioning, this goal can have several different objectives. Some possible ones could be defining your target audience, your buyer journey, and what (if any) incentives you'll offer to early users.
Example: define product X´s final price by the end of the week.
4. Introduce the Company to New Local or International Markets
Similar to launching a new product, a positioning and communication strategy is key when introducing the brand to a new market. It's also crucial to be knowledgeable about cultural and consumption differences. You'll want to provide people with images that show off your new product, along with information on where to find it, how to use it, what benefits it offers, etc. You may even want to create brief videos that explain all this as this format is increasingly popular and can be shared on social media.
Example: conduct market research during the first half of Q2 and develop an appropriate messaging strategy by the end of Q2.
5. Improve ROI
Return on investment, or ROI, is one of the most important marketing metrics there is since it measures whether or not your investment is paying off.
In the world of digital marketing, it's now easier than ever to accurately measure ROI, since we know the cost per click on conversions. There are several different ways a company can increase its ROI, so this goal can have a few different objectives.
Example: conduct A/B testing on two different Facebook Ads over a 4 week period.
6. Increase Company Profits
Increasing company profits can often involve various types of actions:
Reducing costs

Increasing profits

Increasing turnover

A combination of the above
Search engine optimization, social networks, and other digital media can be key methods for increasing profits while also reducing costs.
Example: reduce paid social ads by 20% and boost current SEM efforts with 3 weekly blog posts in Q4.
7. Optimize the Funnel
It's useless to aim to get a massive number of impressions if you don't get people to convert. Therefore, a good marketing plan objective would be to take into account the different stages of the conversion funnel and ensure that as many users as possible become customers.
Example: increase conversion rates by 5% by the end of the year by increasing remarketing efforts for middle of the funnel prospects.
8. Attract New Customers
Attracting new customers to your brand is an important way of ensuring the relevancy and longevity of your company. Attracting new customers should involve different processes than retaining your current ones. You can use various methods to do this. For instance, you can attract new customers by asking for referrals and reviews, partnering or collaborating with other businesses (just be sure to find brands that complement rather than compete with yours) or participate in events, both online and offline.
Example: establish a partnership with 3 new industry influencers by the end of the year and create discount codes for their followers.
9. Retain Current Customers
Increasing customer loyalty is another common marketing objective. It's important to remain invested in your audience. In fact, some may argue it's more beneficial since it is always cheaper to keep a current customer than to gain a new one. You can do this by creating loyalty programs, improving your customer service, or creating an email marketing campaign to engage (or reengage) users.
Example: add 2 full-time community managers by Q3 to better manage comments and questions received on social media.
10. Increase Sales
Finally, we've reached the most common and obvious marketing objective: increasing sales. There are many different methods of doing this, but two popular actions are increasing conversion rates or increasing the average amount per transaction (for example, cross selling).
Example: increase conversion rates by 3% by increasing website traffic with 3 new blog posts a week by the end of the year.
Marketing objectives and marketing goals can be a tricky concepts since the words are so often used interchangeably. Hopefully, this post has helped you understand them a bit better and inspired you for your future marketing plans!