By David Tomas, on 14 June 2021
Conversion is pretty much the Holy Grail of digital marketing, the goal everyone strives for, but only the best achieve. Increasing your conversion rate is fundamental to increasing your return on investment and making the most of your digital marketing budget.
There is more and more information on how to do this and it can get confusing, so we're sharing 10 tips that will help you increase your conversion rate and clarifying when and how to use them to optimize your results.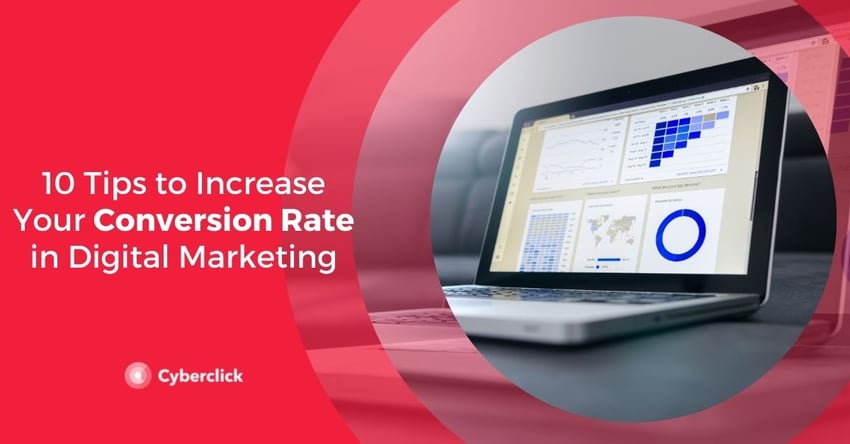 What Is Conversion Rate?
Conversion rate refers to the percentage of people who have visited you website and gone on to complete an action. This action could be filling out and submitting a form, contacting your business, subscribing to receive materials from you, registering for an event you have organized, or making purchase. If a high percentage of your visitors take these actions, you know your marketing strategy is working well. If not, you may need to revise it and the tips below will help you do that!
10 Great Ideas to Improve Your Online Conversion Rate
1. Test, Test, and Test Again
A/B tests are your new best friend. For any change you are thinking of applying to your website, create a test page and study the results. Don't just pay attention to the number of visits, but also to metrics such as the session duration, the bounce rate, and of course, the sales conversion rate.
Think of every element of your campaign (email subject lines, images, ad copy, etc.) and its possible variations and then subject it to rigorous A/B and A/B/C tests. This will let you see what your audience responds to and, based on that, your digital marketing efforts will be more effective.
2. Use Heat Maps
Heat maps let you get to know every detail about your users' behavior when they are navigating your webpages. Which elements do they pay most attention to? Where do they get tired of your page? Are they systematically ignoring your CTA button? Once you have this Information is power!
3. Optimize Your Forms
To be successful, any conversion strategy needs to rely on a solid lead generation campaign. In many cases, this involves filling in some sort of form.
You may think designing a form is simple and obvious, but your couldn't be more wrong! The number of fields, the wording of the button, the colors, … these are just a few of the elements you will need to optimize and study to get the best results. Don't forget to include some automatic filters to help make sure the data you are being given is valid and real. Quality before quantity!
4. Make Yourself Easy to Contact
Do you want users to communicate with you? Make it as easy as possible for them. Each person has their own communication preferences, and what may be simple and intuitive for some, may be extremely frustrating for others. To make sure you are able to respond to as many users as possible, be available on a variety of communication channels such as online chat, social media platforms, and via phone.
5. Include Clear Calls to Action
Calls to Action are one the most crucial elements in digital marketing, as they are often they are they thing that convinces users to take the action you want them to. To improve your conversion data, you need to include links, images, animations etc. that effectively bring people to conversion. Of course, don't forget to run A/B tests to examine which ones are the most effective.
6. Create Community
If you want to get conversions in the long term, you need to gain the trust of your users. Communities are a great way to do this. With them, your potential clients will be able to develop a long term relationship with your brand. This strategy also helps to create User Generated Content, which is not only good for your social media, but also shows potential clients or customers that people like your products or services and are willing to vouch for them publicly.
7. Have a Social Media Presence
Social networks are a fundamental piece in any online marketing strategy, but there is no use in creating corporate profiles if you don't have a content plan and coherent strategy to go with it. If you want your brand's social media profiles to help you convert more, you will need to seamlessly integrate them into your communications and update them regularly with news about your brand, blog posts, photos and videos, and even user generated content (if applicable).
8. Create a Sense of Urgency
"Accelerators" are one of the oldest tricks in the book in terms of digital marketing, but they are around for a reason! Offers that have "Last chance" or "Limited availability" and other strong statements that give users the extra push they need to convert. Use them wisely (don't over do it) in the right moments and see how they affect your conversion rates.
9. Create Content That Attracts Traffic
Content marketing and native advertising are not just a passing trend. These strategies help attract quality traffic made up of users who are interested in your products, brand and sector. When creating this type of content consider the following:
Relevant:

is it up to date? Does it relate to your audience's interests? Is it useful?

Accessible:

Is it easy to get to? Take a look at your website's analytics to see what "forgotten content" you have and why this has happened.
It is also worthwhile to update older content that was popular on your website or other platforms. Just go through the content you already have and edit it to make it as attractive and current as possible. For example, if you have long videos, turn them into a series of 2-minute-long mini videos. If you have long articles that got a lot of views, use them as a base to create infographics and checklists.
10. Be Mobile Friendly
By now, you have absolutely no excuse for your campaigns not to be easily viewable on mobile devices. These devices are already responsible for the majority of internet traffic, and will only keep growing in popularity. If you do not want to miss out on a large amount of potential clients, you need everything you put put to be prepared for all devices, from smartphones, to tablets, to desktop computers.
How to Apply These Tips to Maximize Their Impact
In any marketing strategy, timing is key. To be able to make the most of all these ideas, you need to use them in the right stages of the conversion funnel:
TOFU (Top of the Funnel).

This is the moment to promote awareness of your brand and what it offers. Here, you can reel in potential clients with display campaigns adapted to their needs and preferences, such as video ads on social media and useful content that answers their queries.
MOFU (Middle of the Funnel). You goal here is to lead people to make a decision. Make the most of your A/B testing tools to improve your email marketing campaigns and CTRs. Use lead generation features on social media and make the most of retargeting based on the data you have acquired.
BOFU (Bottom of the Funnel). In this phase, it is time to explain why your product or service is the best option. SEM strategies (don't forget to make a great landing page), SEO techniques and social ads (use lookalike audiences to improve results) are a great help in this area.
Throughout the funnel:

mobile optimization and affiliate marketing are your allies during the whole process.
Does all this sound like a bit too much? It truly is not easy so if you don't have enough people or time to invest in this, hire the help you need. Define realistic goals, measure your results and watch your sales conversion rates soar!