By Sol Gonzalez, on 16 September 2020
In marketing it's not enough to only know how many people are visiting your website - you also have to know where they come from.
Identifying the different sources of web traffic allows you to segment the audience and see what actions are working to achieve your goals.
To make sure you get it right, we've created a guide to all the sources of web traffic. Let's dive in!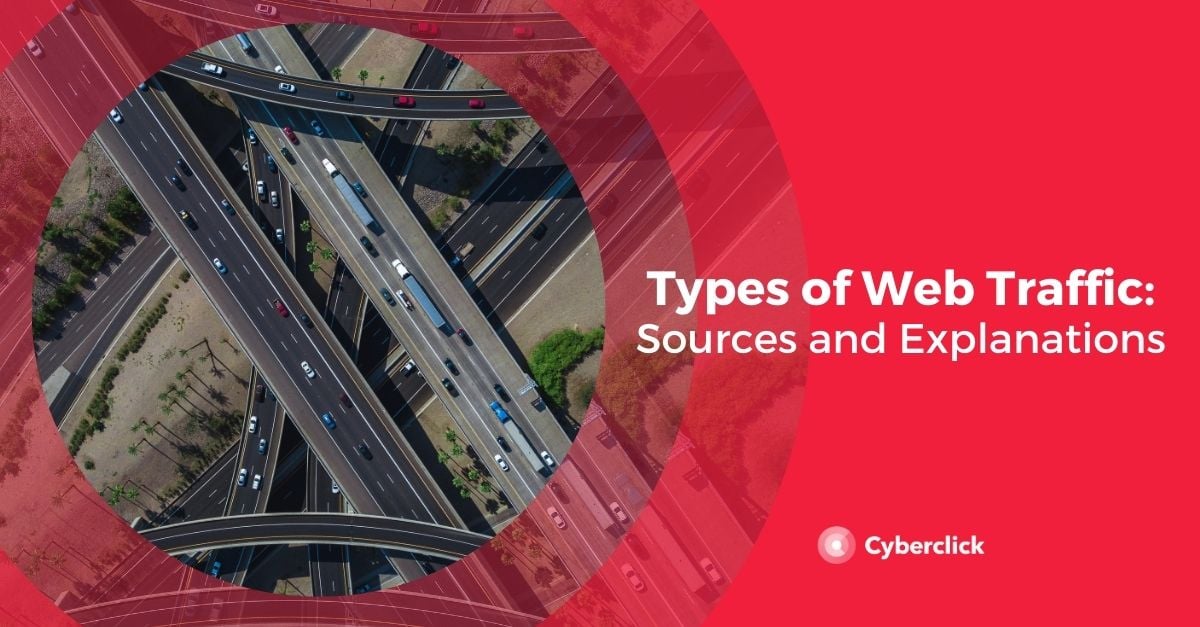 What are the types of web traffic?
Understanding the different traffic sources that are bringing visitors to your site will help you understand your website better. We call "web traffic" the visits that come to our website. Not all visits are created equal.
To properly analyze web traffic, you must be able to distinguish between the total number of visits during a given period and the number of unique visitors, since the same person may visit the site several times.
You should also take into account factors related to the quality of the visit, such as duration or number of page views.
1. Organic Traffic
Organic traffic is the number of visitors who enter a website after doing a search on Google or other search engines and clicking on one of the links on the results page.
This type of web traffic can account for a very significant percentage of visits in the long run. To get more organic traffic, it is necessary to apply search engine optimization (SEO) techniques.
It is often said that organic traffic is free, but this is not entirely true. Although you are not paying directly for each click, optimizing your website for SEO involves an initial investment of time and resources and some maintenance.
2. Direct Traffic
Direct traffic includes visitors from several different origins:
People who have directly typed the URL of your website into their browser bar.
People who have saved your website's URL in their favorites and have arrived through it.
People who have clicked on a link in a non-indexed document or in an open email using email software.
In order not to lose potential direct traffic, your site URLs should be clean, simple and easy to remember. You can also invite users to bookmark your site for future visits.
3. Referral Traffic
This type of web traffic refers to people entering a website by clicking on a link from another site, for example, a blog or a forum.
Increasing referral traffic involves finding active link building activities, like guest blogging or submitting our site to directories. However, it's crucial to take into account Google's policies on links to avoid possible penalties.
4. Email Marketing
If you're doing email marketing campaigns, you can measure the success of the campaign by tracking how many visitors come to your site through your messages.
Email marketing management programs provide plenty of information about what is happening with each of your emails: delivery rate, opening rate, clicks on links, total clicks, unique clicks...
To improve web traffic from email marketing, we recommend two best practices:
Make

A/B tests

with different variants of the same email to optimize factors such as subject, creativities or sending time.
Use email

marketing automation

solutions to manage the whole process more efficiently.
5. Social Networks
This traffic source refers to visitors who arrive after clicking on a social media post. You can distinguish between the different social networks and, in the case that users have arrived through a post from your account, you can go deeper into the data on clicks and interactions.
6. Paid Media
This type of traffic refers to visitors who arrive after clicking on a pay-per-click ad on a social network, for example, Facebook Ads or TikTok Ads.
In addition to knowing how effective social network ads are in attracting visitors and how users behave when they arrive at your website, social ad platforms themselves also provide you with a lot of data about your campaigns, for example, demographics and user interests.
7. Paid Search
This category would include users who come to your website after clicking on an ad from Google Ads or other PPC platforms.
Remember to take into account that these platforms incorporate different types of ads and locations. For example, with Google Ads you can place an ad in search results, launch a campaign on YouTube, or place banners on third party sites, among others. In order to properly evaluate the results, you will have to distinguish between different types of campaigns.
Search engine ads are a very effective way of getting short-term traffic and an excellent complement to organic positioning or SEO strategies. To optimize results, pay close attention to keywords and location targeting and spend time maintaining and optimizing your account.
8. Offline Traffic
So far, all the types of traffic we have mentioned come from digital channels. But there is also the possibility that visitors come to your website from offline sources. Some web analytics programs, such as HubSpot, allow you to identify the traffic that has reached your site through these channels.
9. Other Campaigns
Finally, you may be able to identify traffic coming from web campaigns that do not exactly fit into any of the types of web traffic we've discussed so far.
To facilitate this task, we recommend creating tracking URLs to associate each campaign to a unique URL redirected to a landing page. You can do this using HubSpot. Tracking URLs allow you to filter the traffic according to these unique URLs and attribute it to the correct campaign.