By Marta Canadell, on 19 May 2022
An attractive, optimized website is indispensable in any SEM strategy. Driving traffic to your website helps you move your users through the conversion funnel and increases sales.
In order to optimize your website, you need as much information as you can get your hands on. Thanks to Google Analytics, you have access to everything you've always wanted to know about your website visitors, even information you would never have thought to look for! With all of this information, it is easy to get lost in the woods and miss out on the big picture.
This is why we are going to give you 14 ways to use Analytics to improve your website, according to experts from the Forbes Agency Council.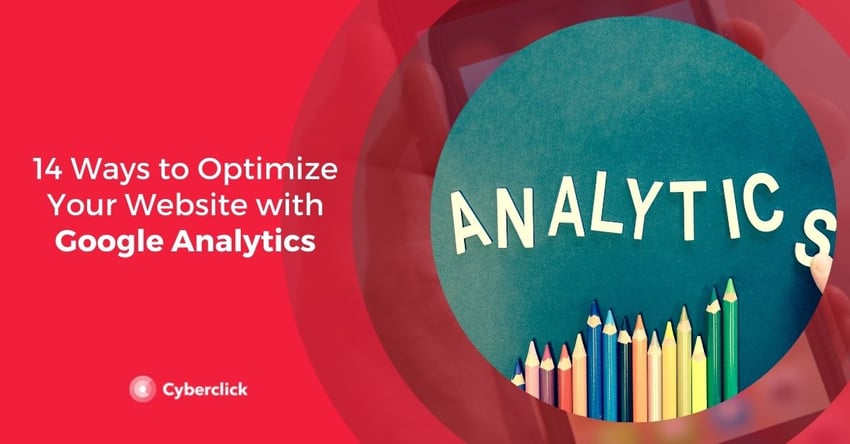 1. Keep an Eye on Your Bounce Rate
The bounce rate is one of the most important statistics to optimizing your website. If a large majority of your users are leaving you after only visiting one page, you know you have a problem. But there are a variety of solutions! To start, you can compress images, get rid of unused CSS or JavaScript, and make sure your pages load quickly and are attractive and easy to navigate. Another option is adding videos because they consistently attract views.


2. Analyze Potential New Markets
Another great way to use Google Analytics is to discover potential markets for your products and services.
If your business operates on a global level or if you are thinking of going international, you can view the number of visitors and conversion rates separately between countries in order to decide where to focus your efforts and which regions are worth expanding into.
3. Identify Your Best Content
If content marketing is part of your strategy, you will know that it can be tough to find what content really hits home with your audience. When you do create content that resonates with people, you need to know exactly how well it worked and why it worked in order to build on that momentum. Thanks to analytics, it's easy: all you have to do is look for which of your pages gets the most traffic, conversions, and results. This gives you a good idea of what people find valuable and based on that, you can plan what content you will create or modify in order to interest your audience.
4. Use the Proper Attribution Model
The attribution is very easy to overlook or dismiss, but it is very important to have as much information as you can about the most effective channels of conversions.
By default, Google Analytics uses the "Last Interaction" attribution model. If you want to improve your website, try changing it to "First Interaction" and use it to better understand how each channel contributes to your conversion results. There are a variety of attribution models you can choose from, just make sure whichever you go with fits with your overall strategy.


5. Study the Behavior Flow
Behavior Flow is an incredibly helpful tool when it comes to understanding what paths your website visitors take when they are navigating around your site. Instead of giving you simple numerical statistics, this report shows you graphic representations of the routes your visitors take through your website. This way, you can easily see which pages they interact with most, or which page was the last one they saw before abandoning your website. This will help you identify what content they found useful and engaging and what content didn't make much of an impression.
6. Analyze Trends
Google Analytics includes a variety of different metrics, some of which are dependent on each other. Sometimes, an infographic that goes viral can increase your bounce rate, or getting positioned in first place for a competitive keyword can decrease the number of pages per session. It also shows current trends and trends over time, which will give you a better understanding of what people are searching for, what keywords are trending, and whether people are searching for these topics often or whether something was briefly trending.
7. Discover the Best Sources of Traffic
This is basic but indispensable. You need to know whether organic traffic or paid traffic is bringing you better results and, within each of them, which sources are the most profitable. You can also monitor your campaigns such as Google Ad campaigns or custom campaigns to see what results they are yielding and also how people are interacting with the ads. This will help you optimize your investment in places that actually work, thereby getting you better results and making the most of your budget.
8. Study the User Flow
Like Behavior Flow, User Flow is another essential metric for your website. Although these two might sound very similar, they actually show you different things. User Flow shows you the volume of traffic coming to your site from different sources. For instance, which marketing channels are delivering a high volume of traffic, which geographic areas are you receiving a lot of traffic from, etc. It shows you users' paths to and through your site and with that information, you can make changes to improve results.
9. Optimize the Pages that Attract the Most Attention
Once you have identified the pages that attract the most user attention, optimize these pages to improve conversion. It's a very easy way to increase your ROI. Optimizing your pages means that search engines will understand them better and therefore rank them higher. Different pages can be optimized for different keywords which, again, will give you a higher ranking in search results. Having clear, relevant meta descriptions and keywords will make it easier for potential clients and customers to find you online which, in turn, will boost your sales.
10. Put Mobile First
Google Analytics lets you know how much of your traffic comes from desktops and how much comes from mobile devices. Given the growing importance of mobile traffic (mobile searches make up about half of all Google searches), optimizing this is crucial. If your mobile traffic has a high bounce rate, that means it's time to make your website more responsive and improve your loading times. On the other hand, if your site is optimized for mobile devices, Google will reward you with a high ranking
11. Google Analytics 360
Google Analytics 360 allows you to deepen your understanding of exactly which channels influence our results. In addition to standard tools, Google Analytics 360 provides you with more advanced tools such as Unsampled Reports, BigQuery Export, and Data-Driven Attribution. You'll also have access to support specialists and a treasure trove of additional data.
12. Identify Important Keywords
What keywords do users search for when they find you? And what would you like these to be? If you can manage to make these two answers overlap, you'll be doing a great job of optimizing your website, connecting with users who are interested in your product or service and increasing your profits. Some tools you can use include, Google Keyword Planner, SEMrush, and Moz.
13. Activate Google Search Console
To really know what's going on with your organic traffic, you need to be using Google Search Console. Far too many webmasters skip this step, whether because they can't be bothered or simply don't know. Either way, don't make this mistake! Google Search Console lets you see the performance of different keywords, the results users are shown in their search before clicking on your website, and many other statistics.


14. Don't Analyze One Thing Only
Last but certainly not least, there are no magic metrics. If you focus on only one piece of data, you will lose sight of the bigger picture, so be sure to set aside as much time as your need to analyze how your website behaves.
Whether your organization is a start-up, a small to medium-sized business, or a large corporation, Google Analytics is a fantastic tool that will allow you to monitor important webpage metrics. Analytics will allow you to understand your site traffic, where that traffic is coming from, and which web pages visitors are visiting (and those they are not).
All this information can help you to measure the effectiveness of your online and offline marketing campaigns.