By Helena Alcoverro, on 3 March 2021
Any successful SEO campaign begins with researching and selecting the right keywords. And a number of important factors need to be considered and explored before integrating keywords. Get it wrong, because of competition or bad keyword targeting for example, and you'll expend extensive resources with little result.
Choosing and optimizing the right keywords, however, will generate more engagement, qualified leads and ultimately drive sales. Keywords are the foundation of a well-built SEO strategy, so let's make sure they're well planned and up to the task.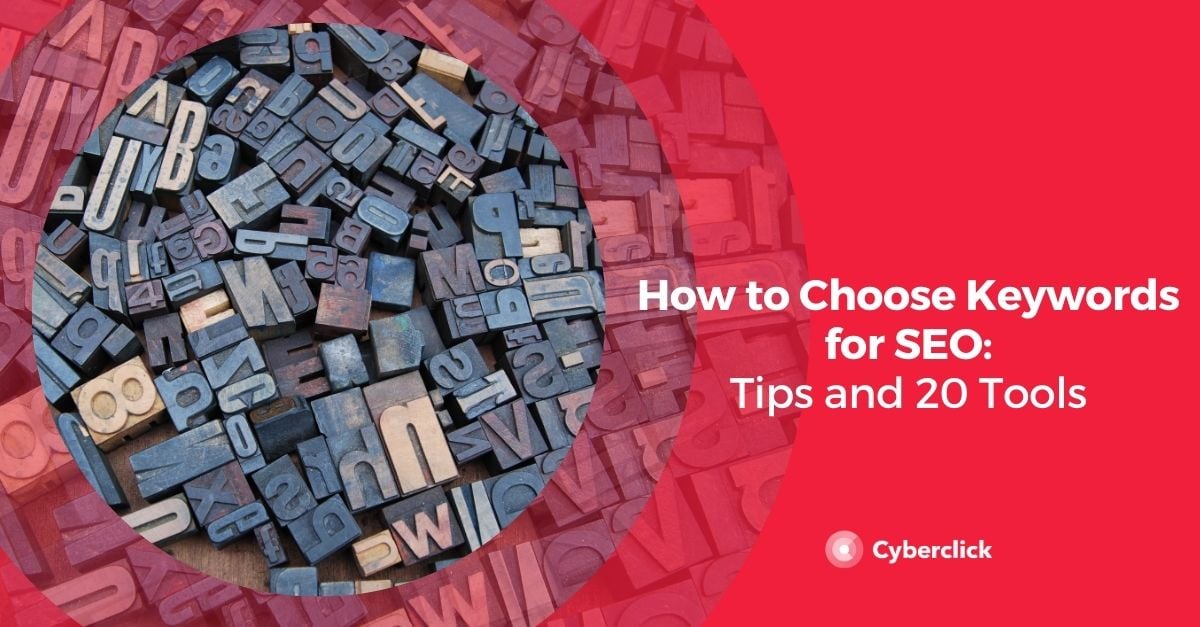 How to Choose the Correct Keywords
All strategies begin with clear objectives. The same goes for choosing keywords for SEO purposes. Defining our target market and down to specific buyer personas, allows us to then pinpoint more focused keywords.
How Many Keywords Do I Need?
"The more the merrier", does not apply to choosing keywords. With your well defined objectives you want to then focus on carefully selected keywords that will result in the most reward for your hard work.
A simple but effective approach is to build your keywords using the same hierarchy as your website or blog. With this strategy we begin by searching for keywords at different levels:
Main Keyword - This is the keyword you want as the centerpiece of your SEO strategy. It's the keyword you want to position your entire website around for the long term. This might be a keyword that's in your domain name or a primary word in your specific industry.
Secondary Keywords - These keywords play supporting roles and are highly relevant to your business. Anywhere from three to seven secondary keywords will be sufficient. Your secondary keywords could be the main titles for sections of your website and/or the most prominent categories for your blog.
Additional Keywords - Another three to five keywords that are more specific for each of your blog posts or longer descriptions on your website. These keywords can be your blog topics or prominent words/phrases used when describing your products.
3 Keys to Choosing the Right Keywords
Target Market - The more generic the keyword, the more competition it has, which in turn means the harder it is to rank for. Narrowing down your target market and buyer persona means you can rank for those relevant keywords and increase conversion rates. Think "women's lightweight cycling shoes" versus "cycling shoes".
Keyword Search Volume - How many people are searching for specific keywords in your industry? Should you be trying to rank for them? Typically, keywords with very high search volume means high competition. Unless your budget can compete with big brands and you've got plenty of time on your hands, you're better off focusing on less generic, more specific long tail keywords. We'll share some keyword research tools below.
Competition - As we've discussed, keyword search popularity goes hand in hand with competition. The trick is finding the right balance between keywords that have a high enough search volume but limited competition. There are countless businesses working on SEO in your industry, so it takes an open mind to find your place at the table. Carving out a niche within a broader market is a fantastic way to rank for specific keywords that a certain demographic search for, and in turn become an authority in that market.
Keywords for Pillar and Cluster Pages
Traditionally, SEO has centered around using keywords that directly match user search queries, even at the expense of natural text. Google's algorithms have changed, however, and now focus on user intent. Google's Natural Language Processing tool, BERT, analyzes search queries to see how keywords relate to each other instead of as standalone keywords. Marketers have now adapted their approach by organizing web pages around pillar pages and topic clusters.
Pillar pages are basically a synopsis that represents a web page. A pillar page covers all the general information about a topic and focuses on a generic keyword. Links within the pillar page lead to more in depth content on each point. Let's say you sell dog collars, you might create a pillar page on dog harnesses specifically. Pillar pages are usually much longer than blog posts and discuss the main points related to the topic.
Cluster pages on the other hand, are more concise groups of content that cover aspects of the topic in greater detail. Our dog collar brand, for example, could create separate posts about leather collars, custom collars, extendable leashes, etc.
This structure is managed by a procession of links that help users navigate the web pages. Pillar pages link to articles in the cluster and links in each cluster article link back to the pillar page.
While choosing keywords for your page, focus on keyword groups instead of each individual keyword. This allows you to provide more valuable content to users and assist Google in indexing and ranking your pages.
20 SEO Tools for Choosing Keywords
Google Keyword Planner

- An indispensable tool for choosing your keywords and for overall SEO strategy. You must have at least one Adwords campaign running to make the most out of your data in the keyword planner.
Google Autocomplete - We've all experienced how Google offers suggestions when we begin typing a search term. Because these are keywords people commonly search for related to the topic, Google autocomplete is a superb source of keyword ideas that you might not have thought of otherwise.
Google Trends - This SEO tool allows you to see how popular keyword searches have been over time based on a location, year and more. You can also compare different keywords side by side and see what's currently trending.

Google Search Console -

Another great tool from Google that gives you the power to see which keywords people used to reach your site. A must have for measuring and tracking your SEO marketing strategy.

SemRush -

An exceptional tool for competitor analysis and seeing what keywords your competitors are using. WIth SemRush you can gain a better understanding of the competition you're up against and what opportunities exist.

Ubersuggest -

Neil Patel has created this tool to assist with keyword research. Simply type a word or phrase and you'll get a list of suggestions, synonyms and related phrases. Ubersuggest also includes data on CPC, competitors and search volumes.

Moz Keyword Explorer

- This free keyword tool gives data on organic traffic, keyword priority and difficulty to rank.

Similarweb -

A market intelligence tool that includes SEO analysis features like trending keywords and most popular content for a given website.
YouTube Autocomplete - Much like Google autocomplete, YouTube's version helps you get more keyword ideas for increasing your reach through video SEO.

Keywordtool.io -

A great free keyword tool for generating long tail keywords. Keywordtool actually uses Google autocomplete while also being an alternative to Google's keyword planner.

Ahrefs -

A more comprehensive all-in-one tool that goes a bit deeper into SEO and all its intricacies. Ahrefs is a paid solution with many extra features and 24-hour support.
DuckDuckGo Autocomplete - An alternative search engine that offers more privacy to its users. While obviously not as powerful as Google, another place to get keyword ideas and find new opportunities. This search engine is focused on offering more privacy to users. As in the previous case, it can be a good place to get new ideas.

Answer the public

- An interesting keyword tool that helps to find keyword suggestions which are structured in a unique graph that shows relationships between terms. A helpful tool for visualizing the connections between your keywords.

SEO Power Suite

- Another full service SEO solution which includes keyword research and complete overview of their performance.

WordStream

- This free keyword search tool finds keywords for you which you can then export and monitor performance for Google and Bing Ads.

Also asked

- Enter your keyword along with a language and a country, and this tool displays a hierarchical map of search queries on your topic.

KWFinder

- This search engine focuses on finding long-tail keywords that are easy to rank for.

Ninjas Search Combination Tool

- A clever tool that compares to lists against each other to discover new combinations.

Bing Autocomplete

-While not exactly Google, Bing is still a resource for keyword inspiration that might give you some new ideas and possibilities.
Related questions from Google - During a Google search you'll see "related questions" or "people also ask". These are excellent sources of keyword and content ideas generated from actual user queries.
Choosing the right keywords is a fundamental step in digital marketing success. While Google has changed how it indexes and ranks pages, keywords are still extremely important when it comes to SEO efforts. Fortunately for marketers there are tons of tools available for keyword research and integration into content. Give some of our recommended tools a try if you haven't already. Sometimes it's only a slight edge over the competition that can make all the difference.