By Shanon Roberts, on 04 August 2020
Native Advertising is all around us and you may not even realize it! This style of digital advertising is a completely unique format, because it combines advertising with content.
Due to the unique nature of native ads, there are many different types that exist. In this article, we're going to review 5 native advertising examples to help you get your creative juices flowing for your next native advertising campaign!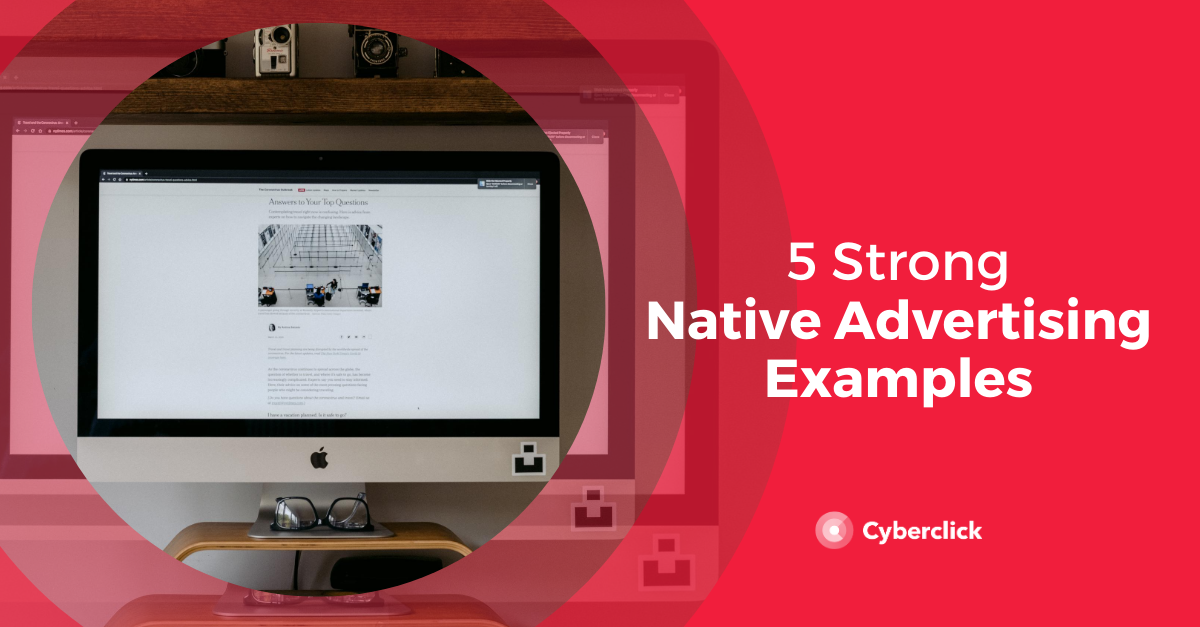 What is Native Advertising?
Native advertising is a non-intrusive ad format that is based on integrating an advertisement into the natural editorial style or content of a website or news platform. Native advertisements seamlessly blend into the website or platform they are hosted in, and appear to be organic content themselves (however, they should always have an indicator that they are an ad.)
One of the most common types of Native Advertising are sponsored articles on different news platforms or sites. But, native advertisements can take a few different forms and they don't always have to be articles on news platforms. In fact, you're exposed to a style of native advertising everyday and you may not even realize it - social media ads! The most important thing about native ads is that they match the platform they are on. There are many tools and platforms that can help you activate your native ads campaigns.
There are three major forms of native advertising: In Feed/In Content Ads, Content Recommendation Ads, and Branded/Native Content:
In Feed/In Content are ads that are integrated into content pieces, social feeds, and ecommerces. This ad format seeks to ethically blend in with native content and create a non-disruptive ad user experience.
Content Recommendation Ads are displayed alongside editorial content or other ads in a recommended format. These ads are typically found at the end of an article or along the side and feature many different suggested ads or content alongside it.
Branded/Native Content ads

are native ads that don't fit into a typical mold. Branded/Native Content is are native ads that function as unique content on a publisher's website or platform.
Below we're going to look at 5 examples of native advertising, with each example representing one of these three ad formats.
5 Native Advertising Examples
1. Spotify / Stranger Things
Netflix and Spotify are two brands that are well known for utilizing their user's data to create unique, relevant experiences. In 2017, the platforms partnered up to create a truly unique native advertising campaign that garnered a lot of attention.
After the premiere of Netflix's Stranger Things series, Spotify users logged on to their accounts to find that they could enter into "Stranger Things" mode on the platform and based on their listening habits they were assigned a Spotify playlist based on a character from the show.
This content was identified as sponsored, had a design that was distinct but adapted to Spotify's platform and aesthetic, and was placed inside the platform as any other playlist. This is a great example of elite level native advertising.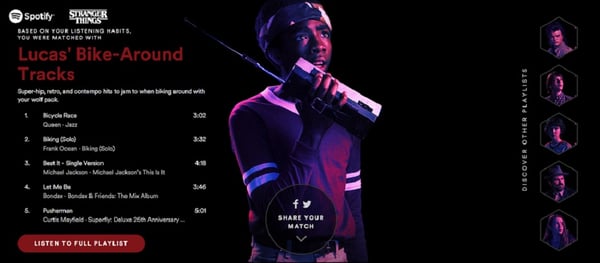 2. The New York Times / Allbirds
A typical native advertising format you see often are sponsored posts on news platforms websites, and a great example is this New York Times article, sponsored by the shoe company Allbirds.
This ad is an In Feed / In Content ad that was promoted in the news platform's regular newsfeed with a sponsored tag. When the user clicks on the article, they're taken to a unique page on the NYT's website with beautiful graphics and supporting sound effects, yet aligning with the design elements of the NYT.
The article focuses on the value birds have in our environment and how they are at risk with climate change. This perfectly aligns with the shoe company, as they are dedicated to sustainability and matches the "bird" element in their name. This is a strong example of how native content needs to align with your brand, but not be about your brand.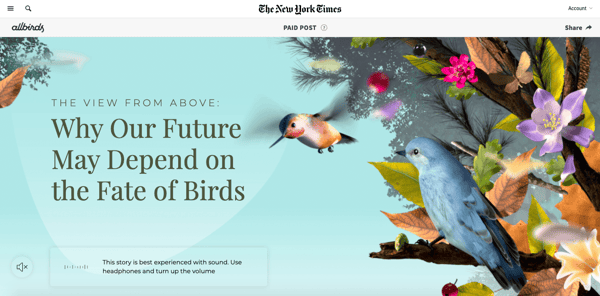 3. The Message Podcast / GE
Native content doesn't just have to be articles and social media ads. In 2015, General Electric partnered with Panoply to produce a science fiction podcast, The Message.
This podcast was the first of its kind to steal the No. 1 spot on Apple's iTunes player and had over 4 million downloads at the time.
This podcast is a perfect example of native advertising because the podcast itself was well developed, thoroughly entertaining, and featured GE technology naturally in the storyline. However, it never explicitly named GE in the content itself, only in the introduction, credit, and cover art. The podcast was so successful that they later went on to create a second one, Life After, and they won a 2016 Webby award for the Best Use of Native Advertising.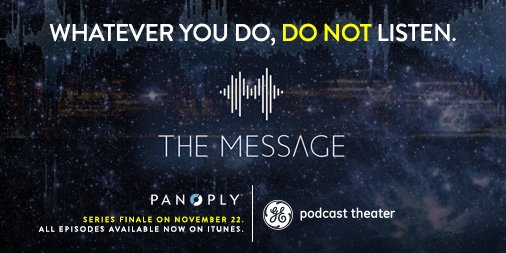 4. Social Media Ads
The quickest way to find an example of native advertising is to open up any of your social media apps and look at the in-feed ads that appear. This is by far one of the most common forms of native advertising that we see everyday.
These ads are In feed ads that are disclosed as being paid, perfectly match organic content, and are placed within a user's content feed.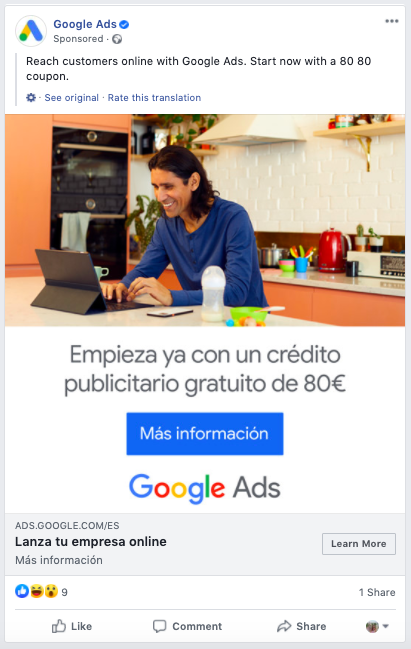 5. Instagram Filter / Nickelodeon
But, not all native ads on social media have to be in-feed advertisements. Nickelodeon showed this with their fun "Which SpongeBob Character Are You?" Instagram filter.
This version of native advertising is fun, interactive, and a great way to connect with Instagram users. On the app it is indicated as being sponsored by Nickelodeon, its placed where all of the other filters are, and works just the same as any other organic filter.