By Estela Viñarás, on 28 August 2023
In the digital world, having an effective online marketing strategy is more important than ever. Although having an ecommerce website can be a valuable asset, an online marketplace can be a great alternative, especially if you are a small business owner.
An established online marketplace can offer you instant access to a larger audience, but you still need to design and implement a strategy that drives customers to your page and generates sales.
Below, we'll help you do just that! We will start by looking at what an online marketplace is and how it can benefit your business. Then we'll get into 10 digital marketing strategies that will help your business stand out from your competitors and increase your overall sales and conversions.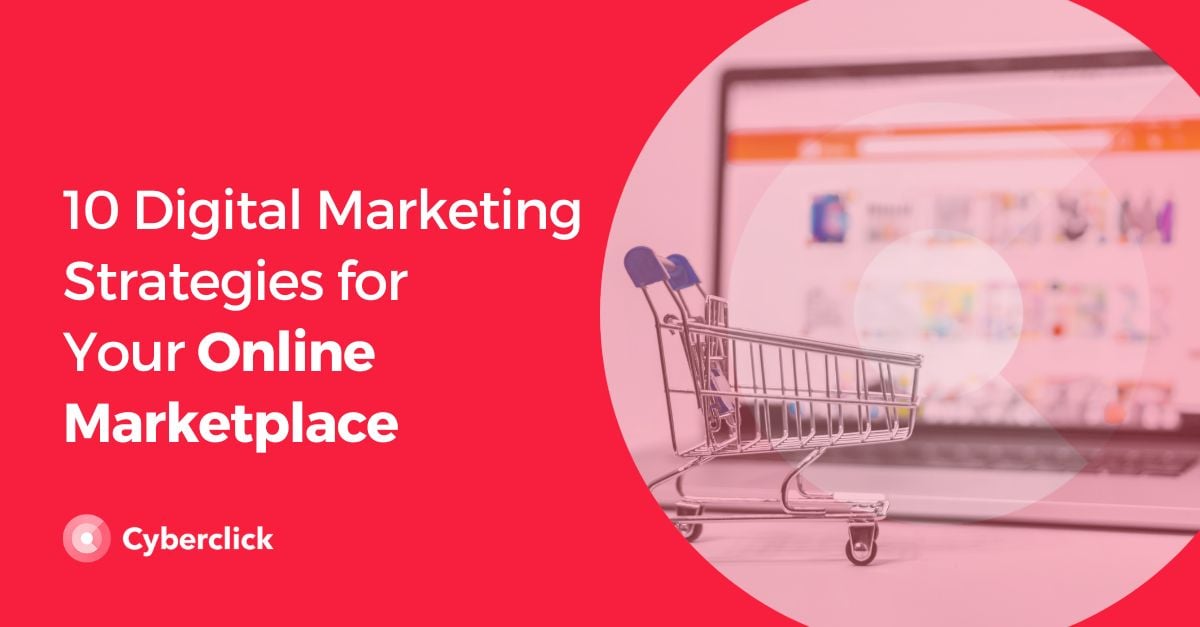 What Is an Online Marketplace?
An online marketplace is a website or app that offers products from a multitude of sellers. It provides vendors with an established platform to sell their products. Although the site is not responsible for inventory, it does facilitate transactions in real-time. An online marketplace can also offer your ecommerce business added benefits including increased traffic, multiple payment methods, and customer service support.
Generally speaking, there are three types of online marketplace:
A vertical marketplace sells related products from many sources. An example of this is

Etsy

, which typically focuses on art and crafts.
A horizontal marketplace serves as a "one-stop-shop" that allows a business to market to a wide variety of potential customers, regardless of industry type. The most famous example of this is

Amazon

.
A global marketplace sells everything. The ultimate example of this is

eBay

.


10 Marketing Strategies for Online Marketplaces
It can be difficult to drive traffic to your site, especially if you are just starting out with your ecommerce business. An online marketplace can offer you all the benefits of having your own site without the added stress of attracting and driving traffic.
That doesn't mean you should just sit back and wait for your customers to find you, though. There are a number of strategies you can implement to improve your online marketplace sales, engage potential customers, and keep them coming back. Let's take a look at the top 10 strategies for online marketplace success.
1. SEO
By using an online platform you will automatically have access to a larger audience but you still need to work on an effective SEO strategy to drive traffic to your personal page. The best way to do this is to use relevant keywords and tags. Use sites like Keyword Tool to search for the most relevant keywords for your industry, include SEO-friendly product descriptions, and optimize your page so that your listings appear higher in search results. Also, make sure you include your SEO strategy in any blog and social media posts to attract potential customers to your online marketplace profile.
2. Know Your Buyer
An important marketing strategy to keep in mind when designing your online marketplace is knowing your customers. Market research is vital if you want your content to be relevant and to attract customers to your ecommerce. Who is your target audience and what demographics define them? What motivates your customers? How can you address their needs?
3. Landing Page Optimisation
Your online marketplace landing page should be friendly, informative, and easy to navigate. It should provide everything your potential customers need to know before making a purchasing decision. You want visitors to your page to have the best possible experience, and the best way to do this is to optimize every aspect of your ecommerce business page.
Treat your marketplace profile as if it were your own ecommerce website. Include informative descriptions for all your products, as well as trusted reviews and interactive content where relevant. Make sure your landing page reflects your brand and identity.
4. Payment Processes
An online marketplace will usually offer a range of payment processes such as credit card, debit cards, and PayPal. Your job is to make sure all the payment processes you offer adhere to compliance regulations, including location-specific taxes and VAT where applicable. If you get this wrong, it could have a negative impact on the customer experience.
5. Order Fulfilment and Shipping
Another benefit of using an online marketplace is that you can offer your customers a variety of shipping methods. This might include same-day delivery or dropshipping options that offer improved convenience, cost, and sustainability.
If you do decide to offer enhanced shipping methods, make sure you are able to fulfil customer expectations. Failure to do so could have a negative impact on your ecommerce business. In fact, studies have shown that shipping related issues (high delivery costs, surprise fees, slow delivery speed, cumbersome return policies) have the biggest influence on whether a potential buyer completes their order or not.
6. Convey Company Values
Your online marketplace strategy should also take into account your company values. Social media is a great platform for this. Design posts that promote who you are as a company, and what you stand for. Include content that is both informative and engaging and tells the story of who you are. Share insight about your brand, and make sure your target audience understands what value you can offer them through your products and services. This will help to establish your marketplace site as reliable, informative and engaging.
7. Competitive Differentiation
Once your online marketplace is up and running, you need to establish how to stand out from the masses. Why should potential buyers choose you, and not one of the many other similar products available on the site or online in general? What are your competitors getting right, and what are they getting wrong? What makes your brand distinctive? What can you offer that other suppliers cannot? Make sure you are authentic, though. Customers will not buy from you if they don't trust what you have to say.
8. New Technologies That Facilitate Sales
In order to build a successful online marketplace page, you need to make the most of all new the technologies at your disposal. There are many third-party technology providers that can help you enhance your page and generate ongoing loyalty and increased sales. This might include automated processes (payments and tax compliance automation) or adding chatbots to your ecommerce website.
Ultimately, what do your customers expect in terms of new technologies, and how can you incorporate their expectations in your marketing strategy? You should also make use of data analytics to help you understand the behavior of people who visit your site. This will help you design a more engaging user experience.
9. Personalization
Another great strategy for driving more traffic to your online marketplace and increasing sales for your ecommerce is personalization. In marketing terms, this means delivering a user experience that is tailored to each potential customer. This improves the user experience and encourages potential buyers to engage with your ecommerce website.
This might include displaying content, product recommendations, and specific offers based on previous actions, browsing behavior, purchase history, demographics, and other personal data.
10. Referrals and Testimonials
Referral marketing continues to be one of the most effective strategies for increasing sales. People trust product reviews and referrals from other buyers far more than they trust a catchy slogan or marketing gimmick.
A great way to encourage referral and increase traffic to your online marketplace is to offer existing customers offers and discounts for referring a friend to your product page.
Once you've got this clear you can focus on what matters most: engaging potential buyers, and building a solid, trusted and authentic brand that generates sales for your ecommerce website.