By Pere Munar, on 11 February 2021
In today's online world customer data is being generated at every turn. There are dozens and possibly hundreds of customer touch points during the path towards a sale. Collecting, organizing and analyzing that data is a serious challenge, and that's where a Customer Data Platform (CDP) comes in. And with this data, brands can create a powerful 'people first' digital marketing strategy.
So what is a CDP and how do they fit into marketing?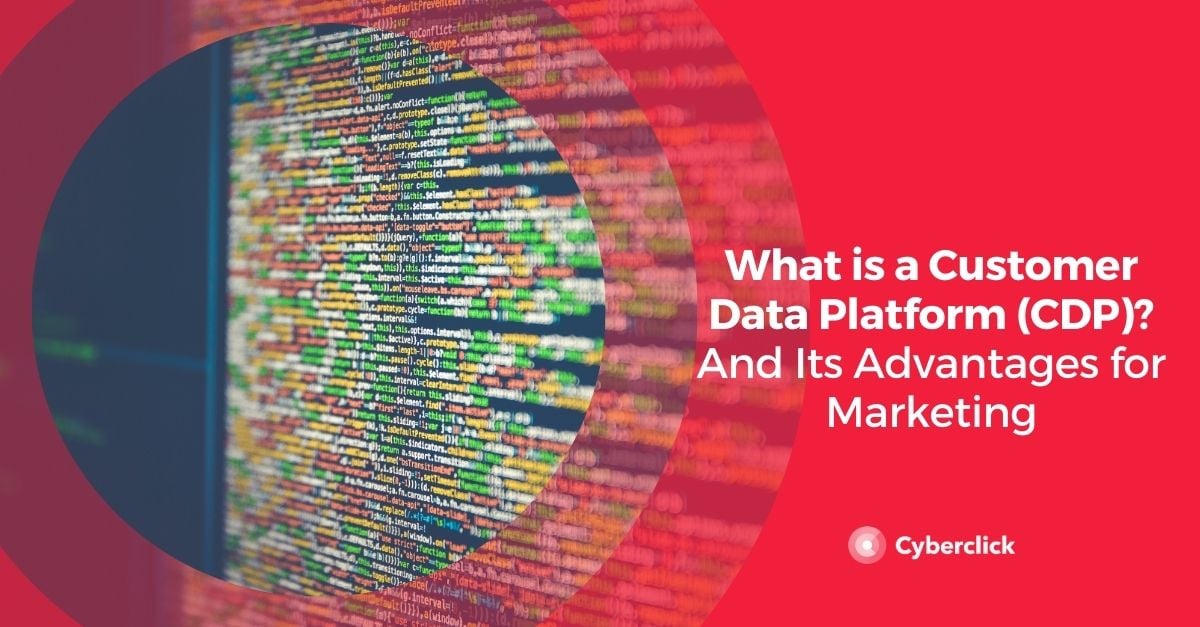 What Is a Customer Data Platform (CDP)?
A Customer Data Platform is a software that collects and structures customer data from various touch points. Other softwares and marketing teams then use this data to create strategies centered on specific customer types. In essence it is a unified and centralized customer database.
Customer profiles are constructed of data collected from customer activity using social media, websites, emails, transaction points and more. Data from your CRM can also be included in creating these profiles.
This customer data is extremely valuable for marketing teams and for determining customer behaviors. More often than not, however, the bulk of this data is stored away and never truly analyzed for insights. If integrated, a CDP tool can do the heavy lifting and help you make better use of customer data. Marketing strategies can then be developed around this data to create more personalized advertising experiences.
CDPs collect four main types of data:
Identity Data - Information such as name, gender, age, location, profession, etc.
Descriptive - More complete and detailed information about identity.
Behavioral - How the customer has engaged with the brand at touchpoints
Qualitative - Customer personality, opinions, likes and dislikes
CDP vs CRM
CDP tools may seem very similar to a Customer Relationship Management (CRM) solutions but they are quite different. Both collect and aggregate customer data but do so in their own way: CRM tools interact and create profiles on customers but with much less data input and less variety of data types. CDPs on the other hand, collect data autonomously and create unified profiles from information collected across many online and offline channels.
Key differences between CDP and CRM:
CRMs collect data on known customers, CDPs collect data from anonymous visitors
CRMs only track online data, CDPs follow online and offline data
CRMs collect data from limited inputs, CDPs collect data from many sources
CRMs focus on identifiable personal data, CDPs contain data from cookies and mobile device identifiers
Advantages of a CDP
Overall, CDPs can improve the effectiveness of business operations as well as help develop better marketing strategies. Here are a handful of advantages to introducing a Customer Data Platform.
1. CDPs Unify Cross Channel Marketing Campaigns
Most if not all organizations have numerous marketing campaigns across multiple channels operating simultaneously. Communicating and coordinating between them can be a major hassle. CDPs can unify this data and create a consolidated database so that ongoing strategies can be modified as needed. This added ability of collaboration and unification of cross channel and multi platform marketing is a huge CDP benefit.
2. Provide a Unique Customer View
Customer Data Platforms are designed to collect data from a variety of sources and unify it . This gives a more complete, 360 degree view of customers across channels and devices while also making it available to other software solutions.
3. CDPs Give a Competitive Advantage
Having a detailed and unified customer database is incredibly valuable in any market. A recent Forbes study found that 93% of marketing leaders believe that utilizing and analyzing customer data for making decisions and creating strategies gives them an advantage. Whatsmore, 53% said that transparency through these systems will help their teams react faster to changes in their marketplaces.
4. More Effective User Experiences
Today's consumers are using a wide range of channels across multiple devices and expect to see a unified experience throughout. Customer Data Platforms provide organizations with a cohesive and complete view of customer behavior which allows for creation of user experiences without blind spots. This greatly improves their sentiment towards a brand and increases loyalty.
5. CDPs are Agile and Adaptive
A Customer Data Platform creates and connects a flexible technology stack that adjusts based on user behavior and changes in the world of technology. CDPs give organizations the power to gather data from everywhere and use it anywhere to develop and deliver better user experiences.
6. Improve Operational Efficiency
Integrating tools to visualize customer data is typically a resource intensive endeavor. CDPs centralize customer data using turnkey integrations, which saves substantial time and labor. Furthermore, an organization's policies and rules can be centrally applied across a range of business tools using a CDP.
7. CDPs Build Better Relationships with Partners
Partners and vendors are vital to running many businesses. CDPs help to enrich these relationships and improve partnerships. In fact, a primary benefit of using CDPs is the ability to offer better and more targeted interactions with partners and vendors, according to the above mentioned Forbes survey.
8. Data Democratization
The benefits of improved access to quality customer data are not limited to marketing teams. Integration of a CDP delivers value across all departments, from customer service to executive decision making. And with this all around access to customer data, companies can deliver a superior experience at all points of contact with customers.
9. CDPs Collect First-Party Data
With so much data being generated it's imperative that the data you analyze is accurate. CDPs gather data directly from your audience through social media, apps, websites and in person touch points. This is data straight from the source and you can be sure it's an accurate reflection of what your target audience actually does and how they feel. Building strategies and making decisions based on this first-party data can then be done with confidence.
Customers are the life-blood of any business, and the data they create should be handled with the utmost care. Customer Data Platforms give businesses the power to collect and organize this raw data from multiple sources and centralize it. With this bird's eye view accessible across all departments, brands can develop more effective marketing strategies and give customers a more complete and more memorable experience.