By Anna Ribas, on 13 April 2021
Marketing strategies don't end when you convert new customers. In fact, conversion is just a starter step in the life cycle of satisfied, paying customers. It's in keeping those customers where businesses can truly generate lasting success. Furthermore, acquiring new customers costs five times more than retaining existing customers. This is why your marketing plan needs to include a loyalty program. They are well worth your time and effort because increasing customer retention by just 5% can increase profits by 25% to 95% according to research by Bain & Company.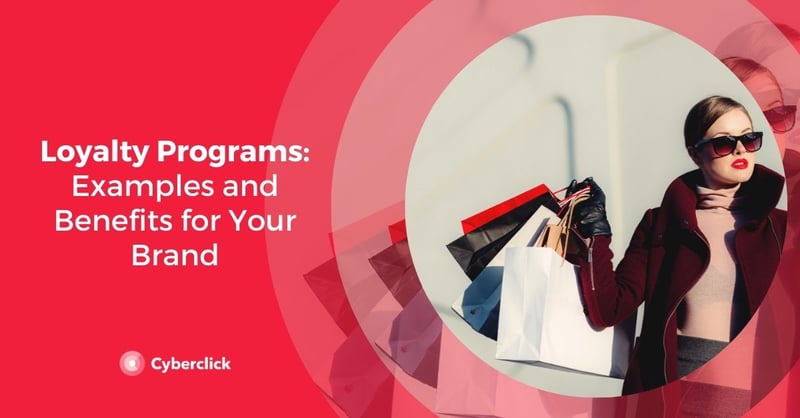 What Are the Different Types of Loyalty Programs?
People are loyal to brands that consistently deliver the services and products they know and love. The key point here is consistency. Satisfied customers spread the word about your business to their friends, neighbors, and loved ones when they know they can trust your brand. This word-of-mouth marketing is incredibly impactful and a better source of paying customers than any marketing or sales team. These referrals, reviews, and testimonials can and should be the lifeblood of your business.
So how do we take our biggest fans and generate more business through their enthusiasm? Here are a few different types of loyalty programs.
Points or Cash Back Loyalty Program
The concept is quite simple. With points or cash back type programs, people spend a certain amount on your merchandise or services and they accumulate 'cash' that can be spent or points that can be exchanged for future purchases. Think about the various rewards programs/clubs and the cards many of us carry that we use in different shops. This type of program keeps customers loyal as they've already signed up and can see the long term benefit of continuing to shop with you in the form of discounts or 'free' merchandise.
A downside to this somewhat dated approach is that point/cash back programs don't really generate much engagement or competitive differentiation. The upside is they are easy to start and are easily understood by customers.
Tiered Loyalty Programs
Tiered loyalty programs give customers the opportunity to access higher levels of rewards based on their level of spending. A certain tier could even include access to a community or a mastermind group. This encourages people to purchase more and join others in 'exclusive' rewards clubs. Psychologically this brings in the element of social status and being a part of something for a select few. It also incorporates the sense of working towards an objective which is motivating for many of us.
Using a tiered loyalty program does require more effort from brands of course. That being said, they attract more high value customers (think airport VIP lounges). Conversely, a tiered program drives away lower-value customers so using this type of plan should run parallel with your target audience.
Premium Loyalty Programs
In this type of loyalty program, customers pay a yearly or monthly fee to have access to certain rewards or benefits. Amazon Prime is a great example of a premium program. Despite what you may initially think, in many ways these premium plans are the best loyalty programs for attracting and keeping customers. Why? Because once the fee is paid customers can access the benefits immediately and whenever they want. This instant gratification is highly attractive and creates exclusivity.
On the other hand, premium loyalty plans can alienate more price conscious shoppers and require a lot more upkeep to maintain. However, if your goal is to attract, reward, and keep high value customers who are gladly willing to pay then a premium loyalty plan is the way to go.
Hybrid Loyalty Programs
Another option is of course to have multiple types of loyalty or rewards programs. In this way you have something for everyone: free plans that accumulate points, a tiered system, or a premium paid program with all the perks. Once customers are part of a free program they're much more likely to upgrade to a paid plan somewhere down the line.
Examples of Successful Loyalty Programs
Loyalty programs are nothing new—they've actually existed for centuries. In our current digital age, however, brands are getting more and more creative and delivering more value to demanding customers. Here are some examples of brands that are running successful loyalty programs here and now.
Amazon Prime
Amazon Prime is the perfect example of a paid program that's wildly successful. For a flat fee, Prime users have free two day shipping, access to streaming video, and special sale perks. Amazon also offers free trials of Prime to give customers a taste of what they're missing.
By the end of 2020, over 150 million people have signed up for Prime and on average, users spend five times more than non-Prime members!
The North Face VIPeak Program
Outdoor retail giant The North Face knows their target audience well. Their VIPeak loyalty program allows customers to earn points and redeem them in multiple ways based on their interests. This can include participation in experiences like expeditions and trips. They also offer flexibility for earning points, so besides just purchases customers can earn by downloading the app, attending events, and more. The North Face highlights how building rewards that your customers are actually interested in leads to more loyalty, connection, and engagement.
Tom's One for One Program
Tom's appeals to people who want to make a difference in the world with their One for One program which gives shoes to people in need for every pair sold. They also donate to water charities, medical charities, etc. for every purchase that is made. More recently, Tom's has also begun giving ⅓ of their profits to grass roots organizations encouraging diversity and anti-bullying. This loyalty program breaks the mold and appeals to our desire to help others and participate in socially-conscious economies. Well done Tom's.
Loyalty programs are a tried and true method for attracting and keeping loyal customers. While you might not be able to replicate Amazon Prime level numbers, a loyalty program that speaks to your audience and gives them what they want when they want it, is a perfect way to keep customers coming back. As we know, it's much easier (and cheaper) to retain customers than to find new ones. Get inspired to improve or launch your loyalty program and see how you can build lasting customer/brand relationships.