By Enric Llonch, on 3 September 2021
Twitch is becoming a major platform for digital marketing. As in the case of TikTok, this streaming network experienced a huge boost during the coronavirus pandemic, as the number of active channels grew by over 200% in just 4 months as about 4 million content creators got on Twitch.

For brands, Twitch is a great opportunity to reach a young and potentially receptive audience, as 80% of the users approve of brand sponsorships.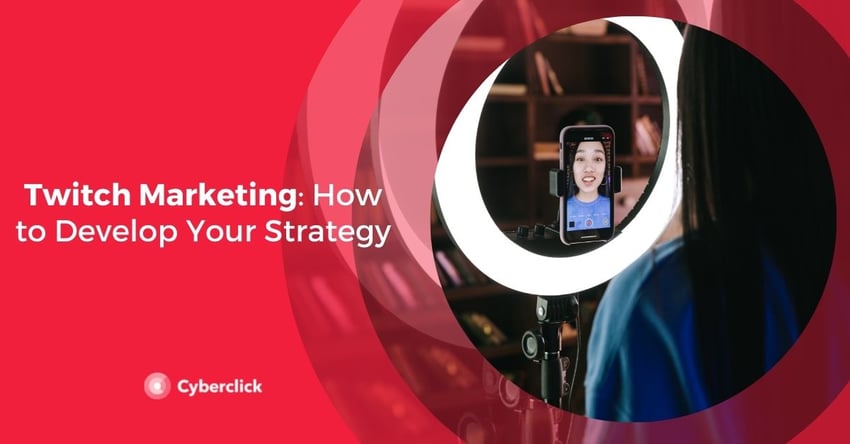 What Is Twitch and How Does It Work?
Twitch is a streaming platform created in 2011 that has been owned by Amazon since 2014. It is a place where content creators (streamers) broadcast live videos to viewers. At first it was used primarily to broadcast video game games, but today it includes a much wider variety of content, such ad music, tutorials on different topics, and cooking shows.

Twitch has some 17.5 million daily active users and its broadcasts reach an average audience of more than 1.5 million people. The majority of users are men between 16 and 34 years of age, and the busiest times are weekends. It should be noted that as the network becomes more popular, there are more women joining and it is starting to catch on with different age groups

Users can access the platform through the twitch.tv browser, the app, video game consoles, and other platforms, such as Amazon TV or Google Chromecast. Streamers broadcast free live content through their channels and can interact with the audience via chat.

There are two main types of users on Twitch:
Followers who can watch the broadcasts.

Subscribers (Twitch Prime) who financially support the content creator through a subscription and in return enjoy benefits such as badges, private chats with the streamer, ad-free content, etc.
Streamers can monetize their channel in different ways like affiliate programs, channel subscriptions, virtual currencies, sales of channel-related products and advertisements.
How to Market on Twitch
To design your digital marketing strategy on Twitch, you should consider three major options: placing ads on Twitch, collaborating with an influencer, or creating your own branded channel.
Advertisements on Twitch
Twitch offers two main categories of advertising: banners and video ads. Within the category of banners, there are different formats.
Homepage headliner: the top position of the first page that users encounter when visiting twitch.tv.

Super leaderboard: a banner in the place where users search for content.

Medium rectangle: these are in the right column and are displayed when users search for content and scroll.

Synched units: a combination of the two previous formats to increase the potential visibility of the ad.

Carousel: a rotating carousel of images on the Twitch home page.
Video advertisements can be shown on the streams of certain Twitch channels. In order to integrate advertising into their channel, the streamer must become a Twitch partner. to do this, it is necessary to meet a series of requirements in terms of their number of followers, frequency of broadcasts, and channel growth. The ads work on a cost per thousand impressions model and can be inserted before the content (pre-roll), in the middle of the broadcast (mid-roll) or after the end of the broadcast (end of streaming).

Here are Twitch's tips to increase the effectiveness of ads:
Do not concentrate ads at the beginning or at the end. According to Twitch studies, the most effective ads are those placed in the middle of a stream. At the beginning, many users have not yet connected and at the end, you have to have really powerful creative to get users to stay.

Incorporate ads into the channel progressively. Although Twitch users are generally positive about brand sponsorships, too many ads can saturate them and ruin their experience on the channel. For this reason, Twitch recommends that new partners start with one minute of ads per hour and gradually build up to three minutes per hour, which is the optimal volume in terms of generating revenue.

Informing viewers of commercial breaks. Twitch recommends that streamers notify their followers when they are going to play an advertisement. If they use tools to play ads automatically, the recommendation is to specify on the page the approximate frequency and duration of the breaks.

Make advertising breaks of between 1 and 2 minutes, in which time several short commercials can be played. It is advisable to avoid very long ad breaks, which can cause the viewers to tune out.

Allow at least 15 minutes between each ad break. In order not to negatively affect the viewer experience, Twitch recommends leaving at least 15 minutes between ad sessions. Combining this recommendation with that of the duration of breaks, the optimal amount of 3 minutes of ads per hour can easily be reached.

Clearly inform users if there is a possibility to subscribe in exchange for ad-free streaming.

Use the Picture-in-Picture experience to prevent viewers from missing part of the action because of ads (recommended for video game streamers).
When creating your creative materials to advertise on Twitch, keep in mind that the main function of this platform is to entertain. If you manage to create ads that integrate well with the dominant type of content on Twitch and entertain the audience, success is almost guaranteed.
Collaborations with Influencers
Twitch influencer marketing works in a similar way to other networks such as YouTube or Instagram. The main difference is that promotions are broadcast live, rather than using recorded images or videos.

The most frequent collaborations between brands and influencers on Twitch are brand mentions, sweepstakes, and unboxing, since everything is broadcast live, there are many more possibilities.

Keep in mind that Twitch live streams are accompanied by a chat where the influencer can interact directly with the brand, so this offers new possibilities for brand collaborations. The only limit is your imagination!

Twitch users are very loyal to their favorite streamers, so finding the right collaborator is critical. Here are some of the factors to consider.
The number of followers and growth prospects of the channel. The most visible content creators are usually Twitch partners who have the option to insert ads in their broadcasts. But don't let the numbers fool you. Sometimes it's better to collaborate with micro-influencers who have a lot of authority in a specific niche.

Frequency of broadcasts. Streamers who broadcast content frequently and regularly tend to have a more loyal following.

Channel type. Video game streamers still make up the majority on Twitch, but they're not all the same. Focus on your target audience's favorite game streamers and spend time researching the industry if necessary. If you're looking for partnerships with other types of channels, you'll need to make sure they have a sufficient audience.

Topics of interest to the audience. In addition to the main topic of the channel, what other things are of interest to the audience and how can you insert them into the channel's theme? For example, a well-known video game streamer could have a cooler of energy drinks always in view in his broadcasts.

Audience interaction. Ideally, look for a streamer who has an active community with mostly positive interactions, so analyze their chats to see how viewers behave.
Create Your Own Brand Channel
Finally, instead of (or in addition to) ads and collaborations with influencers, you can include native content in your digital marketing strategy on Twitch through your own channel. You can broadcast live events, host interviews and webinars, sweepstakes, tutorials, etc. so if your brand fits well with Twitch's user profile, it can be a great addition to your content plan.

A great example of this is Old Spice, which launched a channel called "Old Spice Nature Aventure." The channel live streamed a man's adventures in the woods and viewers could influence his decisions via chat.

The channel achieved more than 2.6 million views and 1.4 million viewers participated in the chat. Old Spice's unique chat emoticons were used more than 105,000 times.