By Laia Cardona, on 4 January 2021
There are plenty of ways to market your products or services in today's digital economy. From paid ads on Google and Facebook to podcasts and influencer partnerships, businesses have a wide range of options to get the word out about their brand. A sometimes misunderstood strategy is affiliate marketing, which over 80% of brands use and are expected to spend $8.2 billion on by 2022—an increase of nearly $3 billion from 2017. We'll break down affiliate marketing and its benefits below, and discuss how it could be just the right tool for jumpstarting your marketing in the new year.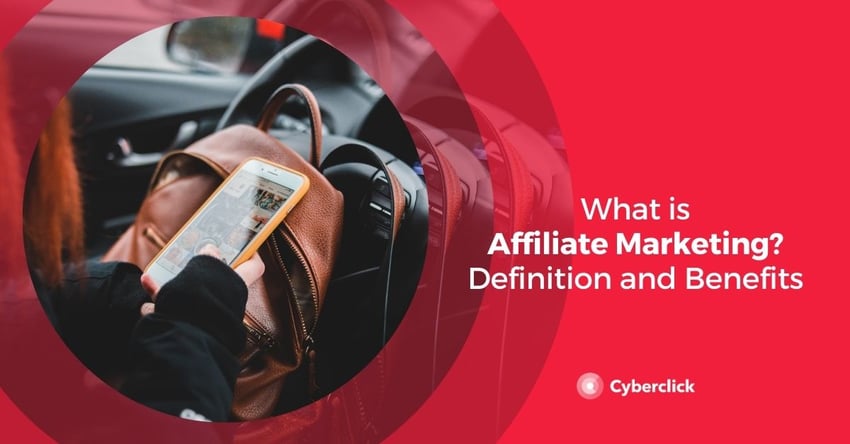 Affiliate Marketing Definition
Affiliate marketing is a reward based process in which brands (sometimes called creators) pay out a commission to an affiliate, a business or individual for promoting their products. This could be simply sending traffic to the brand's site or generating an actual sale through the referral. In essence, you are expanding your sales and marketing team with third party advertisers who are only paid if leads or sales are generated.
Typically, each affiliate is given a unique link which is integrated into their web content. This link is used to track traffic that comes from their website, blog or social media content and leads to you. Affiliates are then paid based on the type of agreement, whether traffic based, sales based or both. While affiliate marketing may sound complicated, it's actually quite a simple process. Let's dive in!
How Does Affiliate Marketing Work?
As mentioned above, affiliate programs involve partnering with other businesses or individuals (even customers), who help you make sales in return for a commission. They sign up for your affiliate marketing program and you set the conditions. So what does an affiliate program look like in the real world?
To begin with you need to identify where your customers spend most of their time: Are they scrolling through Facebook or Instagram? Or maybe using search engines or reading blog posts to research new products? Maybe they are more price sensitive and use coupon sites? Identifying where your buyer persona(s) are open to learning about new products or services is absolutely essential before creating an affiliate marketing program.
Once you have an idea of where potential clients are there are numerous options for how to reach them. Here are some to consider:
Influencers or Bloggers - Influencer marketing has taken off in recent years as consumers generally trust a third party over brands themselves. It works like this: You create an agreement with prominent influencers in your industry who then mention your brand or product in their own content, be it in a blog post, podcast or video. These can be shoutouts or integrated into the content more naturally, such as in a recipe. Customers who click through are then led to your landing page or site. For every program the type and specifics of the affiliate's commission is up to you.
Review Sites - For more expensive products people tend to look up reviews before making any purchases (I do for inexpensive items, too). If your brand falls into this category, consider contacting review sites within your niche and see if you can get them to feature your product(s) in their next review. This is also a great strategy for building up third party validation for you and your products.
Search Affiliates - This strategy involves teaming up with search affiliates who use their own capital to finance paid search results in expectation of a return on their investment. Search affiliates manage PPC marketing campaigns independently that you have creative control over. Just make sure you're in the driver's seat and that search affiliates don't damage your brand image.
Important Affiliate Marketing Metrics to Track
Affiliate marketing compensation types vary and each has its advantages and drawbacks. Compensation rates are also very subjective and depend on many factors. Here are the most common affiliate marketing metrics that you should pay attention to:
PPC- Pay Per Click advertising is probably the most well known form of paid advertising. In the affiliate marketing world, marketers insert PPC ads into their content and are paid based on each ad click that leads to the offer. This compensation model relies more on creating traffic than actual sales.
PPL- Pay Per Lead compensation is where an advertiser pays affiliates according to each lead they generate. This can be hard to define and brands must be very clear about what constitutes a converted lead or not. A typical converted lead could be an email newsletter sign up, a download or another form of contact information exchange that expresses interest in a product.
PPS- Pay Per Sale is exactly what it sounds like: affiliates are paid whenever they generate a sale. This is usually a percentage of the final purchase price and can be quite lucrative for affiliates depending on the product value. This is a very popular compensation model for retailers, and payments are usually made 60-90 days after the sale to allow for possible returns.
PPI- Similar to PPC, Pay Per Impression ads are typically used for display and text advertising and affiliates are paid based on how many people view the ad. And also like PPC, the PPI compensation model pays very little per impression and so affiliates look to generate high amounts of traffic to make PPI worth their while.
Benefits of Affiliate Marketing
Some shy away from affiliate marketing, but it's growing in popularity and creating significant success for many brands. There are many benefits to affiliate marketing and it can be a serious addition to an overall marketing strategy for those willing to take it seriously and give it a try.
1. High Return on Investment
Compared to affiliate marketing, generating a sale with Google Ads and their PPC model can cost up to 20x more. Many online marketing options rely heavily on traffic based budgets, whereas affiliate programs generally focus on paying out only for conversions and sales.
2. Increase Your SEO
Each one of your affiliates will be inserting a backlink to your site in their blogs, websites and social content. All those inbound links are magic for search engine optimization and organic ranking. That's some serious SEO juice, especially if you have popular influencers enrolled in your affiliate marketing program whose followers will then help share and spread your link, too.
3. Grow Internationally
Affiliate marketing is an extremely cost effective method for reaching foreign markets. Overseas affiliates are more clued in and savvy to their own local marketplaces, and know what works and what doesn't. Tap into their knowledge and try this low-risk technique for discovering if these countries are suitable markets for what you offer.
4. Highly Targeted Traffic
Working with affiliates gives you the benefit of advertising to their warm audience, who are already pre-qualified and cozied up to the type of product(s) you sell. Likewise, seasoned affiliates probably better know the ins and outs of advertising in your particular industry and how to target your ideal customer personas.
5. Results Based Pay
Affiliate marketing is an excellent strategy for ensuring that your marketing dollars are cost effective. Depending on your affiliate program and compensation model, you'll likely only pay affiliates once a sale is made or a lead converted. If an affiliate fails to create any results, you won't pay a dime, giving them added incentive to create a win-win marketing plan.
6. Time Saver
Whether you're just starting out or have been in the game for some time, marketing is a critical element of any successful business. And from the get go it requires significant effort, time and resources. By partnering with affiliates and their existing audiences, it's possible to eliminate much of that hassle, especially if you're a solopreneur or micro business with a limited marketing budget.
7. Build Relationships and Brand Awareness
Affiliates don't need to be seen solely as outsourced subcontractors or freelancers, they can also become dedicated partners invested in your mutual success. By building genuine, trust-based relationships with affiliates, you grow your network of connections while also spreading the word about your brand. Plus, consumers buy from brands they trust and affiliates introduce you to each other in a direct and natural way.
8. You're in the Driver's Seat
With affiliate marketing brands are in complete control over their overall marketing strategy and are simply outsourcing the promotional work. The type of affiliate program, commission rates, creative content, incentives and the affiliates themselves are all decisions taken by the brand or creator. Again, if affiliates fail to produce, not a big deal. On the other hand, if a marketing employee on your payroll fails to deliver it's a different case altogether.
Marketing can often be overwhelming, confusing and downright expensive, especially for small businesses with limited budgets. Affiliate marketing is a proven way for brands—of all sizes—to reach new audiences in a cost effective and easily manageable way. Getting started requires very little upfront cost and the added benefit of increased SEO is hard to ignore.
If you aren't already taking advantage of affiliate marketing as part of your overall strategy, now might be the perfect time to join in.