By Chantal India, on 10 May 2021
Influencer marketing involves using the profiles of influencers on social networks to advertise a product or service. In other words, influencer marketing is just a relationship between a company and a person who has a relatively high level of visibility on social media and who can showcase products or services of that company.
However, this type of marketing is constantly evolving so we've gathered some data and information to help you get a better idea of influencer marketing trends in 2021.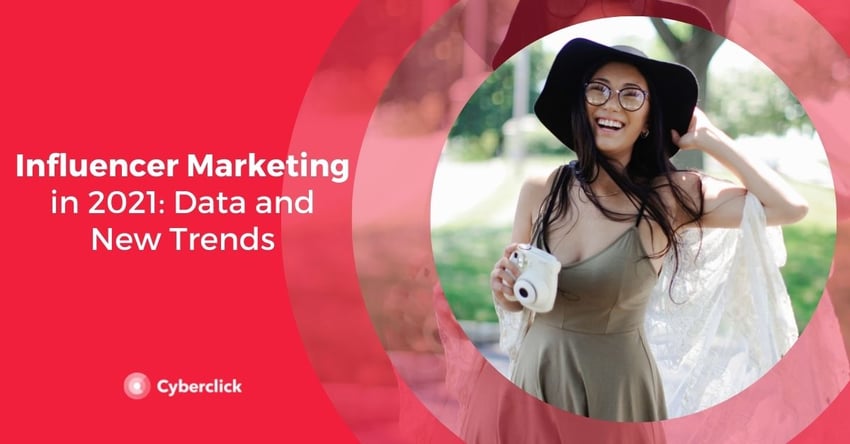 Influencer Marketing Data and Statistics
More and more companies and brands are including influencer collaborations in their marketing strategies. Any of the main social networks can be used, just be sure the one you choose is the one that is most popular with your customers. Even TikTok, which has grown consistently over the last year, can be used for this purpose. Brands often bet on this type of strategy because it is quick, simple, and cheap. It showcases their products or services, reaches a large number of users, and yields results.
Over the course of 2021, influencer marketing is forecasted to grow to be a $13.8 million market.

Since 2019, more than 240 agencies and platforms that bring brands and influencers together have emerged.

It is estimated that 75% of brands will dedicate part of their marketing budget to this strategy in 2021.

Most brands use the same influencers in their subsequent campaigns if the first one was effective.

Brands often give away products or offer discounts to influencers as payment.

The best way to measure the success of an influencer marketing campaign is through sales. For example, you can look at how many people used their discount code to buy your product or service.

TikTok has become one of the most popular social networks for this type of strategy. However, chose your platform based on the audience you want to reach, not just its overall popularity.

Search for influencers whose followers are likely to be interested in your product or service. This is more important than simply working with an influencer who has a huge following.
These are some of the most significant points regarding what is expected for influencer marketing in 2021.
Influencer Marketing Trends for 2021
1. Micro and Nano Influencers
Many brands choose to look for micro or nano influencers who they can collaborate with. These are influencers who have thousands or even hundreds of thousands of followers, but have not reach one million. Despite this, these types of profiles often have a higher engagement rate than those or exceed one million followers. This ends up being much more beneficial for a company because a higher level of engagement means a more effective collaboration.
2. Long-Term Collaborations
If the first campaign is a success of, brands usually prefer a long-term collaboration to a one-off. With this type of deal, influencers and brands can build a strong partnership as the influencer gains a better understanding of what the brand is offering and how best to present it, and the brand sees that it can trust the influencer to create quality content for them.
3. Video Content Will Continue to Grow
TikTok burst onto the scene in 2020 with 700 million monthly active users and it is expected to continue growing (along with video content in general) in 2021. This means that influencers who publish great videos will be sought after, in addition to those who have cultivated their own niche. In other words, if you want to advertise a sports product, you will look for an influencer specialized in sports and fitness in order to reach your audience. However, if this person can also produce good videos they will be a more useful collaborator than an influencer who only posts photos and texts.
4. Performance Based Offers
It's likely that performance-based offers will appear later this year. In other words, companies could require a minimum number of clicks, sales or other results in order for the influencer to receive compensation.
5. Authenticity
Although new types of content will be sought, authenticity is still very important. This means creating content that is not only engaging but also credible and sincere. Of course an influencer will need to talk about the advantages of using a certain product or service but, at the same time, it's ok for them to occasionally comment on things they didn't like about it so that the public sees this as something real and not purely as an advertisement. Of course, it should always be specified that despite possible disadvantages, the product is still great.
6. Employee Advocacy
Another trend in 2021, is having employees create content for social networks. In this case, the brand or company could use part of its team to advertise its products or services. The effectiveness of this strategy remains to be seen since not all workers will have a high enough number of followers for their material to translate into benefits for the company. However, it's worth seeing how some popular brands are doing this and keeping an eye on the results.
In conclusion, influencer partnerships are a growing marketing trend. Even some small and medium-sized companies have made profits after collaborating with an influencer. Moreover, as we have already mentioned, it is a quick, simple and above all, very economical strategy, since many influencers receive payment in the form of products or discounts.