By Estela Viñarás, on 15 February 2023
Finding your company's market share is one of the most effective ways to understand how strong its position is in the industry and how well your marketing efforts are working.
As a company's market share grows, it is more likely to have reduced marketing costs and a high profit margin. In this article, we will discuss the value of market share and explore some tips proven to increase it.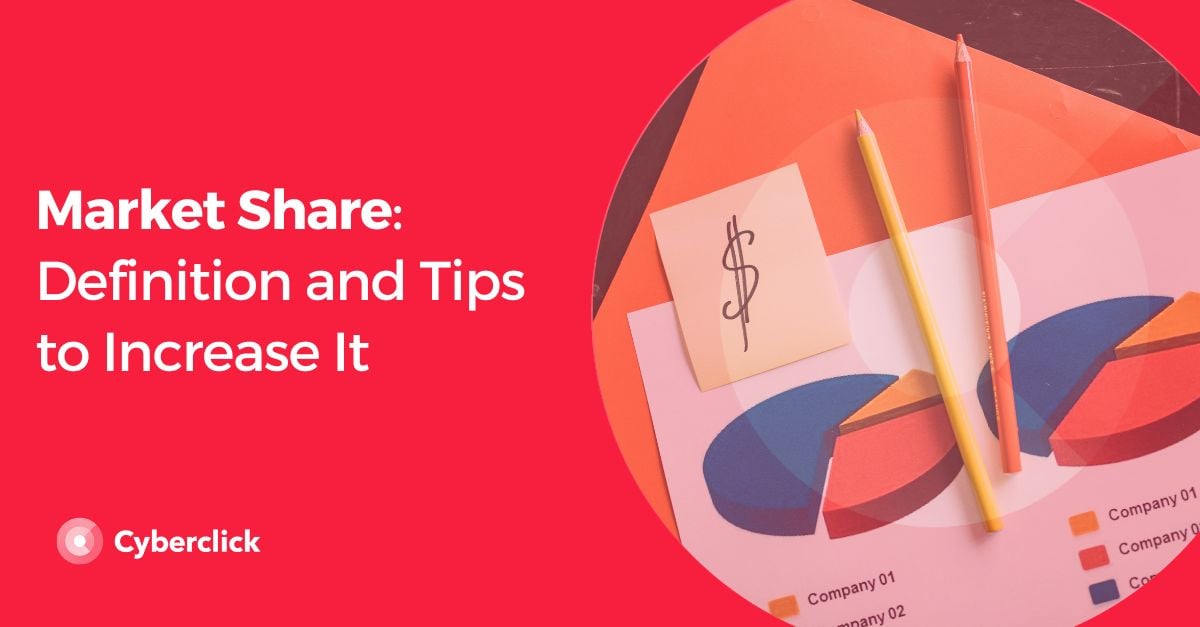 Definition of Market Share
A company's market share is the total percentage of products it sells in relation to the total sales of the same product in a particular market. The company that sells the most products owns the highest market share and is considered the industry leader.
For instance, if company A sells 60 products, company B sells 30 products, and company C sells 10 products out of the total 100 products, company A will have 60% market share, company B will have 30% market share, and company C will have 10% market share. Company A will be the industry leader.
You can use the following formula to calculate the market share of your company:
Market share = total company sale ÷total industry sale
Why Is Market Share Important?
Market share acts as a key indicator of a company's success, mainly its revenue-generating efforts and profitability.
It informs companies how well their marketing strategies are performing compared to their competitors. If your market share is increasing with time, then your marketing efforts are likely better than those of your competitors.
It allows you to analyze the impact of your plans and policies on your company's overall performance and annual results. Through market share, you can identify changing trends in consumer behavior and explore new growth opportunities.
Tips to Increase Market Share
Listed below are some proven methods that companies use to increase their market share.
Strengthen Your Bond with Existing Customers
Many companies neglect the importance of current customers and focus more on attracting new customers, which puts their brand sustainability at risk and eventually affects their market share.
If you want to increase your market share, make your existing customers your priority. Keep them engaged and gain their loyalty. They are more likely become repeat customers and promote your products through word-of-mouth marketing.
Offer Innovative Products or Features
Gain an edge over your competitors by introducing new products, services, features, and technologies to the market before they do so.
This will help you attract customers that are new to the market and those that are not satisfied with the same old products offered by your competitors. You will gain more repeat customers, and your customer base will improve.
Build and Maintain a Positive Reputation
Your company's reputation is closely linked to its sales and, therefore, to market share. It inspires long-term customer loyalty and brings higher profits.
Top companies like Apple and Nike are still in business today and have a strong customer base because of the positive reputation that they have established over the years.
Attract Customers with Offers, Discounts, and Incentives
Discounts and offers can give customers another reason to buy from you. For instance, when a customer visits a store to buy only one product, they may end up buying more products after being notified about a sale, which could end soon.
This technique helps businesses in a saturated market or those whose market share is not increasing at the rate they expected.
Bring Talented Employees on Board
Hiring skilled employees is key to making the most of your resources and offering the best to your customers. It allows companies to reduce their hiring and training expenses and, instead, use their resources to grow.
You can attract skilled employees not only by offering competitive salaries, but also by having multiple growth opportunities, a healthy workplace environment, and flexible schedules.
Decrease Product Costs
See if you can adjust your pricing policies and lower your product prices without compromising quality and losing revenue opportunities. It will allow you to attract more customers compared to your competitors.
Stand Out from the Crowd with a Unique Brand Position
Keep an eye on your competitors and explore their business strategies to find where they are lacking. Find new opportunities and incorporate them into your business model to create a unique selling proposition.
Improve Product Quality
Many product ads now claim that their products are "the best" on the market, which has made people more conscious of product quality.
Keep working on your product's quality and make sure it matches your customers' expectations. It will keep your customers coming back to you and ultimately increase your market share.
Seek Partnership
You should try to partner with other organizations to target and connect with potential customers. For instance, if you are a science organization, joining hands with a communication organization can help you convey your messages to the general public in easy-to-understand language.
Know Your Customers
Understand the needs and lifestyles of your customers.
Why are they choosing your products over others? How is your company helping them improve their lives or businesses? Finding the answers to these questions will up your marketing game, attract more customers, and eventually increase sales.
Grow Your Business with Digital Marketing
The pandemic changed shopping trends a great deal. Now, more and more customers choose online shopping over offline shopping. Hence, you should not hesitate to invest in digital marketing. Focus on the digital platforms that your target audience uses the most and get their attention with relevant content.
Summing It Up
Increasing market share can help a business earn higher profits and continue to be an industry leader for years.
Whether you are a well-established company or a new brand, it is important to understand the true value of market share and to look for ways to increase it. Introducing innovative products, maintaining a good reputation, and improving customer loyalty are some of the most effective ways to gain market share.