By Shanon Roberts, on 10 September 2021
RevOps, short for Revenue Operations, is quickly gaining traction among companies seeking to amplify their earning potential while streamlining their internal operations. Still, there seems to be quite a bit of uncertainty about what RevOps is and how it can reshape marketing strategies, account-based sales, and departmental accountability for the better.
Not to worry though, in this article we'll break down everything you need to know about RevOps and how it can help revolutionize the way your company generates revenue. Let's dive in so you can start generating profits the way you were always meant to.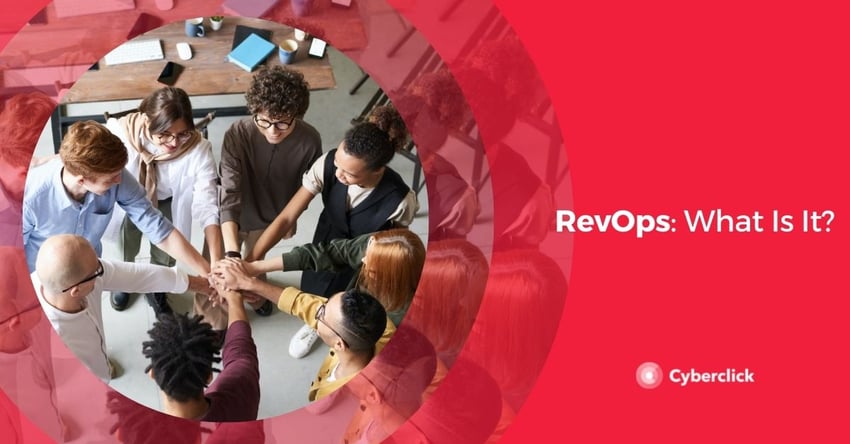 What Is RevOps?
For many years, most businesses have operated using different departments to oversee a variety of operations, from sales to marketing to customer success and retention. However, this archaic model tends to leave a lot of money on the table due to a lack of transparency between departments and very little accountability for lost revenue.
Not only do companies lose money by having these divisions run by distinct supervisors with varying incentives and goals, but such conflicting priorities often mean that small issues can spiral into large-scale problems in the long-term. With almost no communication between departments, it can also be difficult to gauge overall client satisfaction and recognize problem areas that need to be rectified.
RevOps aims to modernize companies by updating these systems for the 21st century and consolidating all of these departments into one to eliminate redundancies. Instead of having separate teams for marketing, sales, and customer service, unifying these roles to a single team can boost client satisfaction by reducing the chances of discontinuity.
Moreover, having a specified RevOps team can allow businesses to hone in on their customers' needs with more precision. Consolidating all the same core responsibilities in one team helps grant more personalization capability while also increasing efficiency by conserving resources like time and money.
For example, in a project that's overseen by various figureheads, problems might initially be overlooked due to a lack of communication. However, a dedicated RevOps team could pinpoint any issues with enough time to course-correct. Avoiding any potential hiccups with your customers is what helps your company retain them and build a loyal client base.
RevOps can also solve numerous problems that can come up the moment a new client enters the picture. From the marketing campaign that helps gain their initial interest to their first purchase from sales as well as their experience with customer service, one wrong misstep can often derail the whole deal.
One of the main goals of RevOps is keeping your customers happy. Clarity is the key and yet, for a concept that is supposed to enhance organization and transparency, RevOps can still seem awfully confusing to those unfamiliar with it. So how exactly does it work?
How Does RevOps Work?
RevOps prioritizes account-based coordination since the same team oversees every step of the client´s needs, resulting in more customer connectivity and personalization. Accordingly, RevOps can help propel your business's revenue growth forward in a myriad of ways when properly executed.
Three principles make up the backbone of RevOps are people, data, and processes. The people that make up your RevOps team will make or break its success. Though they each have their own specific responsibilities, they all have the same end-game. Thankfully, RevOps promotes collaboration and teamwork as clear and rapid communication between team members is essential for dynamic account-based targeting.
For instance, by having transparency between sales and customer service, the latter can know exactly when to reach out to a client who's nearly ready to buy and close that deal. The extra personal attention to detail can also help encourage your clients to recommend your services to other associates in the same field, generating more business.
Furthermore, the added transparency also helps dissuade any conflicts of interest or disputes as every contribution goes toward the same collective target of more customer revenue. In addition, having a single Chief Revenue Officer in charge of the team helps fill in any gaps in organizational leadership, offering a more focused approach. There's a reason that this job title has seen a steady increase in recent years.
However, your RevOps team will be nothing without a detailed client database. Obtaining a high-quality data (client demographics, preferences and pain points) through hands-on customer service, can enable your company to increase sales once you know exactly when to strike. Correspondingly, having open communication channels makes it easier to share data efficiently, like customer feedback via surveys, follow-ups and ratings, so everyone can share in the team's successes.
Concerning data, a major benefit of RevOps is how it enables your business to sort out unorganized databases and eliminate obsolete tools. Creating uniform data systems can highlight any redundancies and help get rid of overlapping technology, which leads to greater efficiency and collaboration. Tools to help automate marketing, prioritize client outreach, track web analytics, and monitor customer satisfaction could also be implemented and made accessible to every division of the team.
Your RevOps team members and data resources must be included in the same processes for everything to work cohesively. Promoting clarity among all processes from marketing to sales to customer feedback has proven to foster more accountability and reduce organizational oversight.
If you're looking to increase your client retention and sales while sharpening your customer-based marketing techniques, RevOps is a must in order to remain competitive in today's world. It helps cut operational costs at every turn while generating more business opportunities in the long run.
How's that for revenue growth?