By Marina Sala, on 28 September 2021
Designing a creative Unique Selling Proposition is an integral part of successfully marketing a brand, especially when you are competing in an already saturated market. It can help you position your brand and products and gain a competitive advantage. A USP also helps consumers understand who you are, why they should trust you, and what differentiates you from other brands.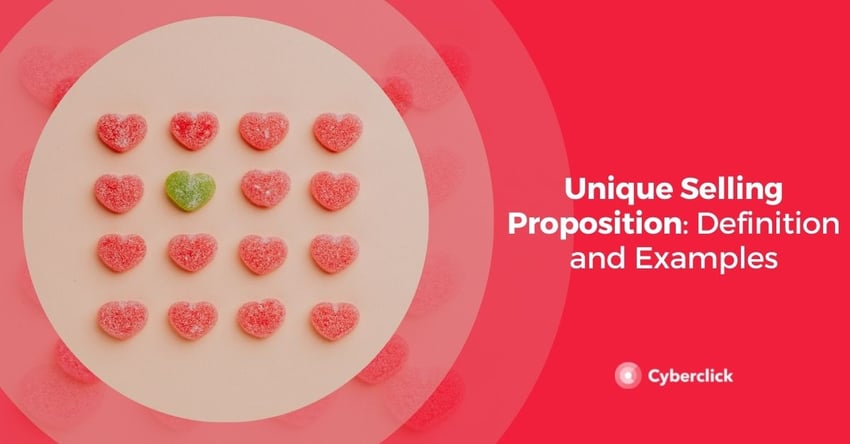 In this article, we will look at a comprehensive Unique Selling Proposition definition to help you understand how you need to focus your sales and marketing strategies in order to stand out from the masses and attract more customers to your brand.
We will also look at a few well-known Unique Selling Proposition examples from the world of ecommerce to help inspire you to create your own USP and gain a competitive advantage.
What Is a Unique Selling Proposition?
A Unique Selling Proposition is a tagline that shows your target market who you are and why they should make a purchase from you. It is a tangible representation of your personality, image, and reputation. A USP can be a great marketing tool to help consumers understand what makes your products or services special, and why they should choose you over your competitors.
An effective Unique Selling Proposition should be:
Memorable. Stay away from generic statements like "high-quality products" as statements like these rarely make a lasting impression. Instead, focus on communicating what makes you unique.
Tangible. Any claim you make needs to be backed up by results. For example, don't claim to be the fastest delivery company in town if your average delivery time doesn't actually reflect this. Instead, focus on something like "good things come to those who wait."
Customer-focused. Your Unique Selling Proposition should highlight the benefits your customers will get if they choose your products. It should be focused on their needs, wants, and pain points. What complaints does your target market have about your competitors? What do they care about the most?
Unique. Your USP should play to your strengths and help you stand out from the crowd. It should be creative and unique, while still focusing on what your target market cares about the most. Stay away from generic, empty promises.
More than a slogan. Your USP should reflect all areas of your business as well as every brand communication and interaction. Don't just talk the talk - walk the walk, too!
A USP will often include buzzwords focused on "low cost," "high quality," or " first-ever," which indicate to customers that your brand is able to offer them something which others are not able to. However, the most effective USPs take it a step further than generic statements about price or quality, as we will see in the Unique Selling Proposition examples below.
Unique Selling Proposition Examples
Here are a few Unique Selling Proposition examples from well-known brands. They are all examples of how established brands got creative in order to corner their share of the market. Perhaps they might inspire you to create your own USP.
Mars: M&Ms
"The milk chocolate melts in your mouth, not in your hand"
This slogan is a great example of a quirky Unique Selling Proposition. Taking the fact that your product doesn't melt when you hold it might seem like an odd choice for a USP, but Mars did just that, and they did it very well. So much so, in fact, that the catchy slogan has survived the test of time and helped to make M&Ms one of Mars's most successful products.
Fedex
"When it absolutely, positively has to be there overnight"
This memorable Unique Selling Proposition was launched by FedEx in the late 1970s, and it still holds true to this day. Why did it work so well? Because it is customer focused, it addresses a gap in the market, and it is based on a common customer pain point (slow deliveries). How did they come up with the idea? By listening to their target market, of course.
When Fedex started using its famous tagline they were the only couriers capable of honoring their promise, thanks to their large network and infrastructure. Although many companies now guarantee next day delivery, this Unique Selling Proposition along with Fedex's resulting reputation, have stood the test of time.
It just goes to show how speaking and listening to your audience can be a very effective way of differentiating your brand.
Robinhood
Robinhood is an investing platform that believes the financial system should work for everyone, not just the wealthy. Users can invest as little as $1 in the stock of their choice, straight from their smartphone and with no prior knowledge of the markets.
They decided to reinforce this USP with a simple, a straight-to-the-point slogan:
"Investing for everyone"
The slogan breaks down barriers in a traditionally closed market, highlighting their simple and accessible processes to the everyday person.
Canva
Canva, an online design and publishing platform, also created a Unique Selling Proposition based on the concept of simplicity and accessibility. Compared to its many competitors, including Adobe PhotoShop and Illustrator, Canva decided to create a USP that emphasized how anyone can use its products, no prior design experience necessary:
"Empowering the world to design"
The use of the word "empowering" also generates an emotional response from its audience, helping them feel confident enough to give the software a try.
Canva's Unique Selling Proposition shows that the company understood its market and was able to convert consumer pain points into a competitive advantage.
Avis
For many years, Hertz dominated the car rental market and, no matter what Avis did, they were unable to knock the automobile giant off the top spot. Understanding that they couldn't compete for the top position, Avis decided to turn this drawback into a positive, launching its now famous Unique Selling Proposition:
"We're number two. We try harder"
In other words, they knew they weren't number one, but that just made them more committed to providing a quality service. The campaign was so successful, that Avis's market share went from 11% to 35% in just four years.
Third Love
Third Love is an American lingerie company that was founded in 2013. The brand is known for marketing body positivity and offering size-inclusive bras and half-cup sizes.
Fully aware that they were entering an already saturated market, Third Love realized it needed to come up with a creative Unique Selling Proposition to help it stand out from the masses. Instead of focusing on style or quality, the lingerie suppliers focused on a common consumer pain point: finding lingerie that both looks good and actually fits.
Their Unique Selling Proposition communicates the fact that their top priority is helping customers find products that fit based on individual needs:
"We have the right fit"
This philosophy goes far beyond their USP - it forms an integral part of their brand, and the ethos is reflected in all their ads, messaging, and copy. They offer half-sizes and a "try before you buy" guarantee. They even have a Fit Finder quiz that allows first-time customers to find the right fit for them.