By Berta Ventura, on 12 May 2022
Telegram, with more than 1 billion monthly active users, is becoming one of the most popular platforms. The app allows brands to establish a close relationship with users, which is an integral component when it comes to building credibility.
But, how can the free Telegram app be used in a digital marketing strategy? Keep reading to find out!
How Can You Market on Telegram?
Unlike social networks like Instagram or Facebook, which are mainly used to showcase products and services or generate content relevant to the sector to which the company belongs, Telegram makes it possible to establish a much closer interaction with users and create an online community. These are the best ways to do it:
Create a Channel
With a Telegram channel, you can inform your audience of news, promotions, and when new content is published. It is a one-way medium. The brand is the one that publishes the information and it is not possible for recipients to interact with it in any way.
The channels, then, are very useful for keeping customers informed on topics related to the brand.
Create a Group
Telegram allows you to create groups of up to 200,000 users and one or more administrators. Unlike a channel, this is a bidirectional medium; users can actively participate in it by posting, commenting, and interacting with each other. It is the best way to create a community interested in a specific topic related to the products or services offered by your brand.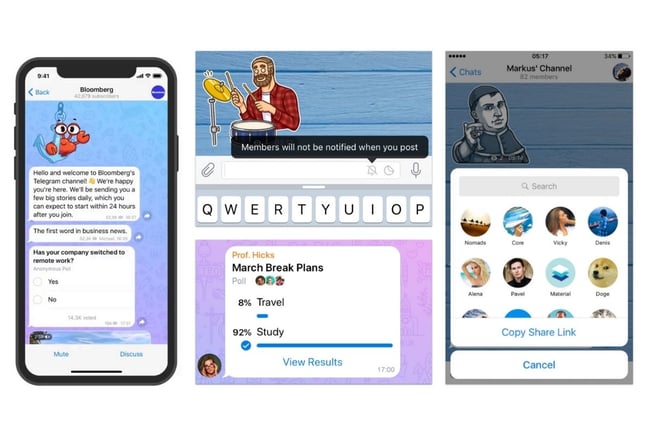 How to Create a Digital Marketing Strategy for Telegram
1. Define Your Objectives
As with any other marketing strategy, it is essential to define your objectives. These will determine whether it is better to have a channel or a group on Telegram.
In addition, you must determine the type of audience you want to reach and the type of information or content you will create to appeal to them.
2. Plan Your Content
Once the objectives have been defined, you can start planning your content. You should post content on a consistent schedule, which is why it is important to plan and prepare in advance. Your best bet is to create a content pyramid to define your strategy.
3. Create Valuable Content
All content should provide valuable information for your audience, otherwise, they will abandon the channel or group and there will be no users who want to join.
All information should also be verified since posting incorrect information could project an unprofessional and unreliable image of your brand.
4. Take Advantage of Bots and Automation
Chatbots can be used to answer basic or very common customer questions, but also to send images or launch surveys automatically. They also make it easier to stick to your content calendar since you can schedule your content to deploy automatically.
Keep in mind that bots can't replace the person in charge of administering the group and controlling the content that is published.
5. Leverage Link Building Tools
To let your audience know that you have a Telegram channel or group, you can use social ads or any other means of communication, including link building, to inform customers of its existence. This way, in addition to keeping regular customers informed of everything, you can also gain visibility and leads.
6 Benefits of Using Telegram in Your Marketing Strategy
1. Telegram Enables Process Automation
Telegram allows you to customize your channel or group and automate many different actions like scheduling posts or sending automatic replies. The latter is very useful because administrators don't have to keep an eye on if members are spamming the group, though they must still make sure that members are making good use of it.
2. It Is a Multiplatform Social Network
Not only can Telegram be used on a smartphone, but it can be installed on any device with a screen, such as a tablet or a computer. This is another reason why it is so popular among users.
3. Telegram Groups Foster the Creation of a Community
A Telegram group created by a brand brings people together who share common interests around its products or services. Users tend to share experiences and opinions, give each other ideas, and share tips and tricks.
4. Its a Great Networking Opportunity
Through Telegram groups, you can find experts in any given field. In other words, it is a way of making business contacts and finding partners or collaborators, as well as gaining visibility and increasing the number of leads.
5. Generate Qualified Leads
It is also a way to generate quality web traffic.
People who are in the channel or group are already interested in what the company offers. It is necessary, however, to take care of your community and offer them quality content.
6. Customer Service Tool
Finally, Telegram can be used as a customer service channel. It is free, but what sets this application apart from others is its privacy and versatility, something highly valued among users.
In addition to using bots to automate answers to FAQs, there can also be someone on the other side answering more complex questions.

Telegram offers companies endless possibilities to be closer to the customer and offer high quality service. Once you've defined the right marketing strategy for your business model, you can begin enjoying its benefits.