By Shanon Roberts, on 26 January 2022
Chatbot marketing is an increasingly popular digital marketing strategy that can help you facilitate customer communication and improve you customer service levels. It involves using chat programs to automatically generate conversations with potential and existing customers for marketing purposes. The benefits include streamlined consumer communication, lead generation, and the ability to personalize the customer journey in real-time.
In this guide, we will share a few tips and examples to help you provide a chatbot experience that engages the consumer and adds value to their experience with your brand. We will also share a few examples to help you design a chatbot marketing strategy that helps you better serve your customers and drives more prospects through your marketing funnel.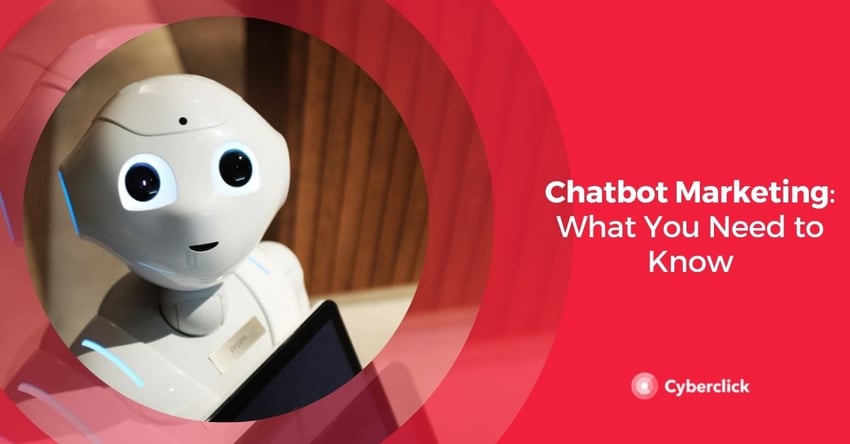 What Is Chatbot Marketing?
Chatbot marketing is a technique used to promote products and services using a chatbot, which is a program designed to automatically interact with received messages. Chatbots use technology such as natural language processing (NLP) and voice recognition to interpret certain keywords and prompts through the use of complex algorithms. These algorithms are able to identify what a user has said and select an appropriate response. This enables chatbots to respond to queries, offer suggestions, and provide general automated customer support. This can be done through chat mediums like SMS text, website chat windows and social messaging services across platforms like Facebook and Twitter.
There are a number of benefits to implementing a chatbot marketing strategy in your company.
They enable you to immediately respond to customer questions and queries. This helps to improve the customer experience and increase leads and conversions.
Chatbots can collect and analyze data, providing you with valuable information about your customer base.
They can help you personalize your conversations with customers, enhancing customer engagement and brand visibility.
A chatbot marketing strategy can help you automate and streamline basic customer service processes, freeing up your staff to work on more complex tasks.
Tips for Incorporating Chatbot Marketing in Your Digital Strategy
Here are a few tips and best practices to help you design and incorporate a chatbot marketing strategy that boosts your business.
Make sure you define your specific goal and purpose. Will you use chatbots to resolve customer service issues, promote products, or generate leads?
What are your customers' most frequently asked questions? Speak to your customer service staff to find out what information customers request most frequently in order to design a chatbot program that adds true value.
Use a creative team to design a voice and personality for your chatbot that aligns with your brand. Make sure to set clear content guidelines and a consistent voice for your chatbot.
Try to design a customized experience. Consider using customer names and locations in your chatbot interactions to improve the customer experience.
Create a welcome message for your chatbot that is compelling, sets expectations, and perhaps asks questions.
Create detailed decision trees for your chatbots so that all conversations fully satisfy customer needs. Once a conversation gets several layers deep, make sure your bot is programed to push users to a live representative to avoid frustration.
Test all possible interactions to make sure there are no bottlenecks or journey leaks where customers might get stuck. This will add value to your chatbot.
Consider using emojis, images or animated GIFs to make your chatbot conversations more compelling.
Track the performance of your chatbot marketing strategy on a regular basis.
Chatbot Marketing Examples
Let's finish by looking at a few examples of brands that have successfully implemented chatbots in their communication channels. This will help you implement a successful chatbot marketing strategy.
Hello Fresh
Hello Fresh, the recipe box delivery service, has designed a messenger chatbot that is self-aware. The chatbot's name is Freddy and it was created to cut customer wait times.
Hello Fresh decided to implement a chatbot marketing strategy for two reasons. Firstly, because they had a high volume of incoming messages and needed at least one customer-service agent to monitor incoming Facebook messages around the clock. Secondly, because their customer service response times were too slow. This resulted in overworked customer service reps and frustrated customers.
Hello Fresh provides a variety of prompts to help guide the conversation from point A to point B. The bot suggests questions based on the most common questions their in-person reps receive. Hello Fresh also equipped Freddy with a few features just for fun in order to provide users with a memorable brand experience that would keep them engaged.
Universal Studios
Universal Studios uses its chatbots to sell an experience rather than a product. Users can interact with chatbots in order to book reservations and buy tickets. It's doesn't stop there, though. They can also get practical information from the bots while visiting the park. For example, they can find out ride wait times in real-time, find the nearest restroom, and pick a restaurant close to rides they want to visit.
What's more, the bots can divert users to live customer service reps whenever they need more detailed information.
Sephora
Sephora is perhaps one of the most successful chatbot marketing examples out there.
The beauty retail giant has always prioritized building solid customer relationships and helping people find the right product. And they didn't hold back when they designed their chatbot marketing strategy either. In fact, Sephora has implemented three chatbots: Sephora Reservation Assistant (Facebook), Sephora Virtual Assist (Facebook) and Sephora's Kik bot (a Canadian messaging app targeted at teens).
Sephora's aim with these bots was to deliver an immersive retail experience that helped shoppers interact with the brand and learn. Customers can interact with the bots to communicate any queries and requests and to make reservations for in-store makeovers. They can also get makeup tips through the bots, access how-to videos, and read reviews.
All this has resulted in increased reservations, increased in-store sales, and overall increased engagement, demonstrating the value of a well-designed and implemented chatbot marketing strategy.