By David Tomas, on 26 July 2019
There is no excuse: if mobile is not at the very core of your digital marketing strategy, it is time to adapt or die. In 2015, Google announced that mobile traffic had overtaken desktop traffic for the first time, and this difference has only continued to increase. In order for your digital marketing strategy to continue to succeed, developing a mobile marketing strategy is crucial. Adapting your digital strategies to mobile, simply means identifying key element of your marketing efforts and introducing these to the mobile device of your users.
The mobile app market has reached maturity, and users are more than ready for mobile marketing. So in order for you to be able to fully understand and incorporate this into your strategy, let's take a look at what mobile marketing is, which tools it uses and how you can use it to increase conversions.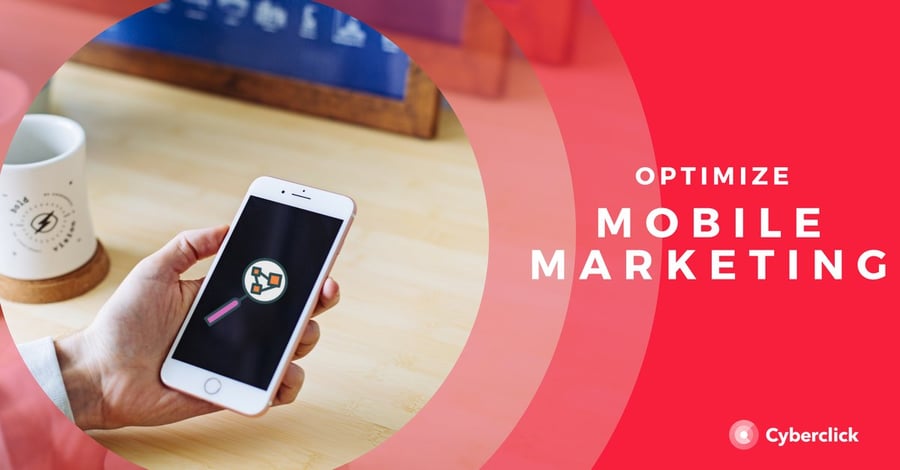 What is mobile marketing?
Mobile marketing is a series of techniques and formats to promote products and services that use mobile devices as their communication tool.
It's big advantage is that it opens a personal channel between the advertiser and their audience, offering a world of personalization options.
Over the past years, the popularization of smartphones has completely changed the way we access information, and, along with it, our consumption behavior. Thanks to this, a new way of looking at marketing has come about, to the point where many authors even believe that mobile advertising implies a whole change of paradigm, rather than just an update.
Just a few years ago, mobile marketing was considered as a complement to other digital marketing that were targeting desktop users. Nowadays however, this trend has turned itself upside-down, and there is no doubt that mobile is king.
Taking a look at IAB's data on the importance of Mobile Advertising gives us an idea of the importance of this format:
The daily average time spent online is of 2 hours and 34 minutes for smartphones and 1h19m for tablets.

On average, mobile users download 2 apps a month, have 17.8 already installed and regularly use 9.1.

One in every three mobile users frequently use their device as a "second screen" in combination with television.

9 in every 10 smartphone users have used it at some point in a purchasing process (especially those between 16 and 45 years of age).

4 in every 10 have used mobile commerce.

The most common issues people have with mobile purchasing is that they would prefer a bigger screen (61%) or lack of trust (33%).
Why invest in mobile marketing?
The statistics confirm that mobile marketing is, without a doubt, more than capable of giving your brand that extra push it needs:
Nowadays,

users connect more frequently from their smartphones than from their desktops.

According to Google, 2015 was the first year in which mobile traffic overtook desktop traffic, and this trend has become so much more than a trend. In the United States, 75.1% of internet users connect from their mobile devices.

Another mobile marketing advantage is

how easy it is to convert.

By using smartphones, we can reach out to users in real time, even when they are outside of their homes, when they are most willing to purchase. According to one of Google's studies, 50% of users who made a local search from their smartphones led to them taking action (like going to a store, for example). As for user who made these searches from a desktop, only 39% were led to take action.

Most consumers

search for holiday events and gift ideas

from their smartphones, making mobile marketing a very attractive channel for your holiday campaigns. This is a particularly good option for small and local businesses, as it will interest users to know where they can purchase products or services near them.

According to the

National Retail Federation's Holiday 2016 study, American consumers plan to

spend an average of 935$ during this year's holiday

shopping season, making it one of the best opportunities for your campaigns and marketing efforts.
The most important mobile marketing tools
Let's take a look a some of the main mobile marketing tools and some recommendations of how to use them in your strategy.
1# Mobile Searches
Search results on mobile devices are different from on desktop, and Google has already announced their intention to make mobile indexing the main one in the near future. In other words, it is essential to have a specific SEO strategy for mobile.
When optimizing you website for mobile devices, I recommend taking the following ideas into account:
Mobile users do not read as much as users who search from desktop devices, so remember: less is more.

Patience is also significantly reduced on mobile devices, so be sure your loading times are as short as they can be.

And, of course, prioritize responsive design and usability. The size of the buttons is also very important.
2# Mobile ads
Traditional banners are met with increasingly more skepticism and disapproval, and smartphones are no exception to the rise of adblockers. For this reason, it is important to use formats that are less intrusive and offer a better user experience, such as interactive ads, animated banners and videos.
3# Mobile apps
Smartphone users have completely and entirely integrated apps into their lives, as we have shown above. A brand app can, as such, be an incredible investment to increase interaction and improve your users' experience. It is important however to make sure that your app is supported by a thorough and complete app marketing strategy. The design is just a fraction of the work.
4# Coupons
Discount coupons are one of those marketing techniques that have been around forever,but, thanks to mobile, they have been completely revolutionized.
Now, these discount coupons follow users around inside their own pockets, which increases conversion possibilities. We also have the option to send personalized offers by using the user's location and other data, increasing their relevance. And if you really want to modernize your strategy, "disappearing coupons" using apps such as Snapchat are great to instill a sense of urgency.
5# Email marketing
One of the main tasks people use their smartphones for is to check their emails. 72% of Internet users read email monthly. Contact your clients via email through the phone! And if you're still not convinced, according to Litmus, 12,000 million emails were opening throughout the world in the year 2014 and about half of this figure was opened from a smartphone or tablet.
Thanks to this, email marketing based techniques are more alive than ever. If you do decide to use them, be sure not to forget about responsive templates.
Periodically send a newsletter where you summarize the last posts published on your blog, news about your industry, share internal and external videos that might be of interest for your entire customer database, send promotions or offers and let them know of any changes can affect buyers.
6# Geolocations
Geolocation is one of the ways in which mobile marketing has completely revolutionized our way of perceiving advertising. We can now offer users promotions and discounts depending on the physical context in which they find themselves.
On the other hand, location-based mobile platforms also offer users the chance to share content based on a certain space or location. The latest exterior digital advertising formats also open many new and exciting doors to encouraging interaction.
Location or geographic location is one of the great opportunities of mobile marketing. The "traditional" Internet (i.e., in desktop) has the characteristic that their access is limited. However, mobile Internet access offers endless possibilities and allows accessibility and user response is much more flexible, dynamic and immediate. People tend to be more interested in what is close to us, and enjoy it. This is the case of some firms that have revolutionized the world of apps as Wallapop or Next Job that, each in its sector shows users the options that are geographically closer and get them to feel more interested.
7# Text and multimedia messages
Text messages (SMS) were the first ever tool to be used in mobile marketing, and yet they still continue to be present and efficient in offering users promotions and information, so don't forget about them!
10 tips to convert more with your marketing campaigns for mobile devices
Responsive, responsive, responsive.

I have said it before and i will say it again: a responsive design is imperative for your marketing campaigns to succeed. Remember that you not only have to adapt your webpage, but also the rest of your promotional materials.
Improve your website's navigation.

If you want to increase your conversion rates, your users' experience on your website is key. In this sense, I would recommend prioritizing navigation. Details as simple as including a smooth and simple to navigate menu and page footer make the difference between a happily purchasing customer or a frustrated user who leaves your site halfway through. Your Call-to-Action buttons and links must also, of course, be totally compatible with mobile devices.
Create your own app.

And when you design it, ask yourself why users should download it… and keep using it 6 months later.
Don't forget about desktop.

This may seem contradictory after all I have said in this article, but desktop computers still have a place in marketing place. They are still extremely useful for pre-purchase researching and when users want to take a deeper look at content.
Adapt your content to mobile users' preferences.

When we're out and about, our needs in terms of searching for content change. We don't really want to stop and read a 3,000 word article - what we need are quick solutions. And we have much smaller screens. So be clear and concise and use short titles.
Sign your store up for Google My Business.

If you want users to visit your store, you'll have to show up when they search for you. For that to happen, you need your business to be on the map. It is a very simple process and will immediately improve your traffic from search engines.
Add a personal touch.

In a world full of content, users need to know you are thinking of them. Here are some quick tips to get closer to your audience: identify each client's specific needs. Use images and videos, tell stories and create characters for your brand.

Include social media in your strategy.

Nowadays, the majority of social interactions are produced from mobile devices. On top of it, exclusively mobile social networks, such as Snapchat and Instagram, are becoming extremely successful among users. So there is no excuse not to include them in your marketing for mobile devices.
Combine different channels in your campaigns.

There is no reason to limit yourself to just one tool - they can be perfectly well combined! The trick is to reach out to each user in their favorite way and offer an integrated, seamless experience, without overwhelming them. When planning your campaigns, think of different mobile ways to connect with your users.
Follow up on your results in real time.

There are an incredible amount of metrics and analysis systems at the tips of your fingers - use them! And if you really want to optimize your campaigns, consider

A/B testing

.
10 steps to optimize your mobile marketing
1. Create a responsive webpage
The conversion ratio is 160% higher among consumers shopping sites that are optimized for mobile sites than are not optimized for the smartphone. Being responsive is necessary at this time, both to improve the consumer experience and to improve your own search engine rankings. Google penalizes since April 21, 2015 to all companies that have not adapted their websites.
Is your website not adaptable to mobile devices yet? Well, what are you waiting for? Having an entirely responsive website should be the first step in your mobile marketing strategy, guaranteeing your visitors a great user experience from any device. As well as a well adapted design, you should also keep your loading times in check: studies show that users tend to abandon websites that take longer than 4 seconds to load on their smartphones.
There is no excuse: your website has to be prepared to be seen correctly, practically and attractively on screens of all sizes, and the answer to that is being responsive.
Last year, Google announced the launch of the new "mobile-first" indexing, which in time will become even the default. Companies without a mobile website are destined for failure, so be sure not to make that mistake!
Marketers who have not updated their websites will soon begin to feel the negative effects or their mistake, while those who have already taken this step can focus on the next one: improving the user experience.
One thing is clear: the easier you make things for your users, the easier it will be for them to convert into clients. A smooth mobile experience that makes the purchasing process easier is one of the best investments you can make for your brand. Focus on these two ideas to begin your optimization process:
Focus on

improving loading times.

Mobile users have much less patience than desktop users, and often use weaker internet connections.
Offer the options of

logging in of signing up using social profiles

, rather than forcing them to create a profile from scratch. This makes it much easier for them to continue with their purchasing process rather than giving up halfway.
2. Include an option to pay via mobile
Mobiles have changed the way we shop. 71% of buyers using loyalty programs use the smartphone to compare prices and 88% say they trust the reviews they read online as well as personal recommendations, these data are drawn from the study "Reality of Retail" by InReality's.
For mobile users, the less steps they have to go through, the easier it will be to get them to convert. Which is exactly why big companies are already changing their processes to allow paying by mobile.
Social networks like Facebook, Twitter and YouTube have already integrated "Buy Now" buttons that allow users to pay and purchase directly from their timelines, instead of having to be redirected to an external page. Given that the user does not have to go through a long list of steps to confirm their purchase, it significantly cuts down on potential distractions, making it much less likely for them to abandon the process along the way. Logically, all this translates to higher conversion rates.
Mobile purchases are an incredible opportunity to reach out to users at the precise moment when they are ready to buy, with as little distractions as possible. As this tool become more and more popular, in 2017 we will see it become a part of many brands' mobile marketing plans.
If you want to be sure you are doing right by your mobile marketing strategy, my recommendation is definitely to investigate and read up on payment platforms until you find one that offers security as well as simplicity.
Technology has impacted the stores, especially mobile, as they have changed the purchase path between users. Create an e-commerce is a good option to retain the most frequent users of online shopping and modernize your image.
3. Launch a mobile ad
Mobile SEO is vital if your goal is to increase your brand's visibility. In 2015, Google confirmed that mobile traffic had overtaken desktop traffic for the first time ever, and this trend has only grown since then. A good mobile marketing strategy can never forget that your users are searching for you on their mobile phones, and you need to be there for them!
In order to improve your mobile SEO, the first thing you have to do is to make sure your website is 100% responsive, guaranteeing your design will seamlessly adapt to any kind of device. This will not only benefit your positioning on Google, but it will also avoid your losing clients due to a poorly functioning website.
Thanks to tools such as Google AdWords, you can create ads than can be viewed only from mobile devices, allowing you to make the absolute most of their "real time" potential. These kinds of ads are particularly useful for local searches and depend heavily on the context.
The next step is to figure out what people most frequently search for on their mobile devices related to your brand. With the help of keyword tools, dig deep into the most searched for keywords on these devices and figure out how you can solve your users' needs with your content. Creating a fully and entirely optimized campaign can be quite tricky when starting from scratch, so if you have any questions, don't hesitate in getting in touch with an SEM expert who can help get the most out of mobile advertising.
4. Increase the ways to interact with your brand
Users are not all the same, nor are all purchasing experiences. Which is why it is so important to offer users different ways to communicate with your brand. Here are some ideas to start off:
By clicking on an ad's image.

By calling directly from their smartphones.

By messaging you on social media.

By seeing offers and placing orders through an app.

And if you have a physical store, give them all possible ways to find it! Why just give them an address when you can include a map?
Another very important thing to remember of course is that people use a large variety of mobile devices to get online and do their shopping. Make sure your mobile marketing is compatible with different devices and operating systems.
5. Join mobile social networks
Although you must consider all possible distribution channels, the evolution of technology positions the Social Media as a key channel. In fact, 39% of Facebook users come only through mobile, and in the case of Twitter, this percentage rises to over 60%. So this employs creativity and leads consumers to download your application or enter your site through social networks, since it is here where they will find the majority of mobile users.
Networks such as Instagram, Snapchat and Periscope use mobile to its full potential and create unique opportunities. After their incredible success over the last years, they are not only a side note of marketing strategies, but rather a vital piece to the puzzle.
But, as all marketers know, social networks come and social networks go, and although one in particular may seem to be taking over the world today, there is no guarantee that anyone will even remember its name not long after. The trick is not to stick only to the more conservative options, but rather to diversify in order to minimize the risk.
For your social media marketing to work, personalization on each platform is key. Be sure not to publish the same content on all networks at the same time, or you will run the risk of driving away your followers and friends. Instead, bond with them by publishing real time photos or videos, that will get them used to your brand's day-to-day life, philosophy, experience and personality. If you want to impress your clients and get your mobile marketing to work, diversify, adapt and thrive!
And, of course, do not forget to measure and monitor the results from all your social media channels to discover what content really works, and continuously optimize your brand's communication.
6. Make the most of marketing via SMS
If you think SMS are a thing of the past, you couldn't be more wrong! Using SMS to contact your customers is a good idea and also it's a least-used system than email that allows us to send a short and precise message.
Avenue, a clothing company, has realized two important factors among its female clientele: they love and adore their mobile offerings. For this reason, they have based part of its marketing campaign in sending SMS messages with offers, coupons or to present new trends of the season.
Studies seem to show that smartphone users tend to read promotional SMS more frequently than emails. Mobile Marketing campaign via SMS can be one of the best ways to get quick results, especially if you combine them with discount codes or coupons that redirect users to your website.
7. Make the most of coupons and discounts
Remember when our parents would cut out coupons from newspapers and magazines to take them to the store? Well, mobile marketing can use this same strategy to attract clients… slightly more conveniently and efficiently!
No one goes anywhere without their smartphone nowadays, meaning the risk of forgetting our coupons at home is all but nonexistent. Being a simpler process, the conversion rates are higher. As if that weren't convincing enough, mobile coupons take advantage of opportunities to attract your clients' attention, by, for example, combining them with geolocation technology and sending them push notifications to tempt them with offers close to their location at that moment.
To make the most of your discount strategy, you will need to come up with ways to create irresistible offers and adapt them to each situation. Marketing automation can help you manage different profiles to make sure you make the perfect offer at the perfect time. And if you want to create a certain sense of urgency and time pressure to encourage conversion, try combining these coupons with temporary content on social media, such as Snapchat.
8. Mobile App or Mobile Website
Many companies are rushing to create an application simply because their competitors are. According to a recent study by Gallup, 72% of americans take a look at their smartphones at least once and hour. They spend a very large majority of this time (up to 90%) interacting with apps.
However, there is no right answer to this question as it depends on what your goals are and the type of interaction you expect with their audience. A properly optimized mobile site can fulfill all your needs, with the advantage of not needing to be downloaded, access is usually higher (possible from any device) and low cost. However, an app allows you to be more creative, and in general, the degree of conversion and retention is higher because users spend more time on it and interact more. Having a mobile app increases interaction with your brand, offers a clear and easy path directly to leads and client data, and gives you new ways to connect with your audience. Thanks to the astonishing popularity of this tool, designing and developing mobile apps has become easier than ever, making it a great option for even small and medium sized companies.The handicap is that you should consider the costs since an app requires more resources for its development.
If you decide to include a mobile app in your mobile marketing strategy, remember that promoting it properly is essential. Here on our blog you can find a guide to creating your App Marketing Strategy.
9. Plan ahead
Normally, people start planning their Christmas shopping months in advance, even if it's just by making a list of gift ideas. And if your clients do it, there is no excuse for you not to do it aswell. It may be a bit too last minute for the 2016 holiday season, but it is never too early to start planning your campaigns for next year (even if it's just putting a reminder in you calendar of when to start planning them). Generally, it is advisable for your Christmas campaigns to be ready by September at the latest.
10. Make the most of trends and events
The holiday season is full of opportunities to launch mobile marketing campaigns, be sure not to miss out on them! For example, you can prepare for Black Friday ahead of time, making it easy and straightforward for users to access your deals and offers on the key day. In this case, Google AdWords Ads for mobile can be extremely useful. You can use this technique for other important days also.
And remember: in terms of mobile marketing, integration is key. When planning out your strategy, think about creating synergy between your different mobile marketing strategies as well as with other channels. For example, if the link in your SMS redirects to a page that is not adapted and ready to be viewed on mobile devices, you will not get any conversions. Strong coordination is essential when implementing your holiday season mobile marketing strategy. Good luck, and Happy Holidays! :)
3 trends and features that lead to success through mobile marketing
The effectiveness of mobile marketing depends on whether or not we use it wisely. Start adapting your to mobile, by integrating 3 trends and 3 features into your digital marketing strategies. To know whether or not your efforts are successful and justify your investment in mobile marketing, apply our key mobile marketing metrics into your next marketing evaluation.
(IMAGE)
3 trends that lead to success through mobile marketing
Big data.

In the words of Randy Giusto, vice-president of Outshell, "CMO's continue drowning themselves in data as they strengthen their marketing and advertising efforts". We live surrounded by an ever flowing current of information that does not stop growing, but we run the risk of losing sight of the big picture. It is vital to have people on your team that are able to convert this avalanche of data into insights that support and feed your strategy.

Dual screen.

According to a recent study carried out by IAB Spain, the best time to run mobile ads are… when the users are watching TV! Consumer habits have changed incredibly over the last few years. Now, their attention is divided between various screens and they do not hesitate in simultaneously using their smartphone while engaging in other activities. Take advantage of this trend to offer coherent advertising where the different channels complement each other to achieve maximum impact.
New solutions based on Artificial Intelligence allow us to automate our ads, for them to reach further than ever before. No, I don't mean replacing your team with a team of robots, but to use specialized technology to your advantage to achieve the best results. With this, you will be able to combine multiple variables in an automatic way, and choose the best ones for your objectives with minimum effort; all while your team focuses their efforts on optimizing creativity and strategy. It's a win-win!
3 features that lead to success through mobile marketing
Smartphones offer extra information, like the users'

geolocation

, for example. This information can give you very interesting insights into your audience, and con even be used as part of the promotion itself, as happens with

Snapchat's Sponsored Geofilters

.

It's quite obvious that there are no longer any excuses for your design not to be entirely

responsive.

But aside from adaptability, remember to keep screen sizes in mind: less is more! Keep in mind that you can also use horizontal formats as well as vertical!

Last, but certainly not least:

usability

is key. When we use our smartphones, we have very limited patience and attention span for loading loading times and buttons that don't really work, so be sure to take extra good care of your user's experience.
5 mobile marketing metrics any manager needs to know
It is so vitally important for your brand to have a mobile marketing strategy that earns them a place in their consumer's pockets. To know whether or not your efforts are successful and justify your investment in mobile advertising however, you need to fully understand mobile analytics. And so, I would like to talk to you today about the 5 mobile marketing metrics managers need to know.
1) App installs
The number of times you app has been installed is perhaps the most obvious indicator of your app marketing strategy's success. The first step is, naturally, to convince potential users that your app is worth downloading. If you are able to attract a significant amount of downloads, it will generate a type of magnetic effect that will attract even more people. But App Installs is not the only metric you need to pay attention to: keep reading to find out which are the most exact and effective mobile marketing metrics.
If you want to know how to increase your number of App Installs, download the

Mobile App Marketing eBook

. It is a complete guide to mobile marketing strategies.
2) Registrations
The first mobile analytics mistake you need to avoid: mixing installations up with registrations. They are two very different metrics and, in fact, they tend not to match. This happens for two reasons:
Because of users who download you app but never actually open it, and, as such, never register in it.

Because of users who install your app on several devices (on their smartphone and their tablet, for example), but only use one account.
All in all, registrations offer a more trustworthy perspective of your app's real number of users, as opposed to installations.
3) User activity
When analyzing user activity data, we start leaving behind the world of mere metrics, and enter into the world of KPIs, which can truly provide you with valuable information to guide your business decisions. Here are the user activity metrics you must not lose sight of:
Active Users.

Normally, this number is measured over a certain period of time: the most common being daily, weekly and monthly active users. If all of your users were to use your app every day of the month, then your number of daily active users would be the same as your monthly active users.... But alas, real life tends to be slightly more challenging than that.
Frequency of use.

This metric is very important to measure how much people actually interact with your app. You can also calculate the engagement rate by dividing the daily active users by the monthly active users. For example, if your daily audience is of 100, and your monthly 500, your engagement rate would be 20%, although it is important to keep in mind that this isn't uniform.
Retention Rate.

This figure measures the frequency with which users return to use the app again. It is normally measured over a period of time: two days, a week, two weeks or a month. It is very important and particularly relevant for financial planning in mobile marketing.
Session Duration.

Lastly, you should be paying attention to how much time users spend interacting with your app. The importance of this metric compared to others depends on the kind of app: games or social networks, for example, strive to make sessions longer, whilst booking apps want users' experiences to be quick and easy.
4) Monetization metrics
Define KPIs: cost per download, LTV and daily active users. To monitor the performance of your app, you should establish some reviewable KPI's periodically. The first indicator to pay attention to is the cost/download, taking into account all the costs involved in diffusion to obtain a download. Another metric to consider is the Life Time Value (or value of lifetime users), which consists of measuring how much each customer contributes to your margin in the long run, to find patterns of users more and less profitable. Finally, paying attention to the active users that are in daily application will help you identify potential areas for improvement.
We've reached the part that managers will find most pertinent: monetization. How much money do users spend on your app, and how do they spend it? This indicators will help you find out:
Average income per user.

The most basic of the monetization metrics.
Average income per account.

Same idea as the last, but in this case measured by account, as opposed to by individual user.
Average income per paying user.

This tends to be significantly higher than the previous two, as it only takes premium users into account.
Lifetime Value (LTV).

The average income generated by each user during their lifetime in your app. This is the most important metric to determine an app's long term profitability; in fact, many mobile marketing strategies fail because their LTVs are lower than their acquisition cost for each user.
A user's average lifetime.

Closely related to the LTV, this metric tells us how long users remain active for. The longer we can make it, higher the Lifetime Value will be and higher the chances of monetizing our app.
5) Advertising metrics
The ASO is the App Store Optimization, or the process of optimizing an application to appear in the top search results on the app stores, and therefore gets more downloads. If you do decide to create an application, it is essential to pay special attention to this point, since over 63% of users downloading smartphone apps are through some of the App Stores. It is essential to work keywords (important to be descriptive and give priority to quality over quantity). You also need to be very careful about the categories in which you introduce your app, since this choice can make the difference between a success and a failure.
Additionally, social ads are one of the most effective ways to promote an app. Some of these solutions, such as Facebook Ads and Twitter Ads, have specialized formats to attract new users to an app, or increase app engagement. But how do you know if you are getting what you want? Follow these metrics:
CPI (Cost Per Installation).

It is calculated by dividing the advertising costs by the number of installations achieved. As I mentioned before, the importance of the number of installations is relative, so don't rely on this metric alone.
CAC (Customer Acquisition Cost).

It is calculated in the same way as the CPI, but taking into account the number of registrations, as opposed to installations. For this reason, it is a more trustworthy way to know how much it costs to attract new users through advertising.

Conversion ratio.

This is one of the most important metrics to optimize

your mobile marketing strategy

. It is most commonly calculated by analyzing the relationship between the amount of times an apps in clicked on, and app installs. It can also be used to compare the quality of the traffic
Mobile Web: Why and How You Need to Use It
Mobile applications dominate mobile internet usage at 89%. Despite this, Google research shows that mobile web search far exceeds search from within apps in making purchase decisions. This means that although the mobile web accounts for only 11% of mobile internet use, it still holds significant power for advertisers.
But the question facing many companies is how to make use of advertising on mobile web?This question comes from two sources: those looking to monetize mobile sites, and marketers looking to profit from mobile ad tech. Below we give our tips on how to make the most of the mobile web opportunity.
Think About the Significance of the Mobile Web
The mobile web represents a bridge of sorts. It is the connection between the internet used on desktop computers, and the internet we use on smartphone apps. It is both innovative and old school: we use it on mobile technology but its form barely changes from its desktop application.
Search engines such as Safari and Chrome represent the opportunity to access the mobile web outside of desktop or apps. They have adapted to smaller screens and provide browsing functionality for smartphone users.
Websites have had to respond to soaring mobile traffic to maintain the user experience (UX) and user interface (UI) of mobile sites. For some, this has meant developing apps, but this is not appropriate or applicable for all.
Mobile optimized websites are crucial for the UX of those looking at the site. On a mobile-optimized site, the pages adapt to the size of the screen meaning users need not zoom in and out in order to check content. Many large brands and companies are still yet to properly optimize for mobile. It's essential you make your site mobile-ready to properly realize the gains from mobile advertising.
Understand the Options and Their Limitations
There are a number of options available for marketers looking to use mobile ads. Mobile advertisements are available in all shapes and sizes, and they differ in price and effectiveness. This raises the question: which ones should you choose?
Banners are now widely considered both ineffective and irritating and are often intercepted by ad blockers.
Luckily, the choice has become clearer in recent years with the growth of mobile native advertising. Simply put, native advertising fits the form and function of a platform and provides a smoother, more enjoyable UX. The 40% higher engagement of native ads demonstrates their potential.
Web publishers have a range of formats to choose from. One option is the in-feed unit used for a list of articles. Another, is the in-content unit, which as the name suggests is placed within the content. Native can also be used in irregular places and irregular formats allowing it to fit into non-standardized sizes.
Of course, you need to look at the cost/benefit analysis of different ad formats. Native ads can be more costly than banners and interstitials but ultimately their effectiveness outweighs this.
Remember the Significance of Social Media
Whilst social media apps like Facebook, Twitter and Instagram have become mainstays of the smartphone home screen, their usage on mobile is far from exclusively in-app.
Through advertising on platforms like Twitter, you can prosper from the vast volume of traffic on many social media sites. Additionally, you can optimize your campaigns through the extensive targeting capabilities that these provide.
And this is not their only advantage. Social media platforms have wholeheartedly embraced native ads. These ads populate the feeds that characterize these platforms and provide an excellent tool for advertising on social media.
Overall, the combination of strong traffic and accurate segmentation that is available on social media provides an excellent opportunity for advertisers.
Adapt The Measurement
Since the mobile web falls somewhere between desktop and apps, it should come as no surprise that your KPIs should also represent a balance between the two.
Remember that:
Page views are an important measure since native ads don't pop up in the same way as interstitials.

Tracking on the mobile web works in fundamentally the same way as on desktop, but advertisers need to bear something very important in mind. Mobile is often used for browsing and information gathering but consumers frequently switch to desktop to make the final purchase.

A number of indirect performance measures including social media shares and link clicks that can help to shine a light on how frequently people are interacting with your native ads.
Ultimately, the measurement process should be a mixture of shares, views and performance metrics. Added together, these illustrate the role that native adverts play on the mobile web.